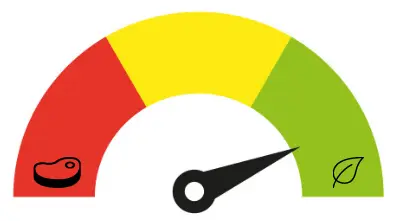 Hormel Vegetarian Chili doesn't include any animal-derived ingredients, which makes it vegan-friendly, and a delicious meal too.
I have always been a huge fan of chili beans, especially since they're a good source of protein – something that's hard to find in vegan food. Luckily, there are many vegan-friendly brands out there to choose from, and Hormel Vegetarian Chili is definitely one for the books.
Hormel Vegetarian Chili with beans has been a household name. It makes a great option for a meal, especially for hungry vegans. One of its key ingredients is the Textured Vegetable Protein (TVP), which gives a meat-like mouthfeel.
Looking for a vegan chili bean option? Hormel Vegetarian Chili is quite a great meal. Let's find out more about this delicious vegan-friendly treat.
Hormel Foods, A Portfolio Of Branded Products
Buffalo, New York native George A. Hormel started his meat business in Austin, Minnesota with $500 loaned money. He continued to trade rawhide, wool, eggs, and poultry and began picking up steady customers.
Hormel started packaging and selling hams, sausages, chicken, beef, pork, lamb, and other meat products to consumers. By the 1980s, he offered different packaged and frozen products, which became his bread and butter.
The company was then named Hormel Foods Corporation with brands such as Skippy, Jennie-O, Planters, Dinty Moore, SPAM, and Columbus Craft Meats.
Hormel Chili was introduced in 1936 and became one of the company's established canned products. Hormel products are now available in 80 countries and continue to expand over the years.
Hormel Vegetarian Chili Is Vegan-Friendly
These days vegan-friendly canned products are not really hard to find. Many food manufacturers have joined the vegan campaign to produce and market plant-based products. This is something that has been lauded by many health experts and the like.
Hormel Foods isn't a vegan company, but it doesn't disappoint in producing vegan canned products in the form of Hormel Vegetarian Chili. And since it's been getting positive reviews from customers, let's find out the ingredients.
Water
Beans
Tomatoes
Citric Acid
Onions
Green Chiles
Carrots
Chili Powder
Textured Vegetable Protein (TVP)
Sugar
Modified Cornstarch
Salt
Yeast Extract
Dehydrated Garlic
Jalapeño Peppers
Cornstarch
Hydrolyzed Soy
Corn
Wheat Protein
Citric Acid
Vinegar
Looking at the ingredients, I can say that Hormel Vegetarian Chili is also suitable for vegans. You may see some reviews that it contains meat, but the meaty texture is actually a Textured Vegetable Protein or TVP.
TVP, also known as soy meat is a by-product of extracted soybean oil. It's also called defatted soya chunks that are widely used in many vegan canned products, including Hormel Vegetarian Chili.
Hormel Vegetarian Chili Nutritional Value
Knowing that Hormel Vegetarian Chili is vegan-friendly, it's also worth checking its nutritional value, which is important to us. For those who keep track of their calorie intake, isn't a bad idea. You just have to balance it out, especially since the sodium content is quite high for a serving.
For a serving size of Hormel Vegetarian Chili in 247 g, here's what you can get.
Calories: 200
Total Fat: 1.5 g
Saturated Fat: 0.0 g
Cholesterol: 0.0 mg
Sodium: 780 mg
Total Carbs: 35 g
Fiber: 7 g
Sugar: 6 g
Protein: 11 g
If you notice, a serving size of 247 g of Hormel Vegetarian Chili gives you a whopping 780 mg of sodium, which is high enough for a one serving. The dietary guidelines for Americans recommend taking sodium less than 2,300 mg a day to avoid adverse health effects.
Excessive sodium intake can lead to high blood pressure, insomnia, bloating, kidney disease, stroke, heart disease, and more. But this can be avoided if you follow the recommended value of sodium intake per day. Our body needs at least 500 mg of sodium a day for a healthy pattern, which is good enough for your meals and snacks on a daily basis.
Vegan Chili Brands
And yes, variety is important. That's why we also need to find other vegan brands to see which one is great for you. Hormel Vegetarian Chili is delicious, but there are also other brands that you can find in the market. You can even buy these vegan chili brands on Amazon or other online stores.
Trader Joe's Organic Vegetarian Chili
Eden Organic Vegetarian Quinoa Chili
Nalley Original Vegetarian Chili
Vietti Artisan Fire Roasted Vegetable Chili
Amy's Organic Spicy Chili
Dennison's 99 Percent Fat-Free Vegetarian Chili
Stagg Vegetable Garden Four Bean Chili
Chilli Man Vegetarian Chili
Plant-Strong Organic Engine 2 Firehouse Chili
These brands are vegan-friendly and are safe to consume for vegans and vegetarians.
What Is Chili?
Good question. What is it, and how does it differ from stew and soup?
The traditional chili is spicy and is a type of stew made with beans, tomato, chili powder, and ground meat. So, yes, the classic chili isn't vegan-friendly due to the inclusion of meat. But there have been many variations over the years.
Vegan variation is one of everyone's favorite, especially since they're typically lower in calories and fat. Just like Hormel Vegetarian Chili, vegans would use TVP as a meat substitute, which mimics the texture and quality.
Chili is available in cans, but the best ones are homemade. Home-cooked is what I really love because I get to choose the ingredients I want for the dish. I also get to control how much I need, which is important for healthy living.
There are many recipes you can find online that make the best and most delicious vegan chili. You can choose your own meat substitute as well, especially since there are many options to choose from. TVP, tofu, mushrooms, lentils, beans, and other ground plant-based products are sold at your local grocer or supermarket.
You just have to control the seasonings and flavorings because they're the culprits in your chili's sodium content. Seasonings and flavorings are typically high in salt to achieve the meaty taste in vegan dishes. You can balance it out by piling up more veggie ingredients and pairing them with fiber and flavonoid-rich fruits for a healthier option.
Meat Substitute For Vegan Chili
Given the idea that canned products, vegan or not, are really high in sodium and calories, a vegan alternative is definitely the best option.
A vegan chili will definitely make a good meal on its own. There is actually no need to put something in it to get that meaty flavor because really, chili is already a great dish.
But as they say, all food with that meaty texture still gives the best experience, and from there, vegan meat was born. There are many possible options to choose from actually. The wide range of plant-based meat is what makes vegan cooking easier and healthier.
So, if you're also into cooking like me, or you're simply trying out homemade chili, here's a list of my favorite vegan meat alternatives. You can have them ground to give your chili that meaty texture.
Seitan
Portobello Mushrooms
Dried Bulgur
Cauliflower Crumbles
Butler Soy Curls
Beans (Black, Kidney, or Pinto)
Lentils
Soybeans
Tofu
You can easily have these vegan meat options ground using a grinder at home. Otherwise, there are many ready-to-cook vegan brands that you can buy at your local grocer or supermarkets, or even online.
Beyond Meat
Tofurky
Sweet Earth
Trader Joe's
MorningStar Farms
Before The Butcher
Gardein
Field Roast
Yves Veggie Cuisine
Lightlife
Impossible Foods
Most of these brands come in a vegan burger patty, bacon, beef cuts, pulled pork, and more. You just need to have them ground and your chili is good to go.
As with other chili ingredients, they're all vegan-friendly, which makes it easier to make. The only culprit that makes a chili non-vegan is meat.
But since there are already a lot of vegan meat substitutes nowadays, it's not easier to make vegan chili at home. You only need to choose the right ingredients according to your needs and preferences as a vegan.
The Bottom Line
Hormel Vegetarian Chili doesn't contain any animal-sourced ingredients, which makes it vegan and vegetarian-friendly. One of its key ingredients, the Textured Vegetable Protein (TVP) helps achieve its meaty texture and quality.
While the traditional chili stew is not vegan, many variations nowadays have called for vegan meat substitutes. Fortunately, many food manufacturers have also produced vegan meat, which is a great option for vegan cooking and the like.
The only wrinkle to fake meat is the high sodium content, which has been feared to cause many adverse health issues such as kidney problems and strokes. However, piling up on more fiber and flavonoid-rich fruits and vegetables does the trick.
Fruits and vegetables will help balance the sodium content of the vegan dish, which means that vegan meat is still the best and healthiest option for everyone. All you need to do when making chili at home is to choose healthy ingredients such as beans to give that meaty texture.
Kidney, black, and pinto beans are a great selection. I have some detailed information about pinto beans in this article if you want to check it out.