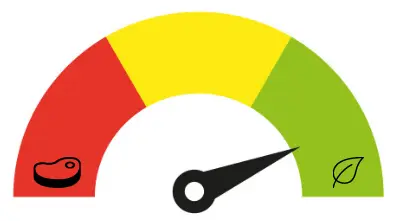 Are Pinto Beans Vegan?
Yes, pinto beans are vegan. They grow on plants, which makes it evident that they do not come under any animal by-product category. The growing and harvesting of pinto beans are done in many places in the USA, especially in the southern parts, they are most favored.
Pinto beans are a crucial part of the vegan diet as they fall under beans and legumes. They are a vital protein component in any vegan food chart and are considered a rich source of protein.
Why Should You Include Pinto Beans in Your Vegan Diet?
Sometimes, following a diet based exclusively on plants may put some people at a higher risk of nutrient deficiencies. Such can be the case, especially when vegan diets are not well-planned. As vegan diets rely on plant-based foods, including fruits, vegetables, grains, beans, nuts, and seeds, consumers should know how much protein, calcium, iron, vitamin B12, and omega-3 fatty acids are consumed.
Beans and legumes form a significant part of a vegan diet. Since the vegan diet lacks animal protein, beans and legumes can function as suitable protein replacements. When it comes to beans, vegans can consume white beans, kidney beans, peas, black-eyed peas, pinto beans, chickpeas, lentils, broad beans, and other legumes for daily protein intake.
Growing and Harvesting of Pinto Beans
Pinto beans grow on plants, and the first stage of developing the beans on the plant is flowering. Any time there is a flower, that is eventually where the beans will show up. Once the flower opens and it finishes blooming, the little bean comes into form.
The second stage begins after the bean grows and looks like a full-fledged bean pod. With time, the pods get bigger. One can see the different stages of ripening of the bean among different bean pods. While some are entirely green in color, others have red blotches on them. The red spots, however, are a sign of the beans getting matured.
Some beans dry up quickly during the process of ripening and become yellow. The dried beans and the green beans with the red blotches are all edible and do not need further evaluation.
Once yellow, the pods can be harvested for use. Pinto beans can be grown at home, therefore, promoting organic gardening with no chemicals or pesticides. With compost tea and just the basics of gardening, pinto beans can be beautifully grown in any household garden. One plant can carry as many as twenty bean pods, or more, at one time. Pinto bean cultivars range from 1,200 to 1,600 seeds per pound.
The different parts of a pinto bean plant are:
1. Hypocotyl
2. Radicle
3. Cotyledon (simple leaf)
4. Cotyledonary node
5. Taproot
6. Lateral (branch) root
7. First genuine leaf (unifoliolate)
8. Trifoliolate leaflet
9. Terminal bud
10. Auxiliary bud
11. Hypocotyl arch
12. Nodes (point of leaf attachment)
13. Nodules
14. Root hair
Breaking the bean pods to eject the pinto beans is an effortless task. The dried bean pods, which are yellow, are easier to break.
One needs to hold the tip of the bean pod, hold the string that comes out from the top of the pod and pull it downwards. This technique allows the board to open, bringing all the pinto beans out of the pod.
Many pathogens cause disease in beans, which are soil-borne and residue-borne. However, a three-year crop rotation helps reduce the inoculum of most pathogens, and a four-year cycle may be recommended if white mold is severe in a field.
Nutritional Benefits of Pinto Beans
Pinto beans are an excellent source of trace mineral called 'molybdenum.' The Pinto beans are a good source of:
Fiber
Folate
Copper
Manganese
Phosphorus
Protein
Vitamin B1
Vitamin B6
Magnesium
Potassium
Iron
One cup of cooked pinto beans has about 245 calories, and they're a good source of some particular phytonutrients that have been shown to help prevent some cancers, notably stomach cancer.
Pinto beans are not only famous for their nutritional value, but they are also perfect for a vegan who wants to consume the nutrients mentioned above without having to eat meat or any animal by-products. One cup serving of beans has about 15 grams of fiber. It has both soluble and insoluble fiber.
The insoluble fiber is good for speeding up the transit time in the GI tract and helps prevent constipation. The remaining fiber is soluble fiber which is a gel-like substance in the GI tract. Soluble fiber binds with the bile and removes that from the gastrointestinal tract.
Eating pinto beans can help to lower cholesterol. Pinto beans, as well as other legumes, can also help to reduce heart-attack risks. In a study that compared the food intake of over 16,000 middle-aged men in various countries, researchers found an 82% decrease in heart attack risk in those who eat the most legumes. In another study published in the archives of Internal Medicine, researchers followed about 10,000 Americans for nineteen years. They concluded that – those who ate the most fiber, notably beans and legumes, had far less risk of heart disease than those who ate the least amount of fiber.
The nutrient profile of pinto beans and the already present fiber make a lot of difference. For instance, folate is plentiful in pinto beans and is known to lower our homocysteine levels, one heart-disease-causing factor.
Pinto beans are also high in magnesium, and magnesium is known for acting like nature's own calcium channel blocker. It helps to improve our blood flow and transport oxygen and other nutrients around the body.
Potassium is also plentiful in pinto beans. It is a vital electrolyte in the body that is used in muscle contraction.
Therefore, it is essential in helping to maintain normal blood pressure and heart function.
The fiber in pinto beans doesn't only stop improving our GI transit time and ward off constipation, but it is also known to help stabilize our blood sugar levels. It is crucial for people who have diabetes, and it also helps those who have insulin resistance. Sulfite sensitivity is another reason beans might be helpful in the diet, especially pinto beans.
Anyone who suffers from low iron levels would also benefit by eating pinto beans with their meals whenever possible. Regarding energy production and antioxidant defense, pinto beans are a good source of manganese and copper.
These two minerals are vital components in specific enzymes that help to disarm free radicals in the body. Pinto beans are high in vitamin B1, also known as thiamine.
Thiamine is critical for proper cognitive brain functioning, and it is used in making acetylcholine, which is a vital neurotransmitter. Hence, these are some of the many reasons to incorporate pinto beans into your diet.
Pinto Beans in Vegan Meals
Some vegan food options with pinto beans are mentioned below:
Slow-cooked vegan pinto bean chili, made with pinto beans, vegan yogurt, fire-roasted tomatoes and jalapenos, lemons, and some vegan spices.
Pinto bean soup is made with pinto beans, potatoes, fire-roasted tomatoes, red pepper flakes, salt, and pepper.
Stuffed potatoes with salsa and pinto beans, made with loaded baked potatoes, stuffed with salsa, pinto beans, and avocado.
Mexican cabbage soup, made with cabbage, pinto beans, tomatoes, and avocado.
Pinto bean burger with spicy guacamole shaped like a burger, made with vegan flour, pinto bean burger patty, lettuce and tomatoes, smoked paprika, cumin, cilantro, and guacamole.
Sopa Tarasca, a famous vegan soup from Michoacan in western Mexico, is made with pureed pinto beans, tomatoes, dried chilies, avocado, and vegan cheese.
Vegan tacos are made with spicy jackfruit, pinto beans, avocado cream, tomato salsa, and unsweetened almond milk without vanilla.
Butternut squash and tomato posole, A traditional Mexican stew made with fragrant chile-based sources, pinto beans, butternut squash, and vegan spices.
Roasted vegetable and pinto beans enchiladas, made with bell peppers, pinto beans, mushrooms, onions, crumbled queso fresco, fresh cilantro, and diced avocado.
Slow-cooked pinto beans, made with pinto beans, onions, butternut squash, and herbs.
Final Words
On a quest to exclude meat and animal by-products from the meal, vegans often become ignorant that beans and legumes are a good alternative for the protein they would otherwise incorporate from non-vegan meals.
Pinto beans are a great vegan food option and should be consumed by everyone – not just vegans!