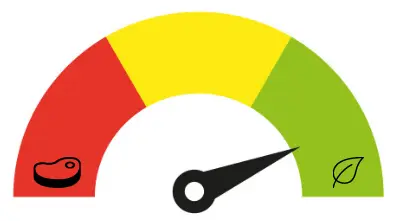 Just Ranch is vegan. Hallelujah! Imagine some oh-so-delish salad right now with Just Ranch dressing. I can say it's a perfect day!
Just Ranch is non-GMO, dairy-free, egg-free, gluten-free, certified kosher, and has no artificial flavorings. It's a classic ranch that gained a huge following among vegans and non-vegans. But bad news. It keeps disappearing over the past few years, and then, it keeps coming back. And that's good news!
Are you a fan of salad dressings? I mean, vegan salad dressings. Let's go on and learn more about Just Ranch without having our mouths water. Yes, let's not drool, okay?
What Is Just Ranch?
Just Ranch is known for its disappearing acts over the years, which saddened many of its consumers. Why not? I'm one of those. And it's not really fun to see it on the shelves today, and suddenly disappears the following day.
The company Eat Just, formerly Beyond Eggs Hampton Creek Foods, produces Just Ranch, which quickly gained popularity throughout the United States. I remember in 2019 when it quickly disappeared in the market followed by the outcries of its consumers, including me.
In 2020, surprise! It's back again. And at this time? I tried looking for it online and on the company's website, but it's just not there yet again. However, the listing on Amazon and Walmart says it's not available at this time of writing, but also says the product is not discontinued. We hope so!
Just Ranch is one of the best vegan salad dressings that had the confidence to mock Hidden Valley's vegan ranch, and it succeeded. Don't get me wrong, I still love Hidden Valley, but Just Ranch is simply a bomb.
It's creamy and tangy with that sweet hint of onions, especially when it's drizzled on salads, pizzas, or simply a dip for chips, and more. Its ingredients include expeller-pressed Canola oil, which for me, is better than the regular one that uses chemicals to extract the oil.
It also says that it includes natural flavors, which means that it's highly vegan-friendly. The FDA says that natural flavoring can be from meat, seafood, poultry, fruits, vegetables, dairy products, or plants. However, the FDA also pointed out that most natural flavors come from plants. Rejoice!
Is Just Ranch Healthy?
In a nutshell, every vegan salad dressing is healthier and safer for everyone, I'd say. Why? Because they're not packed with fats from animal-sourced ingredients. And thus, are technically lower in calories. At least, not in numbers.
For example, a non-vegan ranch dressing contains 484 calories per 100 g, and these are mostly from animal byproducts. The vegan ranch typically contains between 130 g and 140 g per serving of 30 g.
If you notice, they don't differ much in number, but vegan fats are way better than non-vegan. If that makes sense. It's worth noting that not all calories are made equal. More often, you will have to check the oil used, especially when it's non-vegan.
There are many animal-sourced oils involved in salad dressings, especially butter, mayo, eggs, and more. While these are fine when consumed in moderation, this isn't how veganism works.
Of course, we're not fond of eating something from our slaughtered animal friends. Yikes!
What Other Dressings Are Vegan?
Aside from the goodness that Just Ranch offers to our taste, there are plenty of other vegan dressing brands on the shelves. And you know what? They almost have the same nutrients and are deliciously made.
Trust me, I have a few of these brands in my pantry, and they're actually worth the spending. Our friends at PETA are even recommending these brands. How cool is that?
Hidden Valley Ranch Plant-Powered Topping & Dressing
Follow Your Heart High Omega Vegan Ranch
Trader Joe's Vegan Ranch Dip
Daiya Homestyle Ranch Dressing
Organicville Non-Dairy Ranch Organic Dressing
La Tourangelle Organic Creamy Ranch Dressing
Primal Kitchen Vegan Ranch with Avocado Oil
Kite Hill Ranch Dip
How To Make Your Own Vegan Ranch
Yes, it's very possible to make your own vegan dressing. Yes, it's easy. And yes, the ingredients come in handy.
Let's try it. With this recipe, you can make one on your own, and it's not even a pain to find these ingredients since they're just around the corner. And you probably have them in your kitchen already. Plus, it's oil-free. How convenient!
Ingredients you'll need:
1 cup raw cashews. You will need to soak these in hot water for 30 minutes, or overnight using cool water.
2/3 cups of unsweetened almond milk
2 tsp. of lemon juice
1 clove peeled garlic
1/2 tsp. of sea salt
1 pinch of black pepper
1/4 tsp. of onion powder
1 1/4 tsp. of apple cider vinegar
1/2 to 1 tsp. of maple syrup. You can have any vegan sweetener your like.
1 tbsp. of minced fresh dill. You can also get the dried one for 2 tsp.
1 tbsp. of minced fresh parsley. This is optional
1 tsp. fresh chives. You may get dried chives for 1/2 tsp.
What to do:
Measure the almond milk. Using a bowl, add the lemon juice and set it aside to thicken. This makes the vegan buttermilk.
Drain the soaked cashews a few times to clean off. Put them in the blender, and add the buttermilk mixture, salt, pepper, garlic, vinegar, onion powder, and maple syrup. Blend them together until the mixture is very smooth and creamy.
Add the herbs and pulse them a few times. But don't fully purée it.
Taste it and adjust the flavor to your preference. You can put more salt, sweetener, vinegar or lemon juice, herbs, or garlic.
Refrigerate for about three to four hours to chill.
Consume within 7 to 10 days. It thickens in the fridge. But you can add more water or almond milk if you want it thinner when eaten.
More Homemade Vegan Ranch Dressings
If you want to explore more vegan ranch dressings, I'm telling you, it's never difficult to make one. I've tried making a few ranch dressings myself and they don't disappoint. They're very easy and quick to make assuming that you have the complete ingredients.
So, if you're adventurous enough. Here's my list of the best homemade ranch dressings that you can try.
Creamy, Tangy Poppy Seed Dressing
Raw Red Pepper & Ginger Dressing
Vegan Caesar Dressing
Ginger-Carrot Dressing
Spicy Peanut Dressing
Spicy Mango Dressing
Cilantro Lime Dressing
Tangy Ranch Hemp Dressing
Curry Tahini Dressing
Lemon Sumac Dressing
Ginger Sesame Dressing
Creamy Tahini Miso Dressing
Hummus Ranch
Lemony Chia Seed Dressing
Jalapeño Cilantro Dressing
Cashew Turmeric Dressing
Basil-Pesto Vinaigrette
More Eat Just Products
Eat Just has been pulling in and out its products over legal battles in the food manufacturing industry. Of course, Just Ranch is always part of it and has caused outcries of its huge followers.
But the company isn't only known for Just Ranch. It's also famous for its other plant-based products that require no animal involvement. This is actually what I like about Eat Just. Despite its legal battles, it still continues to move forward to produce quality vegan products.
Check these Eat Just products that you may be interested in.
Just Eggs. Yes, these are eggs, but they're made from plants. Can you imagine how cool is that? And they taste even better just those of chicken. Its main ingredients include mung beans, turmeric, expeller-pressed canola oil, among others. With Just Eggs, you can make omelets, frittatas, French toast, etc.
Just Mayo. This is also one of Eat Just's products that were plagued with controversy over legal battles. In 2017, Targe stopped selling Just Mayo and other Eat Just products, and that made everyone sad. It's gluten-free, egg-free, soy-free, and yes it's also vegan. I tried to look for it online, and on Amazon, and it's not available.
Just Dough. This one is a vegan alternative to unhealthy cookie dough that gives you whopping calories. Just Dough is vegan-friendly and is made with plant-based ingredients. And yeah, I can't find it anywhere either as of this writing.
Whenever Just Eat wants to replenish its products, especially Just Ranch, we don't have any idea. But we're hoping it would be real soon.
The Bottom Line
Just Ranch is packed with health benefits due to its plant-based ingredients. No animals were harmed, and with little to zero impact on the environment. All of its ingredients don't include chemicals, and even the canola oil is extracted through an expeller.
Its calories show almost the same figures as the non-vegan ranch, but as I said, not all calories were made equal. The calories you get from Just Ranch and other vegan ranch dressings were from plants and vegetables. And this is actually what we're living for!
The only thing about Just Ranch is its disappearing acts that every vegan hates. Even those who are non-vegan love this dressing, and have been asking the company to put it back on the shelves.
Well, while Just Ranch isn't available for purchase, let's made our own vegan dressing, or if you're too lazy, get a vegan ranch brand that you like. It's easier for sure!