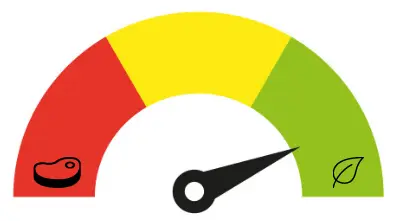 Kroger's Worcestershire sauce does not include any non-vegan ingredients, so it's safe to add it to your food for that savory flavor it brings.
When you just want to add that umami flavor to your food, you can just grab a bottle of Worcestershire sauce because it's definitely for vegans.
Kroger is among the leading brands that offer vegan Worcestershire sauce. Its unique and savory flavor made it popular among food lovers and has become a favorite item in most households today. It is commonly used as a condiment to improve and give food a savory and fresh flavor.
Curious to know more about Kroger Worcestershire sauce? Let's dive right in!
What Is Worcestershire Sauce?
Worcestershire sauce, also referred to as Worcester sauce, is a type of condiment that underwent the fermentation process. Fermentation refers to the breaking down of microorganisms, such as bacteria, etc., of a substance through the use of a heating process. It was first discovered in Worcester in Worcestershire, England, thus explaining where it got its name.
Worcestershire sauce is most commonly added to fish, meats, soups, or dips in order to give them an umami flavor. Kroger is one of the most popular brands to offer the best Worcestershire sauce flavor.
Kroger Worcestershire Sauce Ingredients
The table below presents the ingredients used in manufacturing the Kroger Worcestershire sauce. All ingredients are good for vegans, however several changes may occur from the time of this writing, so it is best recommended to carefully check the ingredients to make sure. Also, some brands may contain anchovies (a type of fish), so make sure to check the ingredients list well especially if you're not purchasing the Kroger brand.
Ingredients
Water
Distilled Vinegar
Molasses
Salt
Citric Acid
Dextrose
Caramel Color
Natural Flavors
Malic Acid
Hydrolyzed Soy and Corn Protein
Dehydrated Onion
Dehydrated Garlic
Does Kroger Worcestershire Sauce Include Allergens?
In terms of allergens, Kroger Worcestershire sauce includes soybean and its derivatives. So if you have allergic reactions to soy and any of its derivatives, Kroger Worcestershire sauce is not recommended for you. It is free from any other allergens.
Kroger Worcestershire Sauce Nutritional Value
The table below shows the nutritional value of Kroger Worcestershire sauce. A bottle contains approximately 59 servings, with 1 tsp or 5 ml per serving. Take note that this nutrition label may vary depending on the changing manufacturing processes from time to time so make sure to carefully read the label first before purchasing.
| Nutrition | Amount per serving |
| --- | --- |
| Calories | 5 |
| Total Fat | 0 g |
| Saturated Fat | 0 g |
| Trans Fat | 0 g |
| Cholesterol | 0 mg |
| Sodium | 55 mg |
| Total Carbohydrate | 1 g |
| Dietary Fiber | 0 g |
| Sugar | 0 g |
| Protein | 0 g |
| Calcium | 10 mg |
| Iron | 0.1 mg |
| Potassium | 10 mg |
| Vitamin D | 0 mcg |
What To Do With Worcestershire Sauce
Worcestershire sauce is popular due to the extra flavor it brings to dishes. But, there are actually more things that you can do with it. You can add it to your favorite drink, use it as a marinade alternative, improve the taste of your vegan meat dishes, complement your soup, and become an instant sauce for your meal.
Here are some of the ways you can use Kroger Worcestershire sauce to enjoy a whole new vegan experience:
Drinks/Beverages
Worcestershire sauce is commonly added to your favorite Bloody Mary drink, but it can also be added to several types of drinks, such as beer and cocktails. You can also try putting some in your homemade V8 beverage.
Marinades
Run out of some soy sauce or fish sauce? Then, you can definitely grab that Kroger Worcestershire sauce and add it to your marinade to give it a more refreshing flavor. Now, barbeque sessions can be made more exciting!
Vegan Meat Dishes
Tired of making the same vegan protein dishes? You can try adding some Worcestershire sauce to your favorite recipes and create a whole new vegan dining experience to change things up. Adding the sauce depends on your taste so make sure to taste your dish first before putting in a lot of Worcestershire sauce.
Soups
Made some too thick pumpkin soup? You can add some Worcestershire sauce to make some magic and make it taste even better. It can also help reduce that chili flavor in your soup so make sure to definitely try putting some in your next batch.
Sauces
Most people try to put Worcestershire sauce in their vegetable salad, but using Worcestershire sauce as your main sauce offers you a lot more possibilities. By simply adding Worcestershire sauce to a pan, you can now enjoy your vegan protein in a fresher and more exciting way.
What Are The Health Benefits Of Using Worcestershire Sauce?
Aside from its ability to give extra flavor to our favorite dishes, Worcestershire sauce comes along with a handful of health benefits. A bottle of Worcestershire sauce is packed with vitamins and minerals that help improve body conditions.
Generally, it helps your body to strengthen its immune system, prevents damage, helps stop excessive bleeding, improves digestion, and stabilizes mental health.
It Enhances The Immune System
One of the vitamins that can be found in Worcestershire sauce is vitamin B6. It is known for its ability to increase red blood cells which help the nervous system to remain healthy. Aside from vitamin B6, Worcestershire sauce also contains vitamin E, which also strengthens the immune system. In return, Worcestershire sauce also keeps your mood better and improves your hair and skin health.
It Prevents Free Radical Damage To Your Body
Vitamin C is another vital component of Worcestershire sauce. This enables it to prevent cancer and diseases in the heart. It also means that Worcestershire sauce is rich in collagen which promotes younger-looking skin and lessens the effects of aging.
It Protects Your Body From Excessive Bleeding
If your period makes you suffer from monthly excessive bleeding, then Worcestershire sauce may help you. This is because it contains vitamin K which helps prevent hemorrhage. Aside from this, vitamin K also prevents bone loss which is good for those who are aging.
Worcestershire Sauce Helps Stabilize Mental Health
Worcestershire sauce contains thiamine which helps the nerves to perform better. Just a note that this is not a prescription for those who are battling mental health issues.
Does Worcestershire Sauce Contain Fish?
Worcestershire sauce does not normally contain fish. However, you should be careful because some brands contain anchovies in them. Make sure to read the full ingredients list of the brand of Worcestershire sauce that you buy before you purchase it. Thankfully, Kroger does not contain anchovies, so it's definitely safe for use.
The most common brands of Worcestershire sauce that use fish as one of its ingredients are French's Worcestershire Sauce, Heinz Worcestershire Sauce, Holbrooks Worcestershire Sauce, and Lea And Perrins Worcestershire Sauce.
Does Worcestershire Sauce Have Any Type Of Animal Meat?
Fortunately, Worcestershire sauce does not use any animal meat such as pork, beef, chicken, etc. More so, Worcestershire sauce does not include any dairy products or eggs.
Other Worcestershire Sauce Brands
When you browse online, you can find several Worcestershire sauce brands available. And most of the time, looking for non-vegan ingredients takes time so you just stick with your typical purchase. But what if your favorite vegan brand is missing?
Well, here are some Worcestershire sauce brands, which we labeled as vegan or not to help you in your next grocery shopping.
| Worcestershire Sauce Brand | Vegan Or Not |
| --- | --- |
| 365 Organic Worcestershire Sauce | Vegan |
| Annie's Worcestershire Sauce | Vegan |
| Cole's Worcestershire Sauce | Vegan |
| Heinz Worcestershire Sauce | Not Vegan (it includes anchovies) |
| Holbrooks Worcestershire Sauce | Not Vegan (it includes anchovies) |
| French's Worcestershire Sauce | Not Vegan (it includes anchovies) |
| Maggi Worcestershire Sauce | Vegan |
Let's End With A Good Sauce!
Now, it has been cleared that Worcestershire sauce is vegan. It does not include anchovies that several brands contain. It also has vitamins that give your body health benefits such as heart disease prevention, good skin, improved digestion, and better mental health conditions. We also have discussed several brands which you should avoid as they contain non-vegan ingredients.
So, the next time you want that umami, savory flavor in your dish, you know you can always have that bottle of Kroger Worcestershire sauce on your shelf!