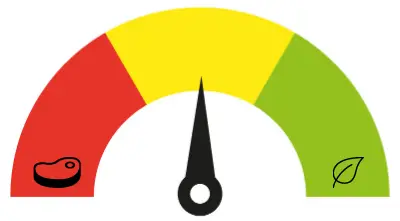 Some products under the Ragu brand name contain animal derivatives. The good news is Ragu vegan sauces are also available, but you have to check the label carefully to make sure that all ingredients inside the package are vegan-friendly.
Ragu is one of the leading brands of Italian-style pasta sauces in the United States. Dubbed as "America's favorite pasta sauce brand," Ragu has plenty of sauce variations that cater to the country's diverse consumers.
Since vegans now comprise a good percentage of the market, it is only expected that food brands will come up with new products that target vegan consumers. The same case applies to Ragu, as it has different sauce products that are suitable for a vegan diet. We just need to identify which ones are vegan-approved pasta sauces, and which ones are not.
The History Of Ragu Pasta Sauce
Ragu had a long history before it became a household name for its delicious pasta sauce. The brand goes all the way back to 1914, when the husband and wife tandem from Italy, Assunta and Giovanni Cantisano, decided to try their luck in America as immigrants.
Assunta and Giovanni had nothing much in their pockets, but the greatest treasure that they brought with them to America was the taste of their own culture– a traditional Italian sauce recipe. Later on, this would become their ticket to success and fortune.
In their backyard, Assunta would grow tomatoes and herbs, which are the main ingredients of their family sauce. She and her husband would make sauces out of their fresh harvests, pack them in jars in the basement, then sell the sauces in their front yard.
As their sauce gained popularity in the neighborhood, the Cantisano couple figured that opening a factory to mass-produce their sauce would be a good investment. The first factory of Ragu was built in Rochester, New York in 1937.
Assunta and Giovanni became the pasta sauce authority in the United States, all thanks to their sauce's all-natural ingredients By 1946, Ragu became a widely popular brand.
From the Cantisano family, the ownership of Ragu was sold to Chesebrough-Pond in 1969, then was later on transferred to Unilever in 1987. Even with the change of the brand's ownership, Ragu remained a giant sauce business as the brand's list of products continued to expand.
The current owner of Ragu is Mizkan, which purchased the rights to manufacture the sauces under the Ragu label in 2014. Ragu now has more than a dozen of Italian-style sauces, as well as pasta condiments.
The original sauce recipe from the Cantisanos has been slightly modified to match the ever-changing preferences of the new generation of consumers.
What Makes A Pasta Sauce Non-Vegan?
Given that the main ingredients of pasta sauce are mostly tomatoes and herbs, it should be good for vegans. However, not all sauce products available in the market are vegan. There are other ingredients included in the sauces for additional flavoring, and many of these ingredients are non-vegan.
The most common pasta sauce ingredient derived from an animal source is cheese. Other non-vegan sauce additives are usually eggs, pork, and beef.
Is Dairy Included In Pasta Sauces?
Like in any other food product, vegans should be on the lookout for the presence of dairy in store-bought pasta sauces. The good news is that only less than half of the available sauce products today contain dairy. This already excludes the white sauce products such as alfredo sauce that are obviously dairy-based.
Since people usually put cheese in their pasta, sauce makers decided to add cheese to some of their products. This way, the cheese flavor is already present in the sauce so there is no need to sprinkle grated cheese on the pasta plate. However, this is bad news for vegans because is already impossible to separate the cheese from the rest of the sauce.
Aside from cheese, there are other forms of dairy that can be present in commercially-available pasta sauces. There are some sauces with added milk for those people who prefer their pasta creamy. Some sauces can also have butter as a flavor enhancer.
You can spot any dairy contents in the pasta sauce by checking the product label. The easiest way to do so is to read the allergen warning that should be present in every food product. It would state the presence of allergy-inducing ingredients in the product, which include milk.
Is Meat Included In Pasta Sauces?
As mentioned, meat can also be present in store-bought pasta sauces. Some sauce manufacturers would add meat to their products so that people do not have to buy meat separately in cooking pasta. The kind of sauce product with meat can easily be identified by reading the label.
Beef is the most common meat ingredient added in sauce products, followed by pork and chicken. The presence of meat in the pasta sauce enhances the flavor, although it can also shorten the shelf life of the product. Nonetheless, pasta sauces with meat are automatically off the vegan list.
Many pasta sauce brands have products that are completely plant-based. Among all the popular sauce labels in the market, Ragu offers plenty of vegan-approved choices that do not contain any form of meat or dairy.
Which Among Ragu Pasta Sauces Are Vegan?
Ragu's plain traditional pasta sauce is made of pure tomatoes and natural flavors that are all derived from herbs. Only when meat and dairy are added to the sauce that a Ragu product becomes non-vegan.
Keep in mind that Ragu Italian-style sauce is different from a traditional Italian pasta recipe of the same name. The latter is made heavily of ground or minced meat. It is sometimes mistaken for bolognese, which is another Italian delicacy. Therefore, some people might think that Ragu sauces are not good for vegans because of this.
Moving on, the majority of Ragu pasta sauce products are vegan. There are around 18 Ragu products that can be found on the store shelves, and only four of these sauces contain animal derivatives.
In the past, Ragu sauces used eggs, meat, and dairy, even the original Italian style sauce which is supposed to be tomato-based. Some vegans noted the presence of these animal-based ingredients in Ragu products before, that is why not every vegan is convinced that Ragu is good for them.
However, if you check the label of most Ragu products today, you will see that they are already dairy-free. This only tells us that the brand has made adjustments to their products that largely benefits the vegan community. It is possible that Ragu acknowledges the fact that many vegans are looking for vegan alternatives in the market.
It is unlikely to have hidden or mystery ingredients in pasta sauces, so the best way to check if there is meat or dairy in the product is to read the label. For Ragu sauces, the front label would clearly state if a product is cheese-flavored or meat-based.
Take Ragu's Chunky Hearty Traditional Sauce as an example. It is one of Ragu's top-selling pasta sauces that are made of only vegan ingredients. The label indicates that for every half a cup of Chunky Hearty Traditional Sauce, you will get two servings of veggies.
There are more than 11 tomatoes traditionally blended in each jar, along with other herbs and seasonings such as soybean oil, salt, sugar, onions, spices, extra virgin olive oil, and natural flavors.
On the other hand, Ragu's white sauce variants are clearly non-vegan because of the added milk and cheese, but its red sauce products are mostly plant-based.
Listed below are the list of Ragu pasta sauce products that are suitable for a vegan diet:
Ragu Simply: Roasted Garlic Pasta Sauce
Ragu Simply: Chunky Garden Vegetable Pasta Sauce
Ragu Simply: Chunky Marinara Pasta Sauce
Ragu Simply: Traditional Pasta Sauce
Ragu Old World Style: Mushroom Sauce
Ragu Old World Style: Marinara Sauce
Ragu Old World Style: Traditional Sauce
Ragu Chunky: Super Chunky Mushroom Sauce
Ragu Chunky: Mushroom and Green Pepper Sauce
Ragu Chunky: Tomato, Garlic, and Onion Sauce
Ragu Chunky: Garden Combination Sauce
Ragu Chunky: Sauteed Onion and Garlic Sauce
Ragu Chunky: Roasted Garlic Sauce
Which Of The Ragu Pasta Sauces Are Not Vegan-Friendly?
While Ragu pasta sauces are mostly vegan, there are some that have meat and dairy ingredients. These sauces should not be hard to identify, since the label clearly states if the sauce is a special meat-based or cheese-based product.
The following are Ragu pasta sauces that vegans should avoid:
Ragu Old World Style: Meat Sauce
Ragu Chunky: Six Cheese Sauce
Ragu Chunky: Parmesan and Romano Sauce
Ragu Chunky: Mama's Special Garden Sauce
What Are The Other Vegan Pasta Sauce Brands?
So far, we have established that Ragu is a good pasta sauce brand for vegans. Of course, there are a lot more sauce brands in the market that are vegan-approved. Like Ragu, some of these brands also have special products made of meat and dairy. Regardless, these are the brands that you should be confident in adding to your cart as a vegan consumer.
Barilla
Bertolli
Classico
Dolmio
Great Value
Hunt's
Leggo's
Muir Glen
Newman's Own
Prego
Rao's
Wrapping Up
We can see the evidence that vegan consumerism can dictate what kind of products are available in the market. Companies know that more people are deciding to go vegan every day, so we can expect them to make vegan-approved products. The same goes with pasta sauces, as many brands have put up sauces that are entirely plant-based.
Ragu has steered away from meat and dairy additives as flavor enhancers for their sauce products. After all, pasta sauces are made only of tomatoes. The taste of freshly-picked tomatoes, along with other natural herbs and spices, should be enough to give you a hearty meal.