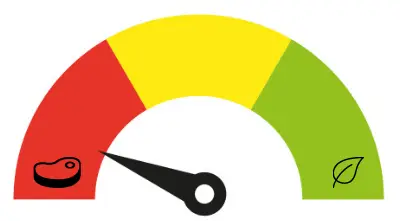 Ovaltine contains milk, an animal by-product, which is not suitable for vegans.
As a kid, Ovaltine was one of my favorite choco milk drinks. I continued drinking it until the last days of my non-vegan diet. Unfortunately, I had to ditch it for another vegan-friendly choco drink.
Ovaltine has been in the food industry for more than 100 years. It was originally made with eggs, milk, and malt, and flavored with cocoa. Today, Ovaltine no longer contains eggs, but it still involves whey, a protein found in cheese.
So, if you're looking for vegan choco milk drinks, you're in the right place. Although Ovaltine isn't for you, I have a few options below. But first, let's find out more about Ovaltine.
Ovaltine, Great Choco-Malt Taste
Originally named Ovomaltine, Ovaltine was first developed in Bern, Switzerland by Albert Wander, a manufacturer of chemical products and malt sugar. Also a chemist and a pharmacist, Alber started developing Ovaltine to cater to those who are suffering from mental or physical tiredness, and anemia, as well as to the delicate and lactating women.
His father's business, Wander AG, was successful in manufacturing pills, granules, tablets, and ointments, among others. When the old Wander passed away, Albert proceeded to develop malt products and experimented on mixing malt with eggs, milk, yeast, and cocoa.
Albert Wander also made sure that the nutrients were retained by preserving the developed tonic and nourishing elixir. The drink was intended for all ages in all walks of life. When it was finally completed. Ovaltine was initially sold at pharmacies.
Later in 1909, Ovaltine was exported to Great Britain, where a factory was also built, which became the bridge to the United States. Ovaltine was then manufactured in 1915 in Illinois for the U.S. market and later in Ontario, Canada.
As the years go by, several formulations of Ovaltine have also changed, including the exclusion of eggs in the process. Since then, Ovaltine has been known as a healthy breakfast drink, as well as a nightcap for active and health-conscious individuals.
In 1992, Ovaltine was acquired by Himmel Group from Sandoz Nutrition Corporation. Later in 2002, the right to manufacture and sell Ovaltine was sold to Novartis. And in 2007, Associated British Foods, or Nestlé (in the United States) finally purchased Novartis' medical nutrition division to sell Ovaltine.
Ovaltine Is Not Vegan-Friendly
As I mentioned earlier, Ovaltine no longer contains eggs, but it still contains milk, which is not suitable for vegans. Ovaltine has many varieties, including Original Classic, Chocolate, and Malted Milk Drink, among others.
All of these varieties involve milk, which makes them non-vegan. For what it's worth, here are the key ingredients below.
Barley and Malt Extract
Milk Serum Concentrate
Fat-Reduced Cocoa Powder
Sugar
Rapeseed Oil
All key ingredients for Ovaltine are vegan-friendly except for Milk Serum Concentrate, which is a whey protein found in cheese. As you may know, cheese is normally made from cow's milk, salt, and rennet, which are obviously non-vegan.
But Ovaltine, despite its non-vegan ingredients, offers many vitamins and minerals.
Minerals
Vitamins

Pantothenic Acid
Biotin
Folic Acid
Niacin
A
C
E
B12
B6
B2
B1
Ovaltine's formulations vary by country, but they all contain animal by-products such as milk and whey protein. Thus, Ovaltine isn't considered vegan-friendly, although it's suitable for vegetarians as it no longer contains eggs, unlike its original formulation.
Animal Testing
Ovaltine is owned by Associated British Foods, which also allows animal testing on its products when required by law. Its subsidiary companies also do the same when required.
How Healthy Is Ovaltine?
Despite the fact that Ovaltine contains milk, it's still a good source of vitamins and minerals. For non-vegans and vegetarians, Ovaltine is definitely a great option.
It contains calcium and vitamin D that both work together to help maintain a strong bone function. Vitamins A, C, and E, as well as zinc, help prevent oxidative damage and neurodegenerative disorders. These can also help slow down aging and maintain your immune system healthy and strong.
Nutritional Value
Depending on the flavor that you choose, the nutritional value also differs. For instance, if you choose to add skim milk to your Ovaltine, you'll get more calories, calcium, and vitamin D, among others.
The figure below shows how much you'll get from 11 g of Ovaltine Choco-Malt flavor mixed with 240 ml of water.
Calories: 40
Fat: 0 g
Protein: 0 g
Carbs: 9 g
Fiber: 0 g
Sugar: 9 g
Added Sugar: 9 g
Vitamin A: 20%
Vitamin D: 4%
Vitamin C: 6%
Vitamin B6: 40%
Niacin: 15%
Copper: 20%
Thiamin: 15%
Iron: 10%
Magnesium:8%
Calcium: 8%
Do you notice the added sugar? Yes, you'll get an extra 9 g of added sugar for drinking 11 g of Ovaltine Choco-Malt flavor.
This added sugar includes maltodextrin, table sugar, and molasses. The USDA recommends limiting your added sugar intake to less than 50 g, or 12 teaspoons of sugar daily based on a 2,000-calorie diet. The American Heart Association (AHA), on the other hand, recommends 5% of added sugar intake, or at least 25% for women and 35% for men.
Excessive added sugar intake leads to adverse health issues such as high blood pressure, type 2 diabetes, and heart diseases, among others. According to research, added sugar can also increase the risk of non-alcoholic fatty liver disease, metabolic syndrome, obesity, sleeping disorder, ADHD in children, and more.
Also, Ovaltine, when mixed with water, doesn't give you protein, which is another downside. However, you can choose to mix it with milk, or plant-based milk to get protein if you're a vegetarian. This doesn't apply to vegans since Ovaltine is a non-vegan drink.
Ovaltine Products
Ovaltine isn't only known for its choco-malt drinks. It's also available in the form of cookies, chocolate bars, breakfast cereals, cookies, parfait, chocolate Easter eggs, and candy tablets known as Ovalteenies.
As for Ovaltine drinks, there are four flavors that have become a household name, especially for kids.
Ovaltine Chocolate Drink
Ovaltine Malted Milk
Ovaltine Classic (Original)
Ovaltine Regular
Top Vegan-Friendly Chocolate Drinks
Hey, listen. Just because Ovaltine is non-vegan doesn't mean that you should stop looking for a vegan counterpart. Nowadays, there have been many food and beverage manufacturers that joined the vegan bandwagon in the industry.
Even those that are not full-fledged vegan manufacturers have produced plant-based and naturally sourced food and drinks for vegan consumers. This is what I like about these companies despite the idea that they're not actually vegans.
So to help you out, here are my top picks of vegan-friendly chocolate drinks. You can find these at your local grocer and supermarket or check on them on Amazon.
Coconut Cloud Hot Cocoa
Nib Mor Organic Chocolate Drink
Public Goods Hot Cocoa Mix
Cacoco Rich Dark Chocolate Drink
Theo Organic Drinking Chocolate
Evolved Hot Chocolate
Taza Stone Ground Chocolate Drink
Lake Champlain Traditional Hot Choco
Castle Kitchen Double Dutch Hot Choco
Elements Truffles Hot Chocolate Drink
Joya Bliss Cacao Elixir Bend
R.E.D.D. Choco-Milk Elixir
Hershey's Cocoa
Starbucks Double Choco Hot Cocoa
Good & Gather Hot Cocoa Mix
And the list goes on and on. These products are easy to find. They are literally everywhere, especially since they're among the top-rated brands that produce vegan-friendly chocolate drinks.
Non-Vegan Ingredients To Look Out For In Chocolate Drinks
While it's easier to find vegan-friendly chocolate drinks nowadays, it's still crucial to check the ingredients used in a certain brand. There could be terminologies that are difficult to understand, but for most drinks, milk is the simplest ingredient to look out for. Well, unless it's plant-based milk, we're all safe.
So, if you're at the grocery, you'll have to check the packaging that contains the ingredients listed below.
Milk and Milk Derivatives. Most products display allergen information on the packaging to inform the consumers of the possible allergens. This includes milk and milk derivatives that are all familiar each time we check the packaging.

Milk Fat
Milk Solids
Lactose
Milk Powder
Skim Milk
Whey
Casein

Egg. This helps chocolates flow and melt well, which prevents sugar from crystallizing. It's used in most non-vegan products. This is called Lecithin, which is commercially used and comes from eggs. However, a vegan version of lecithin is sourced from rapeseed oil, soy, and sunflower oil, among others.
Sugar. This is one of the controversial ingredients that most products contain. Most refined sugars are processed using animal bone char, which makes them non-vegan.
The Bottom Line
Ovaltine, despite its vitamins and minerals, is non-vegan because of milk, which is an animal by-product. It's only suitable for vegetarians.
Ovaltine is packed with calcium, vitamin D, copper, and zinc that are known for strengthening the immune system and bones. However, it's not a good source of protein. So, if you're a vegetarian, it's best to add plant-based milk when you drink Ovaltine to enjoy its maximum health benefits.
As for vegans, Ovaltine isn't a great option, but there are many vegan options to choose from, which I listed above. They all contain cocoa, which is organic and naturally sourced.
If you want to know more about cocoa powder and vegan drinks, you can check out this article that I also wrote.