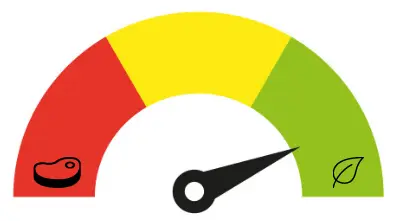 New York Bagels don't contain any animal by-products, which makes them suitable for vegans.
Ah, bagels. I can't let my week pass without munching on some bagels. Although the regular bagel is usually vegan-friendly, some commercialized bagels have eggs or dairy in them. But New York Bagels are definitely one for the books because they're not just delicious – they're vegan too!
New York Bakery Co has been a household name when it comes to their bagels, especially since they're both gluten-free and vegan-friendly. Their key ingredients, including wheat flour, rapeseed oil, and yeast, are what make them suitable for vegans.
Let's find out more about New York Bakery Co bagels.
New York Bakery Co Bagels, New York Or Nothin'
New York native Broney Gadman is a huge fan of authentic American bagels. He didn't want the mass-produced bagels. He wanted the real one – a neutral and basic bagel that he believed Americans love.
Gadman started working in the baking industry in the 1980s. In the 1990s, he came to the United Kingdom, still carrying the passion for producing authentic, boiled, and baked New York-style bagels. He brought this passion to the UK, and there, he founded New York Bakery Co.
New York bagels are shaped into circles or rounds before being tossed into the boiling water. Once the boiling is enough, the bagels are placed into the oven for baking. New York bagels are stoned-baked to give the crisp color and quality crust.
New York Bakery Co's baking style hasn't changed. It's still the same technique Gadman brought into the bakery – New York-style, authentic bagels. No artificial flavors and no animal-derived ingredients.
New York Bagels Are Vegan-Friendly
New York Bakery Co's website confirms that their bagels are vegan-friendly, unlike other commercialized bagels that already include eggs and dairy. They also have gluten-free bagels that are a great option for those who have celiac disease. Some of their bagels, though, contain sesame, cereals that have gluten, and more.
I checked the ingredients for the Plain or Original New York Baker bagels, and they're free from animal-derived ingredients.
Wheat Flour (Wheat Flour, Calcium Carbonate, Iron, Niacin, Thiamin)
Water
Sugar
Yeast
Maize
Salt
Rapeseed Oil
Spirit Vinegar
Calcium Propionate
Malted Barley Flour
Flour Treatment Agent (Ascorbic Acid)
Nutritional Value
Bagels are typically high in calories because of the wheat flour and barley. But one bagel already gives you enough energy for one meal, which is still a great option. You just have to limit yourself!
So, here's the value that you get from eating one New York Bagel Original flavor, which is equivalent to 90 g.
Calories: 232
Total Fat: 1.10 g
Saturated Fat: 0.20 g
Carbs: 45.10 g
Sugar: 5.10 g
Dietary Fiber: 2.80 g
Protein: 9.10 g
Salt: 0.69 g
One bagel gives you 232 calories, which is high enough for a snack or meal. However, this gives you enough energy for your daily routine. You just have to limit your calorie intake to 2,000 daily, according to the Dietary Guidelines for Americans, to keep things healthy.
Remember that excessive calorie intake leads to high blood pressure, obesity, stroke, and heart diseases.
Other New York Bagel Flavors
Most of these flavors have almost the same nutritional value as the original or plain flavor. The only thing that differs between them is the flavor, which is also detailed in their ingredients.
It's worth noting that these are vegan-friendly.
New York Bakery Bagels

Cinnamon & Raisin
Sesame
Wholemeal
Red Onion & Chive

Bagel Thins

Soft Seeded Bagel Thins
Wholemeal & Rye Bagel Thins
Original

Gluten-Free Bagels
Deli Bagels

3 Grain Sourdough
Deli Loaded Everything
What Are New York-Style Bagels?
First of all, what are bagels? A bagel is donut-shaped and is leavened with yeast, which gives a crisp and shiny crust with a dense interior. It is known to be of Jewish influence.
The Jewish community in New York City in the 1800s was behind the New York-style bagel, which was originally larger and fatter than the mass-produced ones. As refugees, the Jewish people took their challah, knishes, brisket, and bagels to NYC.
From there, they started producing bagels that are now called New York-style bagels. These bagels were created as a tasty treat for the Jewish community in Manhattan. But the news spread like wildfire in New York City and in the United States.
The bagels were then adapted by many bakers in the U.S. Over the years, many versions of bagels have emerged. But the New York-style bagels were boiled in water with barley malt, which gives them their signature texture, taste, and leathery appearance.
These New York bagels are traditionally topped with poppy seeds, sesame seeds, dried garlic or onion, and everything bagel seasoning, Others would brush the bagels with egg wash or are left plain.
And yes, the regular bagels are vegan-friendly. Their ingredients are simply flour, yeast, salt, water, sweetener, and fat. The sweetener is commonly sourced from barley malt syrup, plain sugar, molasses, malt extract, or corn syrup. As for the fat, vegetable oil is commonly used to enhance the bagel's crumb.
Some bakers would use vegetables, fruits, grains, seeds, nuts, herbs, berries, and spices to add flavor, texture, and better appearance to the bagels. These plant-based ingredients would make the bagels a great meal or snack for hungry vegans.
Non-Vegan Ingredients To Look Out For In Bagels
While the regular bagels are traditionally vegan-friendly, some bakers use animal-derived ingredients to create one. Most of these bagels are found in stores or are commercially produced.
These animal-derived ingredients are very common among baked goods, including bagels. You may have to double-check your bagel to ensure they don't use any of the following ingredients.
Eggs
Honey
L-cysteine
Milk
Dairy Products
Fish
Meat
Some bagels include meat, dairy, eggs, or fish in the filling. It's important to check the packaging before adding a pack of bagels to your cart. Reading the ingredients doesn't hurt your time.
Tips On How To Ensure Your Bagel Is Vegan-Friendly
Although the regular bagels are vegan, some store-bought bagels and even those that are sold in restaurants and shops use animal by-products. These ingredients make the bagels non-vegan, which are obviously unsuitable for vegans.
But what can you do to ensure that you're eating vegan bagels? I have a few simple tips for you below.
Make your own bagels

I know not all of us are into baking, but there's always no harm in trying. I've got a few friends who have tried baking on their own, and they found it fun and fulfilling. If you make your own bagels, you get to choose the ingredients and control everything in it. Of course, this is very helpful to vegans out there.
There are many vegan toppings that you can use as substitutes for animal-derived ingredients. These include tofu, vegan patties, nut butter, hummus, avocado, berries, vegetables, vegan cream cheese, fruits, spices, and herbs.

Look for vegan certification

Some baked goods that you can buy from stores are vegan-certified. This means that a vegan organization has certified the product as vegan-friendly. A vegan certification is not required by law, at least in most countries.
When there's no vegan certification on the packaging, the best thing to do is to check the ingredients.

Check the label

Store-bought baked products also have their ingredients listed on the packaging. The label will put all the ingredients used, which is helpful for vegans.
You have to check all those non-vegan ingredients I listed above, especially since those are the most commonly used stuff in making bagels.

Ask the manufacturer

Yes, this is the best thing to do. So to clarify things for you, it's best to contact the manufacturer. Some of them are willing to explain things to their consumers. Others won't. So, have the best of luck.
Best Store-Bought Vegan Bagels
But the good news is that there are many vegan bagels that you can buy from stores or even on Amazon. I always prefer the latter when I'm too lazy to go out.
To help you out, here are my top picks. I always have some of these vegan brands in my pantry.
Thomas' Bagels
Sara Lee Bagels
Trader Joe's Bagels
Western Bagel
Rudi's Organic Bakery Bagels
Cobblestone Bread Co.
Alvarado Street Bakery
Dave's Killer Bread Bagels
The Bottom Line
New York Bagels are vegan-friendly with gluten-free options. One bagel, though, provides many calories, but it is good enough for a snack or meal to prepare you for the day. You just have to avoid binge-eating because we all know how difficult it is to burn calories.
Also, always check the label when you're buying bagels from stores to ensure that they're vegan. There are many options to choose from, such as Cinnamon & Raisin bagels that everyone loves. You can learn more about these bagels in another article I wrote.
Enjoy!