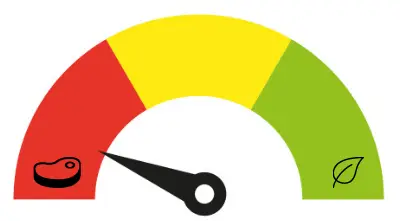 Is Pesto Vegan?
Have you been wondering if pesto is vegan?
No, classic pesto, traditionally made with basil, pine nuts, garlic, olive oil, and plenty of Parmesan cheese, is not suitable for vegans. Moreover, the rennet enzyme derived from animals is used to curdle the milk in the cheese-making process.
But don't worry, you won't miss out on the taste of this delicious sauce as it's rather simple to prepare a delightful dairy-free version. We will also provide you with delicious vegan alternatives to pesto.
Though the idea of making pesto at home can seem tempting, it will consume time. If you have a decked-up schedule and have no time to make the vegan version at home, you can buy it online as well.
You will get to know a lot about pesto here, from the vegan alternatives to the stores you can find vegan pesto in, so buckle down!
History of Pesto
This delightful basil sauce is also known as pesto alla Genovese. It originated in Genoa in the Liguria region of northern Italy, hence the name Genovese.
The first mention of this world-famous sauce is found in an 1863 published book called La Cuciniera Genovese by gastronomist Giovanni Battista Ratto. Although the invention of this sauce dates back to the 1860s, it wasn't popular among North Americans until in 1980s.
It was initially made in a marble mortar with a wooden pestle. The components were pounded or crushed in the mortar with circular motions of the pestle. This method of bashing and crushing the ingredients enhances the release of flavors from the ingredients.
The word pesto is derived from the Italian verb pestare that means "to pound†or "to crush.†Hence, pesto is more of a generic term for Italians.
How Is Traditional Pesto Made
Traditional pesto or basil pesto is made from four ingredients: garlic, pine nuts, basil leaves, and Parmesan cheese.
The pesto we find here in the U.S. is usually made in a food processor, which takes away the authentic flavors as the ingredients turn into a thoroughly homogenized emulsion or paste. Moreover, basil oxidizes due to the food processor's steel blades, resulting in a dark green pesto that's slightly bitter.
What Makes Traditional Pesto Non-Vegan
Pesto is not vegan as it contains Parmesan cheese. This hard cheese is made from animal milk (cow or sheep).
Moreover, the enzyme is used for curdling milk and turning it into cheese. This enzyme is rennet, which is obtained from the intestines of baby calves and goats.
Many brands opt for using fungal rennet, also called microbial rennet, instead of animal-sourced rennet. However, it is always recommended to confirm with the manufacturer as this information isn't always displayed accurately.
Many store-bought pestos are made in the same facilities as dairy or egg-containing products. So, there are chances of cross-contamination.
Other Variants of Pesto
Traditionally, red pesto and pumpkin pesto are also not vegan because of the presence of Parmesan cheese.
A French variant of pesto in Provence is called pistou, which is only made with basil, garlic, and olive oil. Though, cheese may or may not be added, which will decide its vegan status.
Many other variants substitute basil with other herbs or pine nuts with other nuts or no nuts. Some don't even use cheese. Hence, it is always better to check whether the pesto you're having contains cheese or not.
How Can You Make Vegan Pesto?
Classic pesto has cheese in it, which makes it unfit for vegans. However, there's nothing to worry about. You can make homemade pesto hassle-free and packed with deliciousness.
There are various ways to make vegan pesto at home by using vegan-friendly ingredient substitutions. The ingredient you substitute here is cheese.
This is the easiest way to make vegan pesto. To reproduce the flavor of cheese, you can add a little more salt and oil to your recipe.
This is the best alternative to cheese and provides a tangy flavor.
It offers a mild flavor and a creamy, aerated texture to your pesto.
Their savory taste adds an overall complexity to the pesto's flavor. They also blend well with the sauce.
If you prefer an extra-smooth and creamy pesto, soaked cashews are the best substitute.
If you still want to use cheese, you can go for vegan Parmesan. It can be bought at stores or easily made at home as well.
How to Store Homemade Pesto
Here are the two ways for storing pesto:
Store in the fridge – Pour the freshly made pesto in a glass jar or some airtight container, and add a thick layer of olive oil on the top. This layer will prevent the pesto from oxidation and allow you to store it for about 1-2 weeks.
Freeze – Freeze your pesto in ice cube trays. Transfer into a heavy-duty polybag and place it back in the freezer. This will give you small quantities of pesto at hand. Defrost by putting it in the microwave for few seconds or in the refrigerator for a few hours.
Health Benefits of Pesto
Pesto comes from Italy, which is an exclusive Mediterranean country. The diet in these countries is regarded as one of the healthiest in the world because it contains several nutrients that help prevent inflammation, keep your heart healthy, and lower the risk of many chronic diseases. Pesto is a common ingredient in this diet.
This savory green sauce is not only delicious but also healthy. The health benefits of pesto are innocuous, mainly because of the ingredients. Here is the list of benefits as per the ingredients used:
Basil – It is known for therapeutic usage and is high in antioxidants and Vitamin K.
Vegan parmesan – It is usually made with nutritional yeast, rich in protein, vitamin B12, and essential amino acids.
Garlic – It is low in calories and is a good source of manganese, vitamin B6, vitamin C, selenium, and fiber.
Pine nuts – They can help in controlling diabetes, heart health, and brain function as they are high in magnesium, iron, antioxidants, zinc, and protein.
Olive oil – It is rich in antioxidants and contains healthy monosaturated fats.
Buy Vegan Pesto in Stores or Online
You can easily find vegan pesto online or in stores. Here is the list of a few vegan pesto brands:
Ways to Enjoy Pesto
Pesto is generally used in pasta or as a spread on loaves of bread, but there are more ways to enjoy this nutritious delight.
Use it as salad dip – Eat your crunchy salad along with delicious pesto. This way, you won't compromise on taste or health.
Use it as topping – Be it roasted veggies or homemade pizza, add your favorite pesto to give it a fantastic flavor.
Mix it with boiled vegetables or mashed potato – If you are conscious about your health and love to include cooked veggies and potatoes in your diet, then you must mix a little pesto into it. You will enjoy the taste and maintain a healthy diet at the same time.
Make pesto butter – Try mixing pesto with softened vegan butter, and you will not regret it. Refrigerate it if you want, and you have your pesto butter ready.
Use it in lasagne – Lasagne is indubitably tasty, and adding flavourful pesto to it will make it a lot more luscious.
Final Words
The process of making pesto has evolved over the years, and the ingredients have also been replaced or added as per the convenience of people across the globe. Vegans replace cheese with its plant-based substitutes, while some replace olive oil, pine nuts, and greens as per their choice and availability.
Likewise, you can also turn this non-vegan sauce into a vegan delight. You will get a freshly prepared and flavourful pesto in few simple steps. The choice of using a food processor or a mortar and pestle is entirely yours, but the latter gives a more authentic taste and has a traditional texture.
Make your own pesto or order it online, but enjoy this sauce as you can now have a vegan version of it!