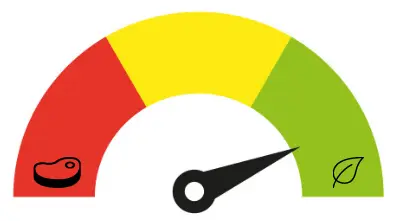 Sauce Stache is vegan.
I've always been a fan of plant-based meat products. Not only that they're delicious and healthy, but it's also a way of extending love to our animal friends both inland and in the sea.
Sauce Stache is a food blog website that shows recipes made of plants and vegetables that would make you think they're real meat. It's the brainchild of a food connoisseur and YouTuber Mark Thompson, who experiments on oh-so-delish recipes that are sourced from plants.
Are you also a fan of plant-based meat dishes? I got you. I mean, Sauce Stache got you. Let's find out what's in it.
What Is Sauce Stache?
When Mark Thompson started Sauce Stache, he had one thing in his mind. Focus on recreating healthy, tasty plant-based meat products using industry-grade ingredients and methods.
Thompson was an IT person at Full Sail University in Florida before he became a YouTuber. He considers himself a tinkerer instead of a chef. He loves reinventing things and building from scratch as he did to his Jeep Wrangler.
He even made an iPhone app that helps prevent sunburn. How cool is that?
So, when he met his then-girlfriend Monica Stone at the university, things started to get more creative for him. Stone is a yogi, who piqued Thompson's interest. She had her own yoga blog website, and Thompson credited her for the founding of Sauce Stace.
Thompson said that every time they go on dates, he would cook for her and make his own sauce that would go with the dish. Stone, who is now his wife, then suggested making a blog based on his sauce recipes. He realized it was a great idea, and found himself filming how he made a Chipotle Mayo.
When asked how he got the name Stache, Thompson explained that there's no real or serious meaning behind the term. But because he always wears a mustache, he thought it would be a fun way of naming his channel Sauce Stache. Somehow, it's also a connotation of "sauce stash."
But both Thompson and Stone are pescatarians. He only wanted to promote a less-eating-animals diet.
He added that their plant-based journey wasn't easy due to medical reasons, but he also pointed out that Sauce Stache has been always vegetarian, and now promoting veganism.
The 40ish-year-old YouTuber, or let's call him tinkerer as he describes himself, said that he didn't want to label Sauce Stache vegan or vegetarian. Instead, he wanted it for everyone, and there's no need to know that the recipes he's making are vegan.
But he was already making vegan videos when he bumped into a king oyster mushroom bacon topic and realized it was the time. However, it wasn't a simple journey.
Thompson did extensive research and finally made his own version of vegan bacon made from coconuts, banana peels, rice paper, and carrots. He would even make vegan bacon from watermelon, yuba, daikon, mochi, and potatoes.
Since then, he has made a lot of plant-based meat products that he filmed and posted on his YouTube channel, which now has 400k subscribers, and on his blog website.
Do you want to know what these plant-based meat recipes are? Check them out below.
Sauce Stache, Making Meat From Plants
What gets me excited about Sauce Stache is that Thompson recreates the vegan side of things from scratch. Yes, like totally from scratch. And we're definitely living for this!
What he has made from scratch:
Chickfu Tofu Chickun
Mushroom BBQ Ribs
McDonald's Chickun McNuggets
Beyond Steak
Vegan Turkey
Vegan Bacon
Vegan Burger
Soy Skin Chicken
Mushroom Pulled Pork
Togarashi Spice Blend
Radish Roast Beef
Mushroom Bacon
Vegan Salmon (Carrots, Beets, Pepper, Radish)
Vegan Sausage McMuffin (Just Egg, Beyond Sausage)
Pomelo Pith Pork Belly
Soy Skin Bacon
Banana Blossom Fish
Mushroom Steak
Hot Wings (Jackfruit, Soy Skin, Sugar Cane)
Nashville Hot Fried Chicken (Jackfruit)
Gardein Chick'n Patties Popeyes Chicken Sandwich Upgrade
Bacon Carrot
Vegan Bacon Seasoning
Vegan Bacon, Shrimp, and Wings
Mustard Ice Cream
Mung Bean Egg (Just Egg)
Coconut Bacon
Real Roots Root Beer
Watermelon Steak
Hibiscus Taco (Taco de Jamaica)
Mushroom Lobster Roll
Thompson has so many plant-based meat recipes that have inspired many vegans to also make their own versions at home. If you want to check more of them, you can go to his Sauce Stache website.
Make Your Own Mushroom Bacon That Tastes Just Like Bacon
Okay, so I watched one of Sauce Stache's videos, including one that shows how to make plant-based bacon made out of king mushroom. I was amazed! Totally!
This recipe is what inspired him of making his own plant-based meat products from scratch. So I figured this would be a good sample if we were to try it on our own.
Would you like to try it yourself? I would want to. Let's do it!
What you'll need:
8 oz King Oyster Mushroom. Also called Trumpet Royale, cut it into lengthwise, or thin 1/8 to 1/6-inch slices.
3 tbsps. Canola or Vegatable Oil
Kosher Salt
Freshly ground Black Pepper
2 tsp. Maple Syrup
1/8 tsp. Sugar. You can get Beet Sugar because it's always vegan.
1/8 tsp. Garlic Powder
1/8 tsp. Paprika
1 chunk of Applewood, Mesquite, or Hickory. This is for Natural Smoke Flavor that will give that bacony taste to your mushroom bacon. Yes, it's vegan as we've discussed in this article if you want to learn more about it.
Baking Sheet
Aluminum Foil
What to do:
Preheat the oven to 350°F. Line a rimmed baking sheet on a flat tray. Put 2 tbsp. of oil on the sheet and use a brush to coat the entire sheet.
Put the thin slices of mushroom on the coated baking sheet, and season with salt and pepper. Flip to season the other side.
Put the tray with mushroom slices in the oven for 20 minutes, flip them using a metal spatula, and continue for another 20 minutes until they're crisp and golden brown.
Remove them from the oven and drain by laying them on a lined paper towel.
Using a large bowl, put the dehydrated mushrooms and toss with garlic powder, sugar, paprika, oil, and maple syrup. Season with more salt and pepper to taste, and transfer them to the steamer insert's basket, and space evenly over the bottom.
Toast the wood chunk, or anything you have for natural smoke flavoring, and put it in the large steamer pot that has an aluminum foil. Put the steamer insert and cover with the lid. Smoke the mushroom slices for about ten minutes.
Remove the slices from the pot, and put them back on the lined baking sheet. Put back in the oven for five minutes, or until the sugar starts to caramelize in each mushroom slice.
Remove them from the oven, and cool down. Yes, you now have your own vegan bacon made out of king oyster mushroom, crisp and golden. Yum!
You can store your bacon mushroom in an airtight container at room temperature, and consume it within five days.
Bacon Mushroom Nutritional Facts
Mushrooms are a great source of fiber, antioxidants, and protein. These can help reduce the risk of neuro diseases such as Alzheimer's, dementia, and Parkinson's disease. Mushrooms are also helpful in mitigating other adverse health problems like cancer, heart disease, diabetes, among others.
So in any sense, mushrooms are healthy as long as you consume them in moderation. For our bacon mushroom recipe, the nutritional information is below.
Per serving of bacon mushroom:
158 calories
14 g fats
8 g carbs
3 g protein
It's worthy to note that the USDA Dietary Guidelines for Americans recommend limiting your calorie intake to up to 2,000 daily. So I'm sure you already know the drill. Wink, wink!
Best Vegan Meat Brands
Of course, it's important that you know what brands have the best vegan meat that you can easily buy from your local grocers. These are what I personally like if I feel like cooking at home.
Field Roast Apple Maple Sausages
Tofurky Deli Slices
Upton Naturals Bacon Seitan
Gardein Crispy Tenders
Impossible Foods
Ray's Seitan
Herbivorous Butcher
Alpha Foods
Butler Foods
Abbot's Butcher
Boca
Gardenburger
Louisville Vegan Jerky Co.
Match Meats
MorningStar Farms
Phoney Baloney's Coconut Bacon
Primal Spirit Foods
Sophie's Kitchen
Upside Foods
Yves Veggie Cuisine
The Bottom Line
Sauce Stache is undoubtedly vegan despite the idea that the guy behind it is pescatarian. Mark Thompson has spent years learning different techniques in recreating his own vegan meat products and recipes.
Isn't it great that he extensively research techniques to make these vegan recipes to share them with us? It's really awesome that we can find almost everything we need to learn on his channel.
If you're into cooking, Sauce Stache is your thing. His channel has a lot to offer from making vegan meat products to upgrading some recipes from known food chains and brands.
Most importantly, we're learning that veganism is not just about food. It's also about cutting down the suffering of animals and leaving a positive impact on the environment. Keep going!