Answer: Yes. Valentina Hot Sauce or Salsa Valentina is vegan-friendly as it doesn't contain any animal-derived ingredients in its production.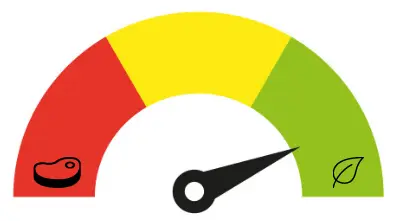 Oh, hot sauce! Do you agree that food without that spicy kick isn't too satisfying? I would agree to it since I love spicy foods!
One of Valentina's key ingredients is natural vegan vinegar, as it's only sourced from coconuts, apples, and other plants. Its chili peppers are known as guajillo puya, which are native to the Mexican state of Jalisco. Valentina has been Mexico's go-to hot sauce, especially in street fares.
Are you a spicy food lover too? Valentina Hot Sauce is for you! Let's check more about it.
Salsa Valentina, Spice It the Mexican Way
Valentina Hot Sauce, most commonly known as Valentina Salsa Picante in Mexico, is a pourable salsa made by the Guadalajara-based company Grupo Tamazula.
The chili peppers used in Valentina are called puya chilis, widely known as guajillo puya in Mexico's Jalisco state. Its parent company also produces another type of hot sauce called Tamazula, which uses the same chili peppers.
Valentina has two different varieties: the Hot variety with 900 Scoville Heat Units (SHU) and the Extra Hot with 2,100 SHU.
Named after Mexican revolutionary Valentina Ramírez Avitia, Valentina salsa is a staple of Mexican cuisine, often used in most street fares.
Something to note about Avitia is that she's Mexico's "The Mexican Mulan" or "La Mulán Mexicana."
Valentina's logo includes the outline of the map of Jalisco state in Mexico, colored in red.
Mexicans and many Americans love the texture of Valentina as it's thicker than Tabasco sauce, and it has a more enhanced chili flavor with less vinegar.
Valentina is available in black and red labels and is sold in different sizes.
Black Label

Valentina 12.5 fl oz
Valentina 34 fl oz

Red Label

Valentina 5 fl oz
Valentina 34 fl oz
Valentina 12.5 fl oz
Valentina 1.1 gal
Valentina Packets 10 ml
Tip: Picante is a Spanish term that means "spicy."
Grupo Tamazula
Grupo Tamazula was established in 1960 in Guadalajara, Mexico by founder Don Manuel Maciel Mendez.
The Tamazula Hot Sauce brand quickly gained popularity throughout Mexico, reaching the U.S. and other countries the company serves.
Grupo Tamazula caters to wholesalers and distributors around the world.
It also manufactures Valentina Seasoning and Valentina Marisquera, which you can also buy on Amazon.
Valentina Mariscos is best for seafood, but it can be used by vegans since it doesn't include animal-derived ingredients.
Also, Valentina Seasoning is vegan-friendly.
Grupo Tamazula exports its products to other countries like Canada and has warehouses in San Diego, California, and Laredo, Texas.
Its sales office in the U.S. is located in Chula Vista, California.
Valentina Is Vegan
Like many other sauces, Valentina doesn't involve animal-derived ingredients, making it vegan-friendly.
This Mexican hot sauce is only made with water, chili peppers, spices, salt, vinegar, and a preservative called sodium benzoate.
Sodium benzoate, however, is often feared to have caused or increased hyperactive levels in children when eaten excessively.
According to a study conducted on young children, Sodium benzoate and other preservatives and food dyes can worsen their hyperactive levels.
The study found small effects of Sodium benzoate on children when given a diet containing the said preservative compared to the others who didn't.
On the plus side, the FDA generally recognizes sodium benzoate as safe (GRAS). There have been no reported cases of Sodium benzoate's severe or adverse health effects.
But although sodium benzoate is considered safe, the FDA has also set a quantitative limit for its usage in food, which is 0.1%.
However, animals, particularly cats, show more vulnerability when food enriched with Sodium benzoate is excessively fed.
So you may have to avoid feeding your pet cats food filled with Sodium benzoate to avoid any health issues.
As for the vinegar, this ingredient is considerably vegan, especially traditional or raw vinegar. It's mostly sourced from coconuts, apples, barley, and grapes.
Most hot sauces, though, would use raw vinegar as it works well with other ingredients and preservatives.
Infused vinegar is not suitable for making hot sauces because they don't give the achievable flavor that manufacturers want.
For this matter, it's safe to say that Valentina is vegan and animal-friendly.
How Spicy Is Valentina Hot Sauce?
Valentina Hot Sauce comes in two varieties, and the Extra Hot one is considered mild for many spicy lovers.
For instance, Valentina Extra Hot Sauce has 2,000 Scoville Heat Units (SHU), spicy as the jalapeños.
Depending on their varieties, jalapeños' SHU ranges from 2,000 – 8,000. They're not as spicy as the tabasco peppers, ranging from 100 to 35,000.
For those who can't stand spicy flavors, Valentina Hot Sauce with only 900 SHU would be great for you. It's milder than its Extra Hot variety, but it's still as delicious.
But for the spicy lovers, Valentina Extra Hot Sauce would be spicy enough for you, although it's not as spicy as Tabasco's original pepper sauce.
Top 10 Vegan-Friendly Hot Sauce Brands
I truly understand that spicy food lovers can't get enough of different hot sauce brands.
I'm also a spicy lover, and I scorch the internet and grocery stores in search of vegan-friendly hot sauce.
The good thing is, there's a lot to choose from. But if you wanna know which ones are the best, here's a list of hot sauce brands that I personally like.
Yes, I've tried them all. They've been part of my pantry repertoire. Wink, wink!
Tabasco Raspberry Chipotle
Pain is Good Harissa Hot Sauce
TorchBearer Zombie Apocalypse Ghost Chili Hot Sauce
Yellowbird Serrano Sauce
Bushwick Kitchen Weak Knees Gochujang Sriracha
Hot Ones The Classic Hot Sauce
Cholula Hot Sauce
Frank's RedHot Buffalo Wings Sauce
Hoff's Green Jalapeno Hot Sauce
Inner Beauty Hot Sauce
Try each one of them. You won't get disappointed. Plus, they're all vegan and animal-friendly!
Is Eating Spicy Foods Healthy?
Good news, spicy food lovers. Yes, it's healthy!
If you're not into spicy, a small amount won't hurt.
Spices like chilies, peppers, turmeric, ginger, garlic, cumin, and cinnamon, among others, contain Capsaicin, which offers many health benefits.
Several studies and research have found that spicy food can help boost your overall health. If you're still not convinced, here are a few health benefits you can get from eating spicy.
A 2015 study by Harvard and China National Center for Disease Control and Prevention shows that eating spicy foods at least once a day lowered the mortality rate by 14%.
Spices like chili peppers can help speed up your metabolism by 5% and slows down your appetite, especially if you're on your weight loss journey.
Capsaicin, a compound found in spices, is known for helping to reduce blood pressure and improves blood circulation.
It's also found to be helpful in heart health as it reduces your LDL cholesterol, which causes inflammation in the heart.
Capsaicin also works as an endorphin, mistaken for pain because of heat. This reduces anxiety and makes you feel good, which reduces stress or depression.
Capsaicin is also an antioxidant known for fighting against free radicals that damage the cells in your body. This helps fight cancer.
It also helps increase the digestive fluids in the stomach, strengthening digestive functions.
Topical creams that contain Capsaicin are also known for alleviating neuropathic or arthritic pain. Capsaicin acts as an analgesic, which is responsible for relieving pain.
While eating spicy foods has many health benefits, you may also have to be careful not to overeat.
Trust me, it will make you produce an adult cry if you try one of those spiciest hot sauces on earth, a.k.a. ghost peppers-based salsa.
There are, however, some issues with it if you eat more than your tolerable heat. That's why it's advisable to eat according to your vulnerability.
Because really, spicy foods are not for the faint of hearts. I love spicy, but I wouldn't want to try those ghost peppers.
One of the several effects of excessive spicy intake is vomiting. Your esophagus might be affected by too much vomiting.
Also, some people blame spicy foods for having stomach ulcers and hemorrhoids. No, they don't cause these issues. But if you are already suffering from them, they can be triggered by spicy foods.
If you have Crohn's disease, a type of Inflammatory Bowel Disease (IBD), you may also have to be extra careful in eating spicy foods.
The Bottom Line
Valentina Salsa Picante is vegan-friendly as it doesn't contain ingredients that are sourced from animals.
Except for the Sodium Benzoate that Valentina contains, which causes little health issues in young kids, everything in it is vegan and animal-friendly.
There are many vegan hot sauce brands to choose from if Valentina isn't accessible to you.
Frank's RedHot, for instance, is also vegan-friendly. You may check all its details in this article if you can!