Answer: No. I am sorry to disappoint; Pillsbury Cinnamon Rolls aren't vegan. They contain a small amount of whey, a protein from milk. They also have mono and diglycerides that most vegans avoid.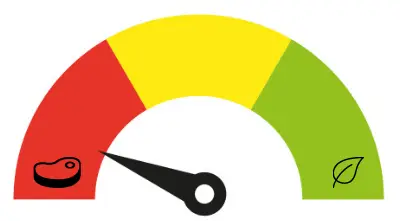 Are Pillsbury Cinnamon Rolls Vegan?
Pillsbury cinnamon rolls are well-known for their fresh-baked, ooey-gooey goodness. They are a great idea for Sunday mornings and the fastest way to get your kids to the table, as the commercials will tell you. The Pillsbury doughboy, who giggles after getting poked in the stomach at the end of each commercial, is a great example of this. Pillsbury cinnamon rolls sound great, but are they really good for vegans or those looking to eat healthier?
Read on to find out all you need to know about Pillsbury Cinnamon Rolls and if you can include them in your vegan diet.
History of Pillsbury Cinnamon Rolls
Cinnamon rolls are rolled sheets of yeast-leavened dough topped with a cinnamon-sugar mixture and a thin layer of butter. More details regarding cinnamon rolls are available here. Here you can read more information about cinnamon rolls.
The cinnamon rolls come from Sweden, and their original name is kanelbulle. Kanelbulle has been around for as long as we can remember. This dessert is very popular, especially in Scandinavia and the US.
In 1869 John S. Pillsbury and his nephew Charles Alfred Pillsbury decided to found a company called C.A. Pillsbury and Company. They wanted to sell their beloved cinnamon rolls. Many people liked them, and they gained massive popularity.
For the original cinnamon rolls, you need the following:
warm milk
dry yeast
eggs
salted butter
salt
sugar (white or brown)
cinnamon
the frosting – cream cheese, butter, powdered sugar, vanilla
How Vegan Are the Pillsbury Cinnamon Rolls?
The Pillsbury Cinnamon Rolls can't be vegan-friendly because of the refined white sugar. The white color of the sugar is achieved with a bone char filter. We get bone char from cattle bones, which is why vegans don't accept it.
Almost every cereal has sugar as a vital element. Vegans should double-check the sugar in their food products to see whether they are fit for consumption.
And again, other ingredients like the coloring also make them non-vegan.
In this article, you can find more information about this issue.
Vegan Diet and Cinnamon Rolls
Most sweet dishes contain some animal-based food that most vegans prefer to avoid. You can't know whether the products have natural vegan-friendly flavors or not.
Turning vegan can be challenging for many, especially if you have been into animal products for a long time. Veganism isn't only a form of diet; it's a lifestyle and a true philosophy. Vegan life is dedicated to saving animal lives.
As the saying goes, if there is a will, there is a way. There is always a way to treat yourself to sweet things healthily.
Everyone likes sweets and wants to have them at least once per day. Pillsbury Cinnamon Rolls are classic in the genre of sweet dishes that everyone is crazy about. Most American families have them as a dessert, usually after breakfast.
With veganism on the rise exponentially, the question is how many companies have thought of turning their delicious desserts into vegan-friendly ones. Pillsbury's cinnamon rolls aren't vegan, but another option from their brand called Pillsbury Crescent Rolls is truly vegan.
Health Benefits of the Pillsbury Cinnamon Rolls
The original Pillsbury Grands Cinnamon Rolls with icing have a high calorie, carbs, and fat content. Check out their nutrition list.
So in this order of thinking, you can see how unhealthy they can be if you eat a lot of them. It is good to treat yourself to some, but don't overeat!
You can eat them after breakfast or when you need some carbs.
Cinnamon is beneficial in general, as you can see in this list below:
Lowers bad cholesterol levels in the body
Reduces blood sugar level.
Reduces the risk of cancer.
Treats bad breath
Protects against various heart problems.
Boosts brain activity.
Fights against yeast infection.
Effective treatment for stomach ulcers
Where Can We Find Them?
Would you rather make your own vegan cinnamon rolls? Regular cinnamon rolls might not be the definition of vegan food, but you always have great alternatives.
Cinnamon rolls can be found everywhere, in every store, and at airports. It would be better if you searched for alternative vegan-friendly cinnamon rolls. We don't say it will be easy, but it is way better.
You can always prepare them at home if you can't find something satisfying. Cinnamon rolls are easy to make – they take only 18-20 minutes.
Most of the ingredients you'll need for making the rolls are readily available at home or in any store.
Healthy Alternatives at Home
Many people liked them since many vegans have found a way to prepare them and stick to their restrictions. It isn't hard to turn one food into a vegan one. The hard part is to keep the taste similar. Here you can check more recipes for preparing vegan cinnamon rolls from the comfort of your home.
The benefits of preparing vegan cinnamon rolls at home:
They are healthy, and you choose your ingredients.
Your house will smell like IKEA. The aroma of a warm buttery cinnamon roll right out of the oven will surely pique the senses.
Organic products can ensure delicious and mouth-watering rolls every single time.
Here is a list of all the ingredients you need to prepare vegan cinnamon rolls!
For the dough:
butter
instant yeast
plain almond milk
organic cane sugar
salt
unbleached all-purpose flour
For the filling:
vegan butter
organic cane sugar
ground cinnamon
Some Other Options
You have already learned that these beloved Pillsbury Cinnamon Rolls aren't vegan. However, their company offers a similar product called Pillsbury Crescent Rolls. These rolls resemble mini croissants, but the texture is different, as well as the ingredients.
Vegan Alternatives
Annie's Organic Cinnamon Roll Dough w/Dairy-Free Icing
Immaculate Organic Cinnamon Rolls with Icing
Cinnaholic
In Conclusion
Pillsbury Cinnamon Rolls is a non-vegan sweet dish. Even though it isn't so healthy, it is perfect when you have guests, for brunches, birthdays, or simply for weekend breakfast.
All the typical cinnamon rolls aren't made for vegans. From what you read here, I hope you become more familiar with turning these beloved cinnamon rolls into vegan ones with sustainable products from your nearby shop.