Answer: No. Wonder Bread is not vegan as it contains several animal-derived ingredients.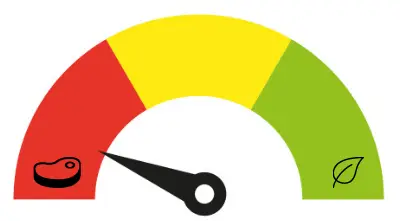 Have you tried Wonder Bread before too? Yes, it's great for toast and sandwiches, but the thing is, it's possibly not vegan-friendly.
Wonder Bread has ten different varieties that are all considerably not vegan-friendly. The white bread variety, for instance, is made with Monoglycerides and/or Diglycerides, enzymes, and many other non-vegan-looking ingredients. Plus, it also contains milk, as shown on the packaging.
Let's check more of it here.
Wonder Bread, Always Wonder
Wonder Bread is one of the brands of Flowers Foods, an American producer of packed bakery items such as sliced bread.
In 1921, the Taggart Baking Company in Indianapolis, Indiana, started making Wonder Bread, which was named by the company's corporate staff Elmer Cline.
Cline was amazed by the International Balloon Race, where he was overwhelmed and filled with "wonder."
The balloon race at the Indianapolis Motor Speedway was filled with hundreds of colorful balloons featured on the brand's logo.
In 1925, Continental Baking Company acquired Taggart, which started marketing Wonder Bread in a pre-sliced form.
The pre-sliced form assured many consumers that Wonder Bread doesn't dry out, putting the brand in the limelight nationwide.
However, in 1943, a slicing suspension was executed, making Wonder Bread return to its unsliced form. It happened during World War II when bread slicers were suspended.
Two years later, pre-sliced bread was back.
Wonder Bread is also produced in Mexico by the world's largest baking company, Grupo Bimbo.
The company owned the Mexican rights to Wonder Bread when it acquired Continental Baking Company in 1986.
Wonder Bread is also produced and sold in countries like Canada, Pakistan, and Morocco. These Wonder Bread brands are not directly connected to the original American brand.
Wonder Bread Is Not Vegan
For many reasons, Wonder Bread is not considered vegan-friendly.
One of its ingredients, a dough conditioner, contains possibly non-vegan ingredients such as Sodium Stearoyl Lactylate and Enzymes.
Although these ingredients may come from plants or are naturally sourced, there is no assurance that they are, especially since the product isn't certified or labeled vegan.
Let's take a look at Wonder Bread's ingredients, particularly in the classic white variety.
Unbleached Enriched Flour
High-Fructose Corn Syrup
Water
Salt
Yeast
Soybean Oil
Wheat Gluten
Dough Conditioners

Contain one or more of these ingredients: Sodium Stearoyl Lactylate, Calcium Stearoyl Lactylate, Monoglycerides and/or Diglycerides, Calcium Peroxide, Calcium Iodate, DATEM, Ethoxylated Mono- and Diglycerides, Enzymes

Yeast Food
Monocalcium Phosphate
Soy Flour
Soy
Lecithin
Calcium Propionate
Milk
First off, Sodium Stearoyl Lactylate is either sourced from plants or animals, which isn't clear with Wonder Bread. This is widely used in processed foods in an attempt to extend their shelf life.
It's made from Stearic Acid, which is also unclear if it's sourced from plants or animals in the case of Wonder Bread.
Monoglycerides and Diglycerides can be obtained from animal fat or naturally sourced oils such as sunflower, soybean, palm, and more.
This, however, isn't known whether it's vegan or non-vegan in Wonder Bread.
Enzymes used in bread are mostly fungal-based, which is vegan-friendly. However, there are also many instances where they are sourced from animals.
They're also found in bacteria and vegetables, which are not common in bread production.
As for Lecithin, just like Enzymes, it can also be sourced from either plants or animals.
Lecithin acts as an emulsifier, which is widely used in many baked goods and can be sourced from eggs and the organs of many animals.
Vegan Lecithin is derived from peanuts, corn, soybeans, and more.
However, just like the other controversial ingredients, it's not known in Wonder Bread.
Lastly, it also contains milk, as shown in the packaging, which makes it more non-vegan. Most vegan bread should only involve flour, water, yeast, and salt.
When milk, butter, or cheese are added, that's already non-vegan, which is the case for Wonder Bread, especially since it doesn't say that its milk is plant-based.
So, it's safe to assume that Wonder Bread is not vegan-friendly.
Is Wonder Bread Healthy?
Every food, when eaten excessively, is always considered healthy. So does Wonder Bread, which contains High-Fructose Corn Syrup (HFCS).
Although HFCS is vegan-friendly, its health effects can be tremendous if you eat it excessively.
HFCS is a liquid sweetener widely used in many sodas, baked goods, fruit-flavored drinks, and many others.
It's sourced from cornstarch, which is broken down into glucose, a type of sugar.
Fructose is another type of sugar produced after half of the glucose molecules are processed chemically.
According to health experts, HFCS is linked to many serious health issues such as diabetes, fatty liver disease, inflammation, and many more.
It's also feared to cause or trigger fibrosis and cirrhosis, which severely damage the lungs and liver, respectively.
In the U.S., HFCS is permitted for use because it's way cheaper and easier to handle than sugar.
It was first introduced in the 1970s to the food and beverage industry as a substitute for table sugar as it has the same sweetness.
So if you regularly eat a loaf of Wonder Bread, you may have to reconsider it.
Here's what you can get from eating at least two slices (57 g) of Wonder Bread Classic White.
Calories. 140
Total Fat. 1.5 g
Cholesterol. 0 mg
Sodium. 180 mg
Potassium. 0 mg
Total Carbs. 29 g
Protein. 4 g
Wonder Bread is also a good source of calcium, folic acid, iron, vitamin D, niacin, thiamin, folate, and riboflavin.
Another thing that you may want to consider is that Wonder Bread contains vitamin D, which is commonly considered non-vegan.
There are, however, some types of vitamin D, like vitamin D2, which is often suitable for vegans.
But vitamin D3 is mostly derived from animals, although the vegan version is derived from lichen, an algae organism.
Overall, the status of Wonder Bread is not yet clear whether it's vegan or non-vegan, especially since the packaging doesn't say so.
For vegans, it's a clear statement that Wonder Bread has ingredients that are sourced from animals.
Wonder Bread Products
Apart from Wonder Bread's Classic White, it also features other varieties that have been part of American cuisine.
Loaf Bread

Classic White
Small Classic White
100% Whole Wheat
Italian Bread
Wonder Giant
Texas Toast

Buns and Rolls

Wonder Classic Hamburger Buns
Classic Hot Dog Buns
Wonder White Sub Rolls
Nathan's Hot Dog Buns
Philly Steak Rolls
Dinner Rolls
Classic Dinner Rolls

Breakfast
Common Ingredients to Look Out for in Bread
The traditional bread is always vegan-friendly as it only contains water, flour, salt, and yeast.
However, as the growing demands for bread arise, many baking companies resort to using animal by-products.
If you're buying bread from a bakery or the grocery, always check the packaging to see if they contain any of these non-vegan ingredients.
Honey
Eggs
Gelatin
Royal Jelly
Buttermilk
Milk
Butter
Casein
Whey
Lecithin
Monoglycerides and/or Diglycerides
Enzymes
Sodium Stearoyl Lactylate
The last four ingredients you may encounter are present in Wonder Bread, and which is hard to tell if they're sourced from animals or plants.
If that's the case, it's always better to avoid a product containing any of those ingredients, especially when it's not labeled vegan.
Types of Bread That Are Typically Vegan
Most of these types of bread are traditionally or typically vegan as they're only made with four main ingredients: flour, water, salt, and yeast.
Some baking companies use these names but are adding dairy products and other non-vegan ingredients to the bread.
Nonetheless, these are typically vegan-friendly.
Pita
Sourdough
Ezekiel
Ciabatta
Baguette
Focaccia
Kosher bread
Something important to note is that when bread is less processed, it may be vegan. Otherwise, it may not be vegan-friendly if it goes through several processes to break down any chemicals or substances.
Vegan-Friendly Bread to Buy
Having vegan bread at home shouldn't be difficult because, in the first place, it's typically vegan.
But since there have been too many baking companies nowadays producing non-vegan bread, it's best to find one that's labeled or certified vegan.
So, here are the 10 best vegan bread brands you buy from stores or on Amazon. Some of them are even gluten-free, non-GMO, and Keto-certified.
Dave's Killer Bread
Veganic Lentil Grain Bread
Food for Life
Rudi's Organic Bakery
Nature's Own
Angelic Bakehouse
Whole Foods 365 Sprouted Multigrain Seed Organic Bread
Eatsane Nuts and Seeds Bread
Toufayan Bakery
Carbonaut
The Bottom Line
Wonder Bread contains several ingredients that can be sourced both from animals and plants.
For most vegans, Wonder Bread isn't considered vegan-friendly for this reason.
However, there are many types of bread to choose from, including Ezekiel bread, which is vegan-friendly. I wrote about this in this separate article if you can check it out!