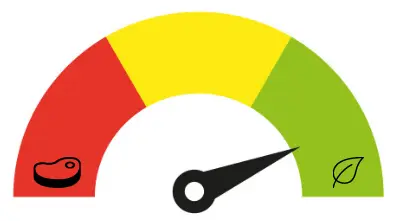 Who doesn't love eating cute little biscuits with their evening or morning tea? Animal Crackers are the most commonly eaten category of biscuits today. So, if you're vegan and wondering whether you can eat Animal Crackers, this article is perfect for you!
Are Animal Crackers Vegan?
To answer your much-wondered question, Animal Crackers are vegan-friendly. Most Animal Crackers do not use ingredients such as eggs or dairy. So, as a vegan, you can eat Animal Crackers produced by most brands.
Being vegan requires a lifestyle change. Going natural and watching what you eat can be a difficult task. It is an uncommon belief, but vegan food doesn't always have to be boring. Crackers being a favorite snack of many, you must be curious how they can be vegan.
Now that we have answered whether Animal Crackers are vegan or not, let's look at what makes them vegan and what brands are safe to use as a vegan!
What Are Animal Crackers?
We're sure you already know because Animal Crackers are a common sight in every home today. However, if you don't know, here you go.
Animals Crackers are a particular type of cookie that's shaped like an animal. They are sweet cookies, but they are made with layered dough, just like crackers. Thus, they are marketed as crackers instead of cookies. Moreover, you have a plethora of choices to choose from when it comes to Animal Crackers.
There are different kinds of Animal Crackers – from plain ones to chocolate and frosted ones – you've got it all. All you need to know is whether the ingredients are vegan or not.
Animal Crackers are made by quite a few manufacturers such as Nabisco, Stauffer, and Austin – a division of the Keebler Company, Borden corporation, Market Square Food Company, Sam's Club, and Cadbury's.
But, which ones are vegan and which ones are not? It is an important question that needs to be answered. As you read ahead, you will understand more about how and which Animal Crackers are vegan.
Ingredients of Animal Crackers
Now, we will tell you about the ingredients of animal crackers that are safe for vegans to eat.
Stauffer's
Stauffer's is the most common and classic name for Animal Crackers. Stauffer's does not use any dairy or eggs in their Animal Crackers. Here are the ingredients that are used in the making of the original flavor of animal crackers by Stauffer's:
Enriched flour (vitamin B1, folic acid, vitamin B2, reduced iron, wheat flour, niacin)
Soybean oil
Sugar
Spice
Natural flavor
High fructose corn syrup
Baking soda
Salt
Soy lecithin
Stauffer's original flavor of Animal Crackers is entirely cruelty-free and safe for any vegan.
Stauffer's Chocolate
If you didn't already know this, Stauffer's offers Animal Crackers in chocolate flavor as well. So, if you are a chocolate lover looking for vegan-friendly animal crackers, Stauffer's is the way to go.
Unlike other chocolate or frosted Animal Crackers, Stauffer's crackers are vegan. Take a look at the ingredients:
Dough conditioner
Potassium sorbate and sodium benzoate
Fd&C yellow
FD&C blue
Natural flavor
Artificial flavor
Baking soda
Graham flour
Salt
Soy lecithin
Coca
Chocolate
High fructose
Corn syrup
Sugar
Soybean oil
Enriched flour
Again, Stauffer's does not use any non-vegan ingredients to make their crackers.
Barnum's
Like Stauffer's, Barnum's is another brand offering vegan-friendly crackers. Although Barnum's received criticism for showcasing animals in cages on their boxes, the crackers remain cruelty-free and vegan.
Take a look at which ingredients are used in Animal Crackers by Barnum's:
Unbleached enriched flour
Yellow cornflour
Fructose
Sugar
Soybean
Canola oil
Dextrose
Calcium carbonate
Natural flavor
Baking soda
Soy lecithin
Salt
Artificial flavor
So, as you can see, there are no animal products in the ingredients used by Barnum's to make animal crackers.
Trader Joe's
Trader Joe's Animal Crackers are also popular among many people these days. These crackers are also vegan-friendly, just like the ones mentioned above. Take a look at the vegan ingredients they use to make these yummy snacks:
Organic cane sugar
Organic mace
Organic sunflower oil
Leavening
Organic brown rice syrup
Organic wheat flour
Organic lemon flavor
Organic soy lecithin
Citric acid
With a wide variety of organic ingredients used by Trader Joe's, you can relax and eat those animal crackers knowing that they are vegan-friendly!
Kirkland
If you're looking for more organic Animal Crackers, Kirkland by Costco is the perfect choice for you. The crackers manufactured by Kirkland are organic and vegan. Take a look at the ingredients of these organic crackers:
Cream of tartar
Organic spice
Organic vanilla extract
Natural flavor
Salt
Soy lecithin
Baking soda
Organic degermed cornflour
Organic cane invert syrup
Organic sunflower oil
Organic wheat flour
Organic palm oil
Organic cane sugar
Don't the ingredients look similar to those used in Trader Joe's Animal Crackers? All these ingredients are cruelty-free and vegan-friendly. So, you can peacefully enjoy those animal crackers from Kirkland!
Nature's Promise
Although Nature's Promise animal crackers come with a warning that they might contain milk, coconut, or eggs, they are still vegan. Wondering how that's possible? Well, all the ingredients used in these Animal Crackers are vegan-friendly.
So, it is safe to conclude that these Animal Crackers are vegan. Take a look at the ingredients:
Organic enriched wheat flour
Organic vanilla extract
Ammonium bicarbonate
Sea salt
Organic soy lecithin
Organic cane sugar syrup
Organic cocoa powder
Organic palm oil
Organic brown sugar
Baking soda
Natural flavors
See? All the ingredients are cruelty-free and, thus, vegan.
Earth Fare
The Animal Crackers by Earth Fare are vegan, just like the rest of the crackers we told you about. Take a peek at the ingredients used to make the Earth Fare animal crackers:
Organic vanilla extract
Baking soda
Soy lecithin
Organic palm oil
Organic wheat flour
Organic canola oil
Organic soybean oil
Organic palm oil
Organic dehydrated cane juice
Organic invert sugar
With all these organic and cruelty-free ingredients, Earth Fare's crackers are definitely vegan. Add these crackers to your list of vegan-friendly crackers that you can enjoy as a snack!
Are Animal Crackers Healthy?
Eating Animal Crackers may take you back to your childhood. Apart from the memories that these crackers bring along, it is essential to consider the health benefits they can bring to the table.
As the ingredients in crackers don't include any egg or milk products, they are a great choice if you're planning to snack while on your vegan diet. With the added nutritional benefits, animal crackers will soon become your favorite snack (if they aren't already).
If you consume these crackers in moderation, you will receive certain nutrients that help improve your health conditions. Twenty-four pieces of crackers will give you a total of only 113 calories.
We have collated a shortlist of some health benefits that Animal Crackers provide you with.
Osteoporosis
Most crackers come with calcium in their ingredient list. This calcium is effective and helpful for people who have osteoporosis. The calcium in crackers helps strengthen the bones.
Anemia
If you're wondering how Animal Crackers can help prevent anemia, the answer is simple. They come with high iron content. Consumption of these crackers helps produce hemoglobin.
Antioxidant
As you may have noticed above, crackers come with vitamin content. Most crackers contain vitamin C, which helps in the absorption of iron. It makes Animal Crackers a great antioxidant source.
Bones
If you're living in Mexico, then you're even luckier. Some versions of Animal Crackers in Mexico come with vitamin D. As you may know, vitamin D helps strengthen bones.
Endnotes
We hope we have made you hungry by sharing our knowledge about Animal Crackers and veganism with you. This carefully curated article certainly answers all your questions about these crackers.
Animal Crackers are reminders of childhood to many. They are tasty treats that can be enjoyed as snacks at home and are also the perfect to-go snacks if you're in a hurry. Surprisingly, the ingredients used in most crackers are vegan and cruelty-free.
With the help of the list given above, we hope you can make a wise choice. Additionally, Animal Crackers also offer some health benefits apart from being the favorite snack of children and grown-ups!
With all the organic ingredients and the nutritional content that benefits you, Animal Crackers are a safe choice for any vegan. You can eat them without any doubt or fear.