Answer: It depends on the country. The US and UK Subway Veggie Patties are not vegan, as they contain eggs and dairy, whereas Subway Veggie Patty in Australia and New Zealand is vegan. Canada offers both options.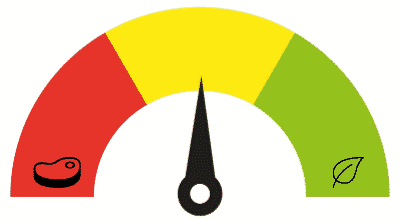 In a rush and need to grab some food? Finding vegan options for a quick meal at fast-food chains is finally becoming easier. More and more popular fast-food restaurants are launching vegan options. Nevertheless, you can sometimes suspect the vegetarian options to be entirely plant-based as well. However, many restaurants are also choosing the Veggie label wisely, as when the ingredient list includes eggs or dairy.
And this can get tricky: you can find both options for the Subway Veggie Patty. The controversy: it depends on the country, whether the patty contains vegan or non-vegan ingredients. Thus, ingredients vary when it comes to different countries. Every country has its own product guide and ingredient list for the Subway Veggie Patty, which you need to investigate separately.
If you find the vegan Veggie Patty, such as in Australia, New Zealand, or Canada, make sure that you are making vegan choices regarding the bread and sauce covering your patty.
Where Is The Veggie Patty Non-Vegan?
Having a look at the Subway US Product Ingredient Guide that was last updated in April 2020, egg whites and calcium caseinate, which is derived from milk appears on the Veggie Patty ingredient list. The same goes for the Subway Veggie Patty offered in the UK, as the Subway UK Allergen Information Table shows. Hence, animal-products are processed in the patty, so it is not a vegan option in the US and UK.
Where Is The Veggie Patty Vegan?
Controversial to the US and UK Veggie Patty, Subway Australia, and Subway New Zealand offer just one Veggie Patty, which does not contain eggs and milk (or any other animal product) thus can be eaten by vegans. It's made up of 40% vegetables plus soy protein, cooked brown rice, oats, vegetable oil, and seasonings. In short: the perfect vegan protein bomb!
Both Options
In Canada, both variations of the Subway Veggie Patty can be found: The Subway Canada Product Ingredients List, which was last revised in May 2020, lists two veggie patties, one vegan and one non-vegan option. However, both are still named Veggie Patty. In this case, Subway Canada remarks that restaurants selling the non-vegan Veggie Patty should mention on the menu that this patty contains eggs and milk. If you are in a Canadian Subway offering just one Veggie Patty without any remarks, it should be the vegan one.
Vegan Alternatives
The Vegan/Plant Patty (PB)
If you are looking for a vegan patty, you might be fortunate if you are in the UK or Canada. You may find a Vegan Patty in the UK, entirely plant-based, as the name says. To make it even more precise, this patty is made up of plants; the name was even revised to Plant Patty (PB).
Among the ingredients are red onion, red sweet pepper, sweet green pepper, carrot, spinach, corn, white cabbage, peas, and green chilies. It comes with 21 g of protein, and you can choose it in any menu you like, as a sandwich patty, in your wrap or salad.
Next to that, in Canada, you can find the Veggie Patty vegan version, as explained above. Just be on the lookout for any remarks claiming non-vegan ingredients.
Vegan Meatball Marinara
Subway UK has even more to offer: The Meatless Meatball Marinara. The Beyond Meat meatballs are topped with plant-based Mozzarella-style slices and served with the signature marinara sauce or a vegan garlic mayo on top of that. And the protein count of the Meatless Meatball Marinara is as high as 23g!
In 2019, Subway tested this vegan variation in several US and Canada locations, whereas Subway UK decided to put it on its permanent menu from January 2020 on. However, there might be chances that some places in North America are still serving the Vegan Meatball Marinara.
The Malibu Vegan Patty
After the campaign of Compassion Over Killing back in 2012, three new vegan subs were tested in several US locations: The Malibu Greek, Italian Black Bean, and Sweet Riblet. However, just one of them survived, and even this one is so hard to find. The Malibu Vegan Patty contains only organic ingredients, such as brown rice, corn, carrots, onions, rolled oats, and red bell peppers. Very few US and Canada locations are still serving the patty, but who knows, maybe you are one of the lucky ones!
The Veggie Delight
If you find yourself in a Subway restaurant out of stock of any vegan patty or generally not serving these, there is one all-time sandwich you can order, which is vegan: the Veggie Delight Sub.
It's serving crisp veggies on your chosen bread and is not even high in calories. Take care, though – select a bread that contains just vegan ingredients.
Creating Your Vegan Sub
If you find the vegan Veggie Patty in Australia, New Zealand, or Canada, or the Plant-Patty in the UK, the mission is not over yet. To create your sub with the vegan Veggie Patty or Plant-Patty, make sure that you choose a vegan bread and vegan sauce to keep it entirely vegan.
Vegan bread is the Roasted Garlic, Sourdough, Light Wheat English Muffin, Hearty Italian, and Hearty Italian White. On the other hand, some bread features non-vegan ingredients, such as honey in the 9-Grain Wheat Bread, Honey Oat Bread, eggs in the Gluten-Free Bread, or dairy in the Italian Herbs & Cheese Bread, Monterey Cheddar Bread, Parmesan/Oregano Bread.
To make your sub complete, go for the following vegan sauces: oil, vinegar, subway vinaigrette, Buffalo sauce, yellow mustard, deli brown mustard, mustard seed spread, sweet onion sauce, and fat-free Italian dressing. And guess what? In the UK, you can even find a vegan garlic aioli sauce! Short reminder: In the UK, you need to find the Plant-Patty instead of the Veggie Patty.
In Sum
The Subway Veggie Patty is not vegan in the US and UK. The Subway Veggie Patty is vegan in Australia and New Zealand. And the Subway Veggie Patty is vegan in Canada if no additional remark on the menu board is claiming eggs and milk as ingredients. If you are lucky to find the vegan Veggie Patty, make sure to go for the vegan bread and sauce options, such as the Roasted Garlic Bread and Sweet onion sauce.
In case the vegan Veggie Patty is not available in your location, you may find the vegan Plant-Patty (PB) in the UK instead. Here, you may also be lucky to find the Meatless Meatball Marinara served with vegan cheese and is a permanent part of the UK Subway menu. At some locations in the US and Canada, you may still find it, though! Otherwise, you may also find the Malibu Vegan Patty in the US or Canada, which was initially part of a vegan testing campaign back in 2012.
And if you can find no vegan patty at all, you always have the Veggie Delight vegan option, which features crisp veggies topped with vegan bread and sauce of your choice.
However, there is hope for finding a vegan Veggie Patty or another vegan patty option among all countries!