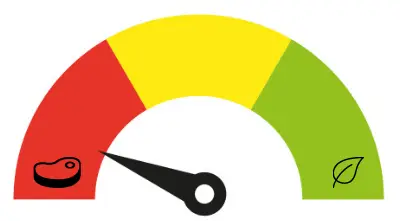 Checkers and Rally's has been a well-known double drive-thru restaurant chain since 1999. People generally relish their hamburgers, milkshakes, and of course, fries. Are Checkers fries vegan?
Sadly, you won't find many vegan-friendly options at Checkers. Even Checkers fries, for that matter, are not vegan.
Read on to uncover every little detail about Checkers fries and whether they are vegan. It will help you choose better when you find yourself at Checkers and Rally's next time. You will also learn about the other popular vegan alternatives you can eat.
What Are Checkers Fries?
Checkers Fries are loved and cherished by all Checkers fans. These perfectly seasoned french fries are a treat and were also given the title of No.1 Craveable Fries for years. You can even find frozen ones in grocery stores around you.
Its taste is the reason behind its popularity. Unlike regular fries, these are coated in a special batter before being tossed in a deep fryer. This specially seasoned batter is the same used to make Checkers mozzarella sticks and fried pickles.
It's made by mixing starches, flours, and 15 different herbs and spices to enhance the ultimate flavor. The way the fries are coated and fried also adds to the epic taste. Checkers fries are crunchy and crispy, and they remain so even after a long drive.
You will find the same taste anywhere you go since these fries are frozen to keep the taste consistent at every Checkers and Rally's restaurant. They only need to be tossed into the fryer before serving you hot.
What Do Checkers Fries Taste Like?
As mentioned earlier, checkers fries are crispy, crunchy, and flavorful. The black pepper seasoning enhances the taste of these fries. There is a 'meaty' flavor that is often associated with them.
However, some people consider them to be 'too oily.' The texture of these fries also seems to pose a problem for consumers. Although, this may depend on the service of the restaurant you're visiting.
Nutritional Details
Unsurprisingly, Checkers fries contain a fair amount of calories. Other nutritional facts and numbers for the small order (74 grams) of Checkers fries are as follows:
Checker's/Rally's Seasoned French Fries (small order – 74 grams)
| | |
| --- | --- |
| Calories | 230 kcal |
| Fiber | 1 g |
| Saturated Fat | 4 g |
| Trans Fat | 0 g |
| Cholesterol | 5 mg |
| Sodium | 610 mg |
| Total Carbs | 24 g |
| Dietary Fiber | 3 g |
| Sugars | 0 g |
| Protein | 3 g |
Are Checkers Fries Vegan?
Checkers fries are not vegan-friendly because they are usually fried in beef tallow. They are also seasoned using milk powder. If you're a vegan, Checkers fries are not for you.
However, the frozen fries which Checkers offers and you can find in grocery stores are vegan-friendly. They are also quite delicious. All you have to do is fry them and serve them.
Other Vegan Options at Checkers
You are out of luck with fries, but there are some other vegan-friendly options at Checkers. So, if your friends drag you to Checkers, you at least won't return home with an empty stomach.
All sodas and drinks at Checkers are vegan-friendly, as well as all slushies. You also have grilled onions and vegetable toppings, such as lettuce and tomato for burgers, at your disposal. The burger buns, too, are vegan-friendly.
A few sauces are vegan-friendly, such as the Angry Buffalo sauce, BBQ sauce, Asian Kick sauce, and Frank's Hot sauce. The waffle cone, too, has your back. So at least you have a few delicacies to munch on as a vegan.
Other Restaurants That Offer Vegan-Friendly Fries
Are you craving fries? If not Checkers, you can stop by other restaurants that do offer vegan-friendly fries.
Arby's Curly Fries
They contain no animal products in their ingredients. However, there might be unintentional cross-contamination during cooking because the same oil is used for other foods. One ingredient, called enriched bleached flour, is not gluten-free.
Burger King Fries
They are made with 100% vegetable oil. All 13 ingredients used to make these fries are not animal-based. The fryer used is also exclusively there for all non-vegan foods. Their French toast sticks are also entirely vegan-friendly.
Carl's Jr
They offer vegan-friendly burgers, CrissCut fries, Hash-brown nuggets, hash rounds, and vegan French fries. Their fries are tasty, and you may visit the restaurant if you are craving fries.
White Castle
Even the White Castle offers some vegan-friendly items on its menu. However, the fries are often made using the same equipment as other non-vegan food. If not the same equipment, they are made in the same area.
Wendy's
You may opt for Frywich at Wendy's. It's a veggie sandwich with tasty vegan fries stuffed inside. You may also select other vegan items at Wendy's, including baked potatoes, salads, apple bites, and a few more.
Final Words
If you're a vegan wondering are Checkers fries vegan, you're severely out of luck. These fries are not vegan-friendly, but you have other options to keep you occupied at Checkers. While you're friendly to the planet and your body, you may sometimes feel like being a vegan is tough.
However, now you'll find plenty of vegan-friendly options around you since a good portion of America is turning vegan. You can eat at the restaurants mentioned above if you crave vegan fries.
We hope now you know what to avoid while you're at Checkers. Happy vegan journey!