Answer: It depends. Despite the notion that certain Mike And Ikes are not vegan, you can still enjoy some of their products safely.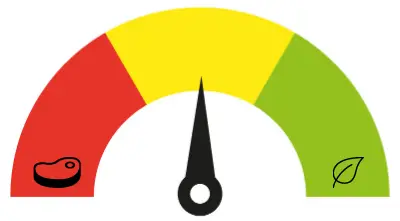 Are Mike and Ikes Vegan?
All candy lovers will probably know the famous Mike And Ikes. Delightful little candies in different colors and flavors and a treat for the taste buds. Over the years, they have also introduced different varieties of candy.
But are Mike And Ikes vegan? Surprisingly enough, even though they are fruit candies, the answer is not definite. Many vegans consider that Mike And Ikes is vegan, while some are not. And there are many reasons for it.
The best way to distinguish whether one variety of Mike And Ikes is vegan or non-vegan is to look at the core ingredients used for manufacturing them and the source of the ingredients. Here is a look at some of them to help you understand the fundamental differences.
Why Some Mike and Ikes Aren't Vegan?
The ingredients are the core components of a product. Mike and Ikes are the candy that uses a lot of confectioner's glaze. When you open a packet, you will find the sweets well coated with a shiny layer, which gives them a smooth surface. Many vegans have an issue with the confectioner's glaze because the glossy coating comes from a Lac beetle's shellac resin.
However, there is an issue amongst vegans with this coating. Some consider it a vegan product, while others think it non-vegan. There are two reasons. The first reason is these shellac resins come from Lac beetles without causing them any harm. And no environmental hazards are involved because these resins get scrapped from the tree branches that the beetle leaves behind.
To most vegans, using shellac resin is not an issue, and they consider it a vegan product. However, some strict vegans consider it a non-vegan product because it comes from an animal as a by-product, and the reason is plausible enough to assume shellac resin is non-vegan.
The other reason why Mike And Ikes are not considered vegan is the use of sugar cane. Now sugar cane is a purely plant-based product. However, bone char is used during manufacture to filter out impurities. The bone char comes from animal bones, and this becomes an issue for vegans, so many vegans avoid consuming anything that has sugar extracted from sugar cane.
And apart from these ingredients, Mike And Ikes also use other elements like artificial colors, which have a history of testing on animals before making it to the factories. However, most ingredients get left in the dark, and it becomes difficult for vegans to know the source of the ingredients. And this is why there are many controversies regarding labeling a product as vegan or non-vegan.
Why Some Mike and Ikes Are Vegan?
There's good news for all the vegans! Despite the notion that certain Mike And Ikes are not vegan, you can still enjoy some of their products safely because they are vegan. There are safe ingredients with no other controversies and issues to bother you.
Mike And Ikes do not contain egg albumin, which comes from egg whites. Using egg albumin during the manufacture of different candy products gives them a chewy texture. Likewise, it does not have gelatin, a flavorless food ingredient—egg albumin and gelatin act as aerators.
In most cases, gelatin is a commercially derived substance from animal by-products like meat and leather industries. That is why many vegans take caution when consuming anything that has gelatin as one of the ingredients. However, Mike And Ikes do not make use of commercially derived gelatin.
Another non-vegan ingredient that many vegans tend to avoid is red 4. It is a dye used for red coloration in candies. And this comes from beetles, which are killed in large amounts to get a handful of the pigment. So vegans take caution when they see red 4 as an ingredient. Luckily, Mike And Ikes do not use the beetle-based red 4, so it is safe to consume as a vegan.
The Health Effects of Consuming Mike and Ikes
A healthy life is an important aspect. And one big reason people opt to follow a vegan lifestyle is to enhance their health and well-being. A vegan lifestyle is, in fact, a healthy lifestyle. However, when it comes to food items like candies, it puts you at risk for diseases, irrespective of whether you are vegan or not.
The sugar content in most Mike And Ikes products is a concern. High sugar levels are associated with many diseases like obesity, cardiovascular problems, blood pressure, and diabetes. It can also cause your kidneys to malfunction.
When you consume Mike And Ikes, you also damage your teeth because of the high sugar content. It feeds the bacteria in the mouth and excretes acids that damage the lining of your teeth. So it weakens the teeth and becomes more prone to dental problems like cavities.
One of the reasons the sugar in Mike And Ikes is terrible for your health is that they digest very fast after eating it. And this allows it to enter the bloodstream quicker, which then makes the sugar in your blood go high. The body responds by converting them into fats, resulting in obesity.
So consumption of Mike And Ikes does not have any health benefits. It has many adverse health problems, so it is not wise to consume it in large amounts. And the reason is that candies are addictive, so if you do not watch how much you eat, it can quickly become an addiction and trigger health issues.
The Varieties of Mike and Ikes
Most people consider that Mike And Ikes is vegan. And apart from using artificial sugars, if you are not a strict vegan, it is not a problem. Here are some of the different varieties of Mike And Ikes that you can try.
Cherri and Bubb Bubble Gum
Cherri And Bubb flavor by Mike And Ikes is a great candy. It is one of the original flavors of the brand and is a great treat. It has a refreshing syrupy flavor with a well-balanced mint taste. And if you like bubble gums, you can't go wrong with this one because it is a classic.
Sour Green Apple Zours
Mike And Ikes is one of the first brands which introduced sour candies. And nothing beats green apple flavor when it comes to sour candies. This one truly stands out as one of the best classic sour candies many love.
Strawberry Reunion
When it comes to fruit candies, strawberry is a well-known flavor. Mike And Ikes Strawberry Reunion is an excellent combination of sugary strawberry jam that melts your taste buds. It is an ideal treat for candy lovers.
Lime Original Fruits
The lime flavor is another one of the originals by Mike And Ikes. The tangy yet sweet taste of the candy makes it one of the favorites among candy lovers. It reminds you of the fresh lime juice you savor on a hot day when you bite into the tiny lime-flavored candy.
Buttered Popcorn
Butter and popcorn are a match made in heaven. It is such a well-known combination and widely consumed snack. And keeping this in mind, Mike And Ikes introduced the Buttered Popcorn flavor, which comes from tiny candies. You can now carry it anywhere and enjoy the taste of popcorn and butter.
Cherry Cola
Cherry and cola is a great combo when it comes to candies. And the Mike And Ikes Cherry Cola flavor comes in a retro-looking packet, which brings back a lot of nostalgia. If you love coke, this is the perfect candy for you.
Cotton Candy
Cotton candy is a well-known snack that many people enjoy, especially kids. And I am sure you must have tasted them at some point. Mike And Ikes brings back many memories with the cotton candy-flavored pack of delights. It retains the original cotton candy taste and is an excellent treat.
Fruit Punch
The Fruit Punch flavor by Mike And Ikes is an excellent combo of some of the most refined fruit flavors you can imagine. It instantly gives you a tropical vibe when you munch on these colored candies. And it also brings back your childhood memories of drinking homemade fruit juices.
The Caribbean Punch Tropical Typhoon
Everything about the Caribbean Punch Tropical Typhoon by Mike And Ikes is about freshness. These tiny blue capsule-shaped candies remind you of the summer beaches and the warm weather in an exotic place. You will love them.
Conclusion
In conclusion, Mike And Ikes are controversial when considering them as vegan or non-vegan. And like pointed out earlier, artificial sugars are the cause of the controversy. But it all depends on how strict of a vegan you are, and many vegans consume it without any issues.