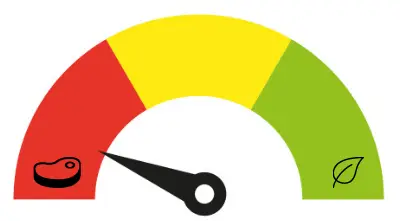 Chester's Hot Fries contain dairy, an animal by-product, which is not suitable for vegans.
A perfect snack is what we all need, especially when you prefer to stay home and watch your Netflix favorite. But of course, it should be vegan-friendly.
Chester's Hot Fries, for instance, can be one of your go-to snacks except for its dairy ingredients that shove vegans away. Its key ingredients are whey and buttermilk, which are derived from milk and cultured cream.
In this article, you will learn more about Chester's Hot Fries, and what are the best vegan alternatives for a perfect snack.
Chester's Fries, It's Flamin' Hot
Chester's Hot Fries is a brand of American food manufacturer Frito-Lay, which also produces snack foods brands. These include Cheetos, Doritos, Fritos, Lay's, and Rold Gold, among others.
Chester's, as well as Cheetos, are known for their mascot named Chester Cheetah, which was created in 1985. The mascot has appeared in many commercial ads and became known for its desperate moves to eat other people's snacks.
Chester's Hot Fries, for instance, has been one of the go-to snacks for most non-vegan consumers with its flaming hot cheesy flavored corn and potato fries. But regardless of how famous and delicious it can be, it still doesn't change the fact that it involves animal by-products.
Flavors And Ingredients
Chester's prides itself in two different flavors that give its consumers a reason to pile up more of it in their pantry. However, vegans can have it, especially since it involves animal by-products.
Check out these two different flavors and their ingredients that make them non-vegan.
Chester's Flamin' Hot Fries

Enriched Corn Meal
Vegetable Oil
Dried Potatoes
Cheddar Cheese
Salt
Whey
Buttermilk
MSG
Tomato Powder
Romano Cheese
Whey Protein Concentrate
Onion Powder
Artificial Color
Natural Flavor
Garlic Powder
Lactic Acid
Citric Acid
Sugar
Disodium Inosinate
Disodium Guanylate

Chester's Bacon Cheddar Fries

Enriched Corn Meal
Vegetable Oil
Dried Potatoes
Maltodextrin
Salt
MSG
Citric Acid
Onion Powder
Whey
Cheddar Cheese
Sugar
Natural And Artificial Flavors
Corn Syrup Solids
Yeast Extract
Garlic Powder
Artificial Color
Parmesan Cheese
Sodium Caseinate
Cheddar, romano, parmesan cheese, whey, buttermilk, disodium inosinate, whey protein concentrate, and sodium caseinate are all non-vegan. These are sourced from animals, which makes Chester's Hot Fries not vegan-friendly as well as the Bacon Cheddar flavor.
Also, sugar and artificial and natural flavors are also controversial ingredients for vegans.
For instance, sugar can be processed using bone char that makes it refined. Beet sugar is the only one you can count on because it can be organic, unrefined, natural, and raw.
As for artificial and natural flavors, the FDA has specified them as either vegan or non-vegan depending on the source. These can be from plants, vegetables, fruits, fish, meat, and poultry, among others.
However, some vegans would just shun this idea away and just go for snacks that don't explicitly involve animal by-products. So, if the idea of sugar and artificial or natural flavors being vegan or non-vegan doesn't bother you, it is your call whether or not you would want to eat food with these unclear or undefined ingredients.
How Healthy Or Unhealthy Are Chester's Hot Fries?
Well, this may not be applicable to vegans, but since we're here to also help out our non-vegan friends, it's best to inform them about Chester Hot Fries' nutrition facts.
Eating snacks isn't just about how delicious they can be, but it's also important to check what you get from them. Calories, sodium, and fat are the top most important contents that we need to watch out for.
Chester's Flamin' Hot Fries. Per 28 g of serving or about 33 pieces, these are what you can get from this flavor.

Calories. 150
Total Fat. 8 g
Cholesterol. 0 mg
Sodium. 280 mg
Total Carbs. 18 g
Protein. 2 g
Vitamin A. 2%
Calcium. 0%
Vitamin B6. 2%
Thiamin. 4%
Phosphorus. 2%
Vitamin C. 2%
Iron. 2%
Riboflavin. 4%
Niacin. 4%
If you notice, Chester's Hot Fries' sodium content is whopping 280 mg, which is high enough for a snack of 28 g. The American Heart Association (AHA) recommends limiting your daily sodium intake to 1,500 and up to 2,300 mg.
Remember that excessive sodium intake can raise your blood pressure, and increases the risk of heart failure, stroke, stomach cancer, kidney disease, and osteoporosis.
Ideally, our body needs at least 500 mg of sodium to mobilize our nerves, keep the balance of minerals and water, as well as contract and relax our muscles. If you lack sodium more often in your daily routine, this may cause hyponatremia.
Hyponatremia causes headache, vomiting, nausea, low energy or fatigue, muscle spasms or cramps, weakness, irritability, and confusion. But these are just the common symptoms, which can be easily managed.
Severe hyponatremia may also cause death, seizures, coma, loss of consciousness, and overactive reflexes. This can also complicate your brains, which may cause injury and swelling, as well as severe bone fractures.
Chester's Snacks
Apart from Chester's Hot Fries and Bacon Cheddar, the brand also has other varieties with different flavors. Unfortunately, these aren't vegan-friendly, especially since they all contain animal by-products such as milk and cheese.
Chester's Flamin' Hot Popcorn
Chester's Butter Puffcorn
Chester's Cheese Puffcorn
Chester's Flamin Hot Puffcorn
Vegan Fries Options
Yes, fries are among our go-to snacks anywhere in the world. But since Chester's Hot Fries are not suitable for vegans, as always, we find ways to have that delicious and vegan-friendly snack.
Check out these vegan fries that are ready to fry at home. I have one of these brands below, and I can say that it's worth trying out.
Strong Roots
Alexia Vegan French Fries
McCain
Grown in Idaho
Cascadian Farm
Nathan's
Great Value
Ingredients To Look Out For
Despite the idea that fries are always vegan, there are other manufacturers that produce frozen fries that involves animal-sourced ingredients. In restaurants, some would include dairy in frying or making their fries, and cross-contamination is also very possible.
Milk
Cream
Cheese
Artificial Flavoring
For the fries in the bag, you will have to check the label to ensure that the ingredients don't involve any animal by-products. Otherwise, you can refer to my list of vegan-friendly brands above.
But the best way to have vegan fries is to make your own at home. That way, you're sure that your fries are vegan-friendly. You only need potatoes, non-stick olive oil spray, salt, smoked paprika, and cayenne pepper. as well as an oven to bake them.
Vegan Potato Snacks
Of course, we're not too boring by sticking on just vegan fries. We also love other vegan varieties, including potato chips. There are many vegan-friendly brands to consider, but the list I jotted down below is one of my favorite brands. Frito-Lay included!
Kettle Maple Bacon Potato Chips
Spicy Sweet Chili Doritos
Indian Life Chips
Earth Balance Vegan Cheddar Kettle Chips
Pringles Tangy Bufflalo Wing
Boulder Canyon Avocado Oil Jalapeño Chips
Ruffles All Dressed
Sabritones Chile & Lime Puffed Wheat
Popchips Sea Salt Potato
Vegan Fast Food French Fries
Fries are a crowd favorite. Kids and adults are always a fan of these tasty, flavored potato strings that definitely make a great snack for everyone.
But if times get too busy for us, we would just prefer to drop by a fast food restaurant that makes fries. This is way too easy except for the fact that some of them aren't vegan-friendly, including McDonald's. The fast-food giant has made it clear that its fries include Natural Beef Flavoring, which makes us really sad.
However, other McDonald's locations such as France, Australia, and Canada serve vegan-friendly fries. Rejoice, vegans!
And what about Taco Bell? Yes, it offers vegan-friendly fries, except that cross-contamination is possible since it uses the same oil as its other dishes. This means that its meat dishes share the same utensils and cooking oil with its fries. But good news, you can ask the crew to do something vegan for you.
The same goes with KFC, Wendy's, and Chick Fil A. They have vegan-friendly fries although they don't have dedicated fryers to separate their fries from other meaty dishes.
However, other fast-food chains have separate fryers for their fries, including Burger King and Five Guys. So, if you plan on embarking on vegan-friendly snacks, you have this list as your guide.
At least now, you already know that fries aren't always vegan-friendly. I'm also talking about Chester's Hot Fries, which seemed so delicious, but definitely not a great option for vegans.
The Bottom Line
Chester's Hot Fries contain milk and other dairy products, which makes them unsuitable for vegans. They also contain a high amount of sodium for a serving of 28 g or 33 pieces in a pack although the calories are manageable.
However, the options don't end at Chester's Hot Fries. As I've listed above, you have the best vegan-friendly alternatives whether you want fries from fast-food chains or from your local grocer with frozen fries.
Lastly, always check the labels when you're buying from stores. Most ingredients there are stated if not explicitly detailed.