Answer: No – If you're starting your vegan diet, you will have to say goodbye to Hot Cheetos as it's not vegan!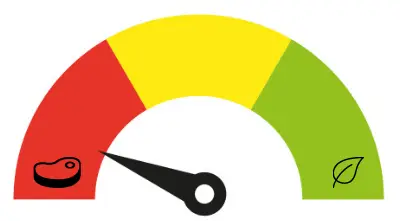 Can Vegans Eat Hot Cheetos?
Like most people, vegans can't say no to crunchy snacks with spice and salt. And what comes to mind when you're thinking of a spicy snack? Hot Cheetos! This hugely popular snack is Frito-Lay's number-one best-seller. Its first product, Crunchy Cheetos, was invented in 1948 in Texas. But unfortunately, Cheetos isn't vegan-friendly.
As the name Cheetos suggests, it's a play on the word cheese, meaning it contains dairy. And let's be honest, not all products contain what they claim to be. But Cheetos is different as it delivers.
So, what makes Cheetos non-vegan, you might ask? Well, that's because it usually contains ingredients like whey protein, whey, cheddar cheese, and buttermilk. These are dairy products, meaning that they are not vegan-friendly. Also, the front of the packet says made with real cheese. And if you take a look at the list of ingredients, the bottom label mentions that it contains milk ingredients.
Here's a detailed look at the ingredients in Hot Cheetos:
Enriched cornmeal
Flamin Hot seasoning
Hydrolyzed corn protein
Sugar
Garlic powder
Yeast extract
Monosodium glutamate
Onion powder
Artificial color
Cheddar cheese
Whey
Buttermilk
Whey protein concentrate
Corn syrup solids
Salt
Additionally, Cheetos also contains animal enzymes in some of its products. So, that means that these are not suitable for vegetarians as well.
Are all Cheetos Non-Vegan?
In pretty much all over the world, Hot Cheetos are non-vegan. However, if you happen to be in the UK, you will stumble upon some vegan versions of them. As long as the tag "made with real cheese" is not present on the packet's front, you're safe! However, the Flamin Hot Puffs are vegan in this country. You could also try and order them online from sites like Amazon.
Hot Cheetos Alternatives for Vegans
So, what do you do if you are craving some spicy snacks? You can always add chili powder to vegan foods for some heat. Simply sprinkle vegetable oil and chili powder on top of pumpkin seeds, nuts, chickpeas, or popcorn and overroast them. You can even use Arbol, wasabi, chipotle, or hot paprika.
Preparing Vegan Flaming Hot Cheetos at Home
If you are enthusiastic about baking, you can also bake some vegan hot Cheetos at home. Below is a detailed recipe:
First off, mix white flour with salt, cornflour, and garlic.
Mix vegan butter and the flour mixture to make dough with a mixer.
Now, finely grind some shredded vegan cheese. You can use a food processor if you have one at home.
Then, mix the ground vegan cheese into the dough.
Roll the dough and cover it with plastic wrap. Refrigerate it for two hours.
Upon chilling, break the dough into little pieces to form uniformed Cheetos.
Bake the Cheetos for 15-40 minutes at 350 degrees. Note that the timing depends on how thick or thin they are.
To make them crunchy and not chewy, it's better to bake them for a long time. You can also opt to fry them until they get completely crunchy.
Once they cool down, spray some cooking spray on them. Then, roll them in flaming hot spice mix (cayenne, salt, onion, paprika, garlic, lemon pepper, and sugar)
You can now have your very own Hot Cheetos at home without spending some cash while also fulfilling your baking quest!
PeaTos' Fiery Hot
PeaTos is assumed to be a healthier version of Cheetos. That's because it offers an alternative vegan option for Hot Cheetos like the Fiery Hot crunchy snacks. Not only do they look good, but they also taste like Cheetos. What's more, they're even more nutritious, considering they're vegan.
I Heart Keenwah's Sweet Chili Puffs
You could also try the Sweet Chili Puffs by I Heart Keenwah. Although they do not taste like Cheetos, you can't say no to these circular morsels, and they are a definite must-try.