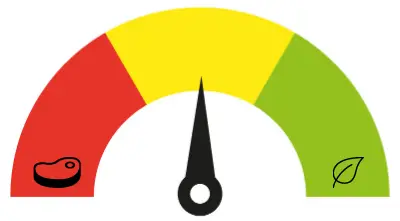 Actually, the only vegan flavors are Original BBQ and Fritos Scoops.
Fritos has been around for decades, and it is still one of the most popular corn chips all over the United States. So, whatever your eating lifestyle may be, you can always munch on this timeless snack because some of its flavors are vegan. It is understandable to be cautious, so when you are craving Fritos, all you need to do is check which flavors are and aren't vegan.
Vegan And Non-Vegan Fritos Flavors
You can do anything with Fritos, you can add it to pie, munch on it like nachos, or even just simply on its own. It comes in a lot of different flavors, so anyone can enjoy it. Over the last couple of years, Fritos has released a variety of flavors and some of them are not vegan so you might want to keep an eye out for them. Here are some of the non-vegan flavors of Fritos that you need to stay away from:
Classic Ranch
Honey BBQ
Flammin' Hot
Chili Cheese
Spicy Jalapeno
Flavor Twists Honey BBQ
Those flavors above are unfortunately not vegan-friendly, but there are still some that you can enjoy. The following vegan-friendly Fritos flavors are considered the most popular ones because they are some of the classics:
Original BBQ
Fritos Scoops
There might only be two flavors that you can have as a vegan when it comes to Fritos chips but that does not mean you cannot enjoy them right? They would not be around for a long time if they were not good.
There are some other varieties of Fritos, but they are only available in certain countries, such as in Mexico, they have Adobados, in South Africa, they have Chutney; and in Canada, they have Jalapeno Hoops.
Some Fritos are good with dipping sauces like Bean Dip, Hot Bean Dip, Mild Cheddar Cheese Dip, and more. However, only the Bean Dip is vegan-friendly.
What Are Fritos Made Of?
You might wonder what makes these two Fritos flavors vegan, well that is because they only consist of 3 ingredients. And they are whole corn, corn oil, and salt. Very simple right? Who would have thought that with only 3 ingredients, you can have such a tasty snack? Fritos are actually known to be the kind of chips that are less processed compared to others. Since it is also plant-based and healthier than all the other chips.
Fritos has been around since 1932 and is currently owned by PepsiCo. There might not be a lot of vegans back then, the original flavor of Fritos did not change. It all began during the Great Depression in San Antonio, Texas when a man named Charles Elmer Doolin decided to create a salty snack.
Doolin already owned a confectionary business at that time, so he took the opportunity to expand and create something different. He started his corn chip business in his mother's kitchen for just a hundred bucks. With its success decades later, the Frito company expanded and built plants all over the US and is now merged with PepsiCo.
The Fritos Company is also the one behind the famous snack, Cheetos, which they introduced in 1948. It has also become one of America's favorite corn puff snacks. Cheetos was even ranked the top-selling brand of cheese puffs in the US back in 2010.
Who would have thought that even after almost 90 years, this snack company would still be making the country's most popular corn chips? But with its success, it also faced some controversy. Frito Kid became the company's official mascot until 1967, and they had no problems with it. Frito Bandito was introduced that same year, but it was not well-received. That is because there were a lot of racial complaints about it.
Are Fritos Good Or Bad For You?
You might think that any corn chips like Fritos immediately fall under the junk food category since it's a snack, so they might not be very good for you. Any food with little to no nutritional value with lots of calories can be considered as one.
Corn chips are lower in fat than typical potato chips, but only by a couple of percentages. It is high in sodium content, just like any other snacks of the same category, so consuming bags of Fritos multiple times a week can be bad for you. Fritos are also made of highly processed corn and are usually fried.
But, most people might not know that any food consumed too much can be bad for you, even water. So it is necessary to always eat mindfully regardless of what you eat. If you eat a small bag of Fritos once every few weeks, then you got nothing to worry about.
Corn chips can even be one of your diet-friendly options if you enjoy them in moderation because of their low glycemic index. This means it will not dramatically spike your blood sugar. That is why a small bag of corn chips can never hurt you.
Fritos Healthier Alternatives
It is always good to choose a healthier lifestyle since it is guaranteed to help you live a happier life. That is why it is no surprise that a lot of people would prefer some healthier alternatives for corn chip lovers. Fritos can be on your list of cravings but it is not healthy to munch on it every time you crave it, right?
The good news is that Fritos' mother company, PepsiCo, is considering making more plant-based chips from legumes, carrots, turnips, chickpeas, and more. One of the reasons for it is due to the higher sales of their snacks. Busy consumers tend to grab snacks in convenience stores, and according to reports, adults snack two to three times a day.
PepsiCo also said they want to reduce the added sugars, sodium, and saturated fat in their beverages and snacks.
That is why we have come up with a list that will surely help you indulge more healthily without feeling like you are betraying your favorite Fritos corn chips. Here are some of the healthier alternatives you might want to try:
Spicy Sweet Chili Doritos is something that might surprise your palate since it is not only good but also vegan. The combination of sweetness with a little kick of spice would make you crave it.
Lightly Salted Doritos is also a good choice for an alternative because it is vegan as well. It only contains corn, vegetable oil, and salt.
Late July Bacon Habanero Tortilla Chip may not be from the Fritos company, but it is vegan. It might say "bacon" in its name, there is no meat or any animal product in it. It is even made with non-GMO corn.
Enjoy Life Plentils or Lentil Chips, which are purely vegan and come in several flavors such as Dill and Sour Cream, Garlic and Parmesan, Margherita Pizza, Thai Chili Lime, and Sea Salt. Surely lots of flavors to choose from. It is free from gluten, peanuts, soy, sesame, sulfites, mustard, and other common allergens.
Original Salsitas Spicy Salsa Flavored Tortilla Rounds may be a mouthful, but it is something you would not want to miss. It is seasoned with real tomatoes, garlic, onion, and some avocado spices.
There are a lot more vegan corn chip choices that you can choose from, but you got to make sure that it contains no milk, eggs, honey, and cheese. Wherever you get it, it is very important to choose the right snack. It would not hurt to check the labels or list of ingredients to help you out. Some chips are "baked" and not fried. Those can be a healthier choice as well.
You might think that some vegan chip options are way more expensive than regular corn chips. It might be true since not all of them are available in every store, but it is surely worth it. It is like getting fruits and vegetables over chicken nuggets and hotdogs. Health is wealth, so it is necessary to make good choices when it comes to it.
The Bottom Line
Fritos Original flavored ones are your certified go-to if you want to give in to your corn chip cravings. You can never go wrong with it if you are not keen to try other vegan options. After all, it is always good to make a safe choice. If you are new to the vegan lifestyle, it is always advisable to start with the food options you are already familiar with, right? Especially when it comes to snacks.
There is so much to choose from, but one thing is for sure, just as long as you keep these snacks in moderation, everything will be just fine.