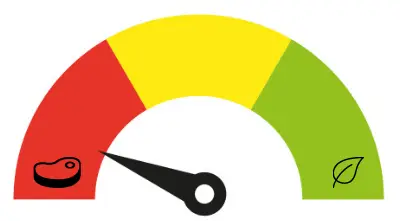 The French crescent-shaped roll viennoiserie pastry product is widely known and often eaten during breakfast. Its flaky and buttery texture is made from layered yeast-leavened dough. Croissants can be vegan, and some manufacturers like Pillsbury do not contain any dairy.
Having a house dinner party or deciding to go vegan on weekends is possible. Choosing to skip the traditional and go healthy might be easier for you with these crescent roll mix brands that are easy to pop up in the mixer and toss in the oven.
Vegan Crescent Roll Brands
These brands offer vegan crescent rolls that are worth for you to try.
This brand has a few vegan and dairy-free ready-to-bake products, mixes, and frostings to choose from. Their Crescent Rolls also have a variety of flavors, including:
Original Crescent Rolls
Original Crescent Rounds
Original Crescent Dough Sheet
Grands! Original Crescent Rolls
Big & Buttery Crescent Rolls
Butter Flake Crescent Rolls
Honey Butter Crescent Rolls
Reduced-Fat Crescent Rolls
Sweet Hawaiian Crescent Rolls
Filled Crescents Apple
Filled Crescents Cherry
The brand also offers other dairy-free products unless noted. Not all varieties are exempted; a quick and thorough check is helpful when buying these products. This includes:
Biscuits & Cornbread
Cookie Dough
Pie Crusts
Pizza Crust & Breadsticks
Frosting
Brownie Mixes
Cake Mixes
Cookie Mixes
Bread Mixes
Trader Joe's
This brand has a ton of vegan products that are affordable and have you covered. One of their products is the crescent rolls which are fluffy and delicious. Some of their products that you can try are:
Vegan Banana Bread
Birthday Cake Popcorn
Vegan Jackfruit Cakes
Organic Three Grain Tempeh
Vegan Tikka Masala
Soft-Baked Snickerdoodles
Miyoko's Cultured Vegan Butter
Nutritional Yeast
Meatless Meatballs
Hummus Extravaganza
Dolmas
Jumbo Cinnamon Rolls
Cauliflower Pizza Crust
Sea Salt Dark Chocolate Almonds
Unsweetened Vanilla Almond Milk
Vegan Trail Mix Cookies
Spicy Peanut Vinaigrette
Everything But The Bagel Seasoning
Speculoos Cookies
Organic Brown Rice Marshmallow Treats
Sunflower Seed Butter Cups
The Dark Chocolate Lover's Chocolate Bar
Annie's
The organic crescent rolls of this brand will bring yummy goodness to your dinner table. It has no artificial flavors, hydrogenated oils, or bleached flour. The product might contain wheat and other milk ingredients to be noted. You may also like these products from Annie's:
Organic Flaky Biscuits
Organic Cinnamon Rolls
Organic Chocolate Chip Cookie Bake & Share Dough
Organic Chocolate Chip Cookie Mix
Immaculate Baking
You can transform these organic crescent rolls into treats you want to try at home. The soft and tender texture will surely make you crave them. The brand also has a few products that are organic and gluten-free:
Gluten-Free Chocolate Chunk Cookie Dough
Gluten-Free Double Chocolate Cookie Dough
Gluten-Free Peanut Butter Cookie Dough
Organic Chocolate Chunk Cookie Dough
Organic Cinnamon Rolls with Icing
Organic Flaky Biscuits
Organic Vanilla Sugar Cookie Dough
Traditional Croissant Ingredients
The popular French pastry is at its best when freshly baked and eaten. To achieve its flaky and crispy texture, practice is your key ingredient to making the perfect croissant at home. It takes a lot of time measuring the dry and wet ingredients and mixing and kneading the dough, but making this pastry is worth the try once you get a head start and get used to making it. This scrumptious treat consists of the following ingredients:
Butter
Flour
Yeast
Water and Milk
Sugar and Honey
A few of these ingredients are non-vegan, and you need to replace all dairy products with vegan substitutes.
Vegan Substitutes for Croissants
Bread Flour or All Purpose Flour
Most of the croissants that are derived from original french recipes use pastry flour to make the dough.
All-purpose flour or bread flour is an ideal product that will suit your vegan taste. Flour is 99.9% vegan because it is derived from grains and plants, so there is no need for you to worry about it. Other types of flours are also available that you can find in the groceries, which can be replaced and might work well with the recipe if you don't have one of these. There might be a slight difference in the nutrients you can gain between the two, but they work completely fine and are nearly the same as pastry flour.
It is known that croissants are 40% butter by weight. There are a lot of vegan products you can buy now. Vegan butter is a good substitute for ordinary butter that comes from animal-free products.
This butter is plant-based and made by combining water to plant oils. Butter is what brings perfect flavor, flaky layers, and texture to baked croissants, and no wonder it is so delicious.

Margarine, on the other hand, can also work wonders. Typically this is a great substitute for butter in cooking and baking. Some components might be missing, but margarine can be easily found in the store, and most of them are vegan.
Yeast comes in different types, but the most common yeast ingredient in croissants is an active or instant dry yeast. This is used as a leavening agent in baking, resulting in the puffy texture and buttery layers of the croissant. It is also considered a vegan food, for it does not include animal-based ingredients.
As the name suggests, milk from cows and other animals is non-vegan. Consider using milk substitutes like almond milk, soy milk, oat milk, and other similar products.
A little amount of this is added to the dough mixture to help activate the yeast. Honey is known to be non-vegan for some because honey is extracted from bees. Vegan sweeteners like brown sugar, granulated sugar, molasses, date paste, brown rice sugar, agave nectar, jam preserves, and maple syrup are a good deal of substitutes.

However, maple syrup might trigger a warning because some studies show that even though the product is plant-based, the way it is processed during production might have you asking, and some manufacturing companies include a non-vegan ingredient in it. Maple syrup is a good substitute for baking and a match made in heaven for your pancakes. It is now a common sugar substitute at dinner tables, but before buying or consuming it, checking the labels and ingredients is much wiser.
Types of Croissants
The delectable croissants are loved and enjoyed across the world and now come with varieties and versions adopted by other countries like:
Argentinian Croissants (Medialunas Argentinas or Medialunas)
In the country of Argentina, croissants are known as medialunas and have become one of the most-eaten pastries in the nation.
Austrian Croissants (Kipferl)
Kipferl began as a crescent-shaped cookie, according to food historians, and it is still sold under the same name. Croissants are also believed to be originating from Austria and parts of Eastern Europe.
Croissants were now considered a French creation when the French adopted the creation of August Zang.
List of Popular Croissants
Almond Paste Croissants (Croissants à la Pâte d'Amande)
Apricot-Filled Croissants (Croissants Farcis Aux Abricots)
Butter Croissants (Croissants au beurre)
Cheese-Filled Croissants (Croissants Farcis Au Fromage)
Dulce de Leche Croissants (Croissants Dulce de Leche)
Chococlate-Filled Croissants (Croissants au chocolat)
Ham-Filled Croissants (Croissants Au Jambon)
Salmon-Filled Croissants (Croissants Farcis Au Saumon)
Polish Croissants (St. Martin's Croissants or Rogale Marcinskie)
In Poland, St. Martin's croissants are a symbol of generosity. This country is very serious with their croissants where the recipe is legally protected by the law. Standard procedures and ingredients must be followed to consider the croissant's authenticity.
Originating from Poland, these popular Portuguese croissants include flavors like chocolate, cream, and ham with cheese.
These Romanian croissants are served plain or filled with plum jam, known as magiun, in a brioche-like dough.
Turkish Croissants (Turkish Crescent Roll or Ay Coregi)
The Turkish version of this pastry resembles the original croissant appearance.
Uruguayan Croissant (Bizocho)
Bizocho can be filled with sweet chocolate, dulce de leche, or pastry cream, while savory includes a combination of cheese and ham or cheese and salami.
Conclusion
Croissants have gained popularity and are widely known in the world of pastry.
They can be enjoyed and served with hot or cold beverages. Traditional croissants come in many varieties and flavors. They are a delight whether served during breakfast or brunch. So don't forget to try their vegan alternatives!