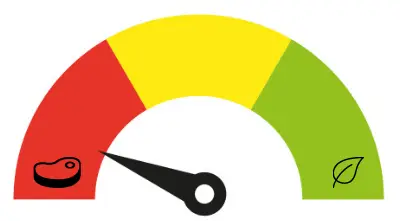 Vegans don't consume animals or their byproducts. This includes meat, eggs, milk, fish, honey, and other dairy products. Even if it's organic or directly from a farm, milk is still a no-go.
KFC serves two sides: mashed potatoes and mashed potatoes with gravy. The gravy also contains animal-derived ingredients and can't be considered vegan.
This article will explore why these ingredients are unacceptable to vegan norms.
KFC states that there is milk in their mashed potatoes. Chicken fat is also listed as an ingredient. The gravy mixture combines gravy powder, water, and chicken crackling.
Chicken crackling is scraps of chicken collected after deep frying. If this crackling isn't available, the gravy can be considered vegetarian. The gravy will still contain butter; hence, it cannot be considered vegan.
So, whether you order KFC's mashed potatoes or mashed potatoes with gravy, they still cannot be considered vegan. Read on to find out what exactly the mashed potatoes comprise, nutritional information, and its vegan alternatives.
What Exactly Are Mashed Potatoes?
You may have heard that many people consider mashed potatoes to be a meal in itself. It is one of KFC's most popular sides, and people love the buttery smooth potatoes topped with salty potato gravy.
The ingredients listed on KFC's website for the gravy include wheat flour, food starch, chicken fat, palm and canola oil, salt, spices, and butter. Chicken fat and butter are a clear no-go for vegans.
According to KFC's ingredient list, KFC uses instant mashed potatoes. Half a cup of prepped potatoes contains about 370 milligrams of sodium.
They contain additives such as maltodextrin, mono- and diglycerides, sodium bisulfite, and BHT. Butylated hydroxytoluene is approved by the FDA but is known to cause animal cancer.
Another ingredient used is wheat flour which is not gluten-free. There is also an ingredient called chicken crackling. This is made from little fat and bread that fall off the fried chicken in the deep frier.
These bits settle at the bottom and are filtered out when the oil is cleaned. KFC workers collect these bits and dump them in new batches of gravy. You might think this sounds gross, but it's how the moist gravy is made.
The gravy mix and water are used if the crackling isn't available. It still doesn't qualify as a vegan because it includes butter. Vegetarians could consume the non-crackling gravy. However, it is best to steer clear of the gravy.
Even if you want to order plain mashed potatoes, you might be disappointed to hear that it contains milk. KFC isn't exactly a paradise for vegans. Clearly, the name speaks for itself, but it does include a few vegan options.
The Reason Why Vegans Don't Consume Dairy
The main reasons are animal rights, animal welfare, and poor treatment of cows, including steroid use and forced impregnation. Healthy vegans eat a particular set of foods. Substitutes to use are margarine and non-dairy creamer.
Nutrition Facts
One serving of mashed potatoes with gravy contains about 120 calories.
| | | |
| --- | --- | --- |
| Calories 120 | (502 kJ) | % DV* |
| Total Fat | 4 g | 6% |
| Saturated Fat | 1 g | 5% |
| Trans Fat | 0 g | |
| Cholesterol | 0 mg | 0% |
| Sodium | 500 mg | 21% |
| Total Carbohydrate | 19 g | 6% |
| Dietary Fiber | 1 g | 4% |
| Sugars | 0 g | |
| Protein | 2 g | |
| Alcohol | g | |
* %DV is the percentage of Daily Value.
Vegan Options at KFC
BBQ baked beans
Green beans
Potato wedges (fries)
Corn on the cob
Sweet kernel corn
Apple sauce
Apple turnover
House side salad (no cheese)
Marzetti light Italian dressing
Note: It is important to remember to order corn on the cob and sweet kernel corn without butter.
Vegan Sauces at KFC
Grape jelly
Strawberry jam
Ketchup packet
Lemon juice packet
Marzetti light Italian dressing
Sweet n' tangy sauce
Summertime BBQ sauce
List of Readymade Vegan Alternatives to Potato Gravy
These cruelty-free vegan gravy brands are the perfect alternatives for non-vegan potato gravy, especially for decadent holiday meals.
1. Tofurky vegan savory gravy
2. Simply organic veg brown gravy seasoning mix
3. Pacific foods organic vegan mushroom gravy
4. Campbell's mushroom gravy
5. Imagine foods organic veg wild mushroom gravy
Healthy Alternatives to Mashed Potatoes
Are you looking to substitute the carbs in potatoes for healthier options? Here are some solutions.
1. Mashed Cauliflower
You save about 53 calories and 13 g of carbs per half-cup by switching from potatoes to cauliflower. Cauliflower contains higher amounts of vitamin C, calcium, B2, and K.
Potatoes also have a very high glycemic index when compared to cauliflower. With mashed cauliflower, you get similar flavors and close consistency. A little bit of garlic added to baked or boiled mashed cauliflower makes for a heavenly side dish.
2. Mashed Parsnips
Parsnips are an underdog in the general American diet. They are loaded with vitamins and packed with subtle flavors. They are similar to carrots but cream-colored and have a thicker consistency.
A half-cup serving of parsnips contains 3 g of fiber and 55 calories. It also provides 11% of the recommended daily vitamin C. Parsnips are on the sweeter side with a hint of spice. You can boil parsnips and blend well while adding hints of garlic.
3. Mashed Turnips
Turnips have a texture similar to potatoes. A cup of turnips contains about 4.2g of carbs and 1.2g of fiber. They are a good source of vitamins C and K and are rich in antioxidants.
The cooking process is similar to cooking potatoes, and you can also make baked turnips to resemble oven-baked potatoes. They are a low-calorie alternative to mashed potatoes; you can add some mashed carrots for that extra sweetness.
4. Butternut Squash
Butternut squash may be a winter squash that grows on a vine. It tastes similar to a pumpkin with a sweet, nutty taste. The fleshy pulp makes for a great side dish.
Butternut squash contains 15g net carbs per cup and is accepted by keto dieters. It tastes delicious when roasted, puréed, or baked with a little bit of garlic.
5. Mashed Carrots
Mashed carrots make a great low-carb substitute for mashed potatoes. One cup of carrots contains 9g of net carbs.
Carrots are one of the best vitamin A sources and contain many vitamins and minerals. They are also high in sodium and keto-friendly if you stick to a regular portion.
6. Mashed Rutabaga
Rutabagas are lower in calories and carbs when compared to potatoes. A cup of cooked rutabaga contains 51 calories and 12g of carbs. It is a hybrid between a cabbage and a turnip.
It tastes milder than turnip with a sweet-savory taste but can also be bitter when raw. They are rich in calcium, potassium, vitamins C and E while being keto-friendly.
7. Mashed Celery Root
Cooked and mashed celery root falls on the sweeter side and tastes like parsnip. One cup contains 5.9g of carbs and 42 calories. It makes for a great low-carb mashed meal. It is filled with vitamin K, phosphorous, and heart-protecting potassium.
It is crisp, firm, and has a parsnip-like texture that sweetens while cooking.
8. Mashed Acorn Squash
Acorn squash is milder in taste with a nutty flavor and more fibrous in texture than butternut squash.
It is rich in potassium, fiber, vitamin C, and magnesium. It contains many beneficial plant compounds and is rich in antioxidants. Acorn squash can help protect from type 2 diabetes and heart disease.
9. Mashed Brussels Sprouts
Brussels sprouts have around 4.5 g net carbs per cup, making them a great low-carb vegetable to add to your diet. They are rich in fiber, vitamins, minerals, and antioxidants.
They also provide health benefits like reducing cancer risk, improving blood sugar control, and decreasing inflammation. They have a sweet, nutty, and smoky flavor when cooked properly. You can make uniquely tasting mash with Brussels sprouts.
10. Mashed Sweet Potato
Sweet potatoes are very high in vitamins A and C compared to potatoes. They contain about 20g of net carbs per medium potato.
This root vegetable has a slightly sweeter taste which reflects in your mash. This sweet-tasting root vegetable is also high in potassium, minerals, and fiber.
Final Words
Vegans consider a certain set of food that adheres to vegan norms. Consumption of animals and their byproducts is a no-go. You might be just transitioning into veganism and looking forward to switching to healthy alternatives.
KFC mashed potatoes contain butter, milk, chicken stock, and chicken crackling, making them unsuitable for vegans.
Fortunately for you, a plethora of readymade gravy packets are available if you want to decrease the cooking time. Make sure you check nutrition facts and ingredient lists on all the dishes you eat in the future.