Answer: Yes. Lay's Dill Pickle Chips are vegan-friendly.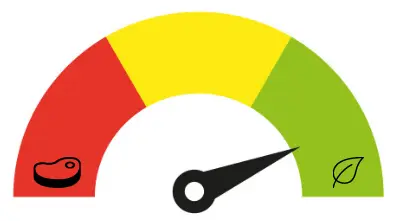 Netflix, chill. Then Netflix and chill. What's next? Lay's! Yes, Lay's with some oh-so-delish vegan dip while binge-watching your favorite Netflix series. How cool is that?
Not all flavors are vegan, but luckily, Lay's Dill Pickle Chips are suitable for us who follow a plant-based diet. These chips' key ingredients are potatoes, vegetable oil, and dill pickle seasoning made from corn.
If you're a fan of chips, we're definitely on the same page. Let's start digging more about Lay's Dill Pickle Chips and other flavors.
Lay's, Where Good Times Happen
Herman Lay, a salesman, started selling potato chips in 1932 in Nashville, Tennessee, selling them across the southern United States. He purchased a potato chip manufacturer from Atlanta, Georgia, and rebranded it to H.W. Lay Lingo & Company.
He then shortened the business name to Lay's Lay Lingo Company in 1944 and was able to get TV commercials. It then merged with Frito Company in 1961 and was renamed Frito-Lay.
Frito-Lay joined forces with Pepsi-Cola in 1965. Together, they've been making huge waves in the food industry. They introduced many different flavors and varieties of Lay's throughout the years, including fat-free potato chips, lower-calorie baked, kettle-cooked, and more.
In the U.S., the company markets Lay's brand name, but in many other countries, Frito-Lay uses different names. In Colombia, it's under the brand name Margarita, Walkers in Ireland and the United Kingdom, and Sabritas in Mexico, among others.
Lay's Dill Pickle Chips
So as mentioned earlier, Lay's Dill Pickle Chips are vegan-friendly. Although these have natural flavors, most vegans consider these potato snacks suitable for them including myself. What's up with natural flavors?
According to the U.S. Food & Drug Administration (FDA), natural flavors can derive from plants, vegetables, fruits, meat, fish, and poultry. However, these may be extracted from vegetables, plants, or fruits, which make most of these flavoring vegan-friendly.
So it's your call whether you want to stock some Lay's Dill Pickle Chips in your pantry for snacks or totally ditch them. If you were to ask me, I have some of them as of this writing, and I'm currently eating too.
I think we're saving animals and helping the environment more than enough for being vegans. So, for me, natural flavors are definitely fine to consume. Still, it remains your call.
Nonetheless, these are Lay's Dill Pickle Chips' ingredients if you want to know what is involved in the process.
Potatoes
Vegetable Oil. Lay's uses either sunflower oil, corn oil, or canola oil.
Dill Pickle Seasoning. Maltodextrin, to be exact, is a type of carb made from corn.
Natural Flavors
Salt
Vinegar
Garlic Powder
Yeast Extract
Spice Extracts. These include dill extract.
So there. I can't see any other controversial ingredients except that Lay's Dill Pickle Chips include natural flavors.
Other Vegan-Friendly Lay's Flavors
Lay's offers many different flavors and varieties that everyone can choose from. But not all of these flavors are suitable for vegans, especially since some include whey or dairy products.
If you wanna know, here's a list of Lay's vegan-friendly flavors that you can soon add to your cart when making a trip to the grocery. It's also worth noting that some of these flavors may include sugar, another controversial ingredient.
But then again, it's always your call whether or not you would want these Lay's flavors and varieties for your snacks.
Lay's Classic Flavor
Barbecue
Salt & Vinegar
Limón
Chesapeake Bay Crab Spice
Kettle Cooked Original
Kettle Cooked Reduced Fat Original
Kettle Cooked Sea Salt & Cracked Pepper
Original Baked Lays
If this may help, there's another list of Lay's non-vegan flavors and varieties. Don't buy these because they contain milk, butter, or whey.
Cheddar Jalapeño
Cheddar & Sour Cream
Chile Limón
Fiery Habanero
Flamin' Hot
Flamin' Hot Dill Pickle
Honey BBQ
Sabritas Adobadas
Sour Cream & Onion
Sweet Southern Heat BBQ
Kettle Cooked Flamin' Hot
Kettle Cooked Jalapeño
Kettle Cooked Mesquite BBQ
Kettle Cooked Sea Salt & Vinegar
Kettle Cooked Maui Onion
Kettle Cooked Lightly Salted Jalapeño
Lay's Dill Pickle Chips Nutrition Facts
Not only are vegans environmentally friendly or animal friendly, but we are also all health-conscious. I always check out the nutritional facts of every food I purchase from the grocery. Even with the ingredients that I use for cooking, I've made it a habit to check how healthy it can be.
And, of course, calories, folks… calories!
So as part of health and safety protocol, the list below is what you can get from eating Lay's Dill Pickle Chips.
Don't fret. These chips are totally fine. Well, just don't eat excessively. That's beyond our healthy lifestyle.
Calories. About 1 oz or 28 g of Lay's Dill Pickle Chips contain 160 calories.
Fat. 15% of the Daily Value (DV)
Vitamin C. 10% of the DV
Vitamin B6. 10% of the DV
Magnesium. 4% of the DV
Potassium. 9% of the DV
Thiamin. 4% of the DV
Phosphorus. 2% of the DV
Zinc. 2% of the DV
Iron. 2% of the DV
Sodium. 9% of the DV
Carbs. 5% of the DV
Vegan Chips Brands
Ah, chips. I always have them in my pantry alongside my favorite vegan dips, including guacamole. I'm picky when it comes to chips, but if you're interested in what I personally have most of the time, I have a list below.
These brands give me some craving for satisfaction punches. Yes, I really like these chips, especially Kettle Brand Backyard Barbeque Potato Chips that you can also purchase from Amazon.
Spicy Sweet Chili Doritos
Enjoy Life Plentils
Pringles Original Potato Crisps
Beanfields Bean Chips Jalapeno Nacho
Fritos Original Corn Chips
Original Salsitas Spicy Salsa Flavored Tortilla Rounds
Kettle Brand Maple Bacon Potato Chips
Sun Chips Original
Earth Balance Vegan Sour Cream & Onion Kettle Chips
Popchips Sweet Potato
Zapp's Voodoo Potato Chips
Sabritones Puffed Wheat Chile and Lime
Ruffles All Dressed
How To Make Homemade Vegan Potato Chips
Homemade, for me, always involves passion because you know that you're cooking for yourself, friends, and family. So if you're not a fan of Lay's vegan potato chips due to natural flavors and sugar involvement, it pays a good deal if you prefer making your own potato chips at home.
Here's a list of what you need:
3 scrubbed russet potatoes
2 tbsp. extra-virgin olive oil or cooking spray
1 tbsp. sea salt
Onion powder, garlic powder, chili powder, curry powder, vinegar (these are optional)
Baking sheet
What to do:
Preheat the oven to 400°F. Slice the potatoes into a thin size of about 1/8 inches using a mandolin.
Soak the slices in warm water for 10 to 15 minutes. Once soaked, drain the potato slices and pat dry. The secret to making your potato chips very crunchy is to dry them. If available, put them in a salad spinner and dry them using a dishtowel.
Line a baking sheet, and lay the slices over in a single layer. Spray or drizzle with oil on both sides, and put in the preheated oven for 20 minutes. Make sure to flip them over in between and remove them from the oven when they're golden brown.
Sprinkle your potato chips with any optional seasonings you want, and serve. Enjoy!
If you want your potato chips to taste like Lay's Dill Pickle Chips, well, not really, but somehow, you can buy a dried dill seasoning at your supermarket or through Amazon. The brand Gourmanity is non-GMO, kosher, non-irradiated, and vegan.
Benefits Of Eating Potatoes
Potatoes are the main ingredients in making potato chips, and not only that they're tasty, but they're also loaded with vitamins, minerals, and antioxidants. Several studies and research have linked potatoes to lower blood sugar, reduced risk of heart diseases, and higher immunity.
Potatoes may also help fight signs of aging and have an improved digestive system. These are also great for those who have celiac disease, especially since they're naturally gluten-free. They may also help you lose weight by curbing your cravings or hunger pains.
So, one day, if you find yourself craving baked potatoes or potato chips, fill it in. You should be fine if you're not eating them excessively.
The Bottom Line
Lay's Dill Pickle Chips are vegan-friendly except when you're very conscious about eating natural flavors and sugar that are included in some of its flavors and varieties. But other than that, it should be safe for vegans to eat them, especially since they don't involve meat or dairy products.
Not all Lat's are vegan-friendly, though. Some are highly processed and include animal-sourced ingredients like whey, buttermilk, cheese, and more.
In a nutshell, Lay's vegan-friendly potato chip flavors and varieties are healthy for everyone as long as it's in moderation. If you also wanna know more about Lay's BBQ Chips, I've also rounded up some facts about this flavor in this article.