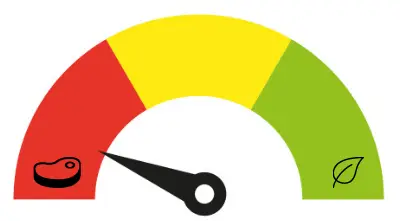 A pancake, also known as a griddlecake, hotcake, or flapjack, is a thin and flat round cake made from a starch ingredient and cooked on a hot grill or frying pan. This food has existed for a long time, possibly dating back to prehistoric societies. Because it's been around for so long and is such a world-famous breakfast food, people frequently wonder if they have to give up the hearty meal after going vegan.
What we will do here is take a deeper look at how we can make these delicious pancakes suitable for your vegan diet and offer some alternatives.
What Are Pancakes?
In the first place, what exactly are pancakes? They are, in general, flat-shaped cakes made from batter and baked on a hot smooth surface. Pancakes have been around since the beginning of time and are now made all over the world. They go by a variety of names, are made from a variety of flours, can be savory and sweet, and can be eaten for breakfast, lunch, dinner, or even dessert.
Pancakes are typically thought of as breakfast or brunch food in the United States, and they are sometimes served with eggs or meat, but they are more often served with sweet toppings such as fruit, syrup, cream, or chocolate. Pancakes can also be made at home using a mix or from scratch.
Are Pancakes Healthy?
Pancakes will increase your daily carbohydrate intake. Carbohydrates are the primary fuel source for your body, so this nutrient is essential. However, most nutritionists recommend getting your daily carbs from nutrient-dense alternatives. Pancakes aren't usually in that category.
Enriched flour is commonly used in the production of pancakes and pancake mixes. Enriched foods are those to which nutrients have been added during the manufacturing process. In most cases, nutrients such as minerals and vitamins are removed and then some of them are reintroduced during processing.
So, are enriched foods harmful to your health? Not certainly, but eating enriched bread products deprives you of diet-friendly fiber and other nutrients. The enriched flour in pancakes, combined with the added syrup and sugar, is likely to quickly raise your blood sugar and then leave you hungry afterward.
In addition, if you buy a pancake mix, you may be consuming trans fat with your meal. Partially hydrogenated oils are used in some brands that are trans fat. Trans fat should be limited or avoided entirely, according to health experts.
Nutrition Facts
The nutrition facts for two pancakes, equivalent to 232g with butter and syrup are as follows:
| | |
| --- | --- |
| Calories | 520 |
| Fat | 14g |
| Sodium | 1104mg |
| Fiber | 0g |
| Sugar | 0g |
| Protein | 8.3g |
Pancakes with traditional toppings like butter and syrup contain a lot of carbohydrates, calories, and fat. Due to the lack of fiber in pancakes, you'll consume 90g of carbohydrates when you eat this meal.
However, the total nutrition numbers will vary depending on the size of your serving. The numbers on the nutrition facts indicated only refer to a single serving of pancakes, which is only two medium pancakes. Many hearty eaters eat three to four medium-sized pancakes and twice the amount of syrup and butter. If it might seem like your normal pancake breakfast, you'll eat more than 1000 calories.
So, now that we know that pancakes are typically non-vegan, we'll look for some commercial pancakes that are vegan-friendly.
Vegan Pancake Mixes
Breakfast is the most delicious meal. However, if you're new to vegan eating, it may take some time to figure out how to make all of your favorite breakfast foods without using animal products. Fortunately, there is one simple substitution: vegan pancake mixes!
Believe it or not, many store-bought mixes are entirely plant-based, even if they aren't clearly labeled as such. Some mixes require only the addition of water. It doesn't get any simpler than that.
Furthermore, several mainstream brands sell non-traditional vegan pancake mixes, such as buckwheat and gluten-free. Prepare to heat up the griddle!
Pearl Milling Company Original Mix
The well-known Aunt Jemima brand has been renamed Pearl Milling Company, and its iconic original mix is now dairy and egg-free! If you're looking for something a little less typical, try the whole-wheat blend mixed with brown sugar.
Bisquick Original Pancake & Baking Mix
This stuff is available at almost every grocery store. In addition, the company sells a gluten-free vegan pancake mix. And, because these are baking mixtures, they will undoubtedly make other recipes convenient. Anyone up for some tasty plant-based pastries?
Annie's Organic Pancake & Waffle Mix
When it comes to pancake mixes, Annie's may not be the first thing that comes to mind. However, Annie's sells a vegan waffle and pancake mix that contains no artificial flavors, preservatives, hydrogenated oils, synthetic colors, or bleached flour.
Arrowhead Mills Organic Gluten-Free Pancake & Waffle Mix
This brand isn't as commonly available as corporate giants like Bisquick, but it can be found in a variety of grocery stores. In addition, the line includes a vegan buckwheat pancake mix.
Bob's Red Mill Paleo Pancake & Waffle Mix
Here's a pancake mix for everyone out there! Bob's Red Mill makes this grain-free mix, which is one of a few vegan pancake mixes available, including Buckwheat, Organic High Fiber, and Organic 7 Grain.
Krusteaz Blueberry Pancake Mix
This popular Krusteaz offering includes dried blueberries and is another just-add-water mix! And, unlike the brand's other pancake mixes, which contain dairy or eggs, its Belgian waffle mix is vegan. Viola, breakfast is ready.
Birch Benders Pancake & Waffle Mix
Birch Benders, a pancake and waffle ingredient company, has five vegan-friendly mixes: plant protein, chocolate chip, organic classic, sweet potato, and blueberry. Just add water and you're good to go!
Pancake Mix Ingredients
There are numerous types of packaged pancake mixes available at your local grocery store. The ingredient lists for pancake mixes can be very simple and brief and are sometimes free of animal products. For reference, the following are the ingredients for Bisquick Original Pancake Mix:
Soybean or cottonseed oil
Enriched Flour
Dextrose
Leavening
Salt
The scary part is that the food preparation instructions on the box request for both milk and egg. This is a common scenario for many pancake mixes. Many appear vegan, but the ingredients you're told to use when making them aren't. What about mixes that say "just add water" commonly referred to as "complete" on the package? Aunt Jemima Complete Pancake Mix contains nonfat dry milk, even if it does not say "buttermilk." So, are there wholly vegan pancake mixes that remain vegan even when you incorporate your own ingredients in the mixtures?
For those strict vegans who want to be assured that they are eating a 100% vegan pancake, you can add alternative vegan ingredients such as water, no eggs, or nut milk to prepare the dish or better, if you'll make your own mixture from scratch.
How to Make Your Own Vegan Pancakes
You can start making your own vegan pancake batter fast and easy, without the processed ingredients and additives found in grocery-packaged mixes. From the website food.com, here's a very basic and simple recipe:
5 Minute Vegan Pancakes
1 tablespoon of sugar
1 cup of any kind of flour
2 tablespoons of baking powder
2 tablespoons of vegetable oil
⅛ cup of soy milk
To make vegan pancakes, simply use your favorite dairy-free milk as well as melted vegan butter. To achieve fluffiness in a pancake, eggs are not required.
Instead, we'll use a substantial amount of baking powder. Baking powder is a leavening agent that produces bubbles in the batter, resulting in a light and fluffy pancake. You'll notice that the batter in the mixing bowl puffs up as you make the pancakes. You can gently stir it, but not vigorously enough to remove all of the bubbles.
On the stove, heat a pan over medium heat. In a mixing bowl, combine the dry ingredients. Mix in the wet ingredients until smooth. Fill the heated pan halfway with the mixture. When bubbles or stiff edges appear, flip to the other side. That's all! Do you require additional assistance? There are many vegan chefs on YouTube who are eager to share their recipes with you.
How to Make Your Vegan Pancakes Fluffy?
The secret ingredient is baking powder! Baking powder raises the pancake batter, resulting in perfectly fluffy and soft vegan pancakes.
The portion of baking powder in the recipe is completely right. Because this recipe doesn't use eggs, a considerable portion of baking powder is needed to make such vegan pancakes increase.
Can You Make Vegan Pancakes Without Oil?
If you really want to make these pancakes without oil, replace the oil with applesauce. Although the texture would not be as fluffy, the recipe will still work.
Wrapping Up!
Unfortunately, using the traditional recipe, pancakes are not considered vegan. However, if you modify some of its ingredients and remove the eggs, butter, and milk from the ingredients, you can still indulge in this mouth-watering dish without worrying about your vegan diet. There are also a variety of vegan pancake mixtures available in your local grocery stores. Just don't ever forget to research the brands and check the labels.
Eating pancakes is irresistible but don't forget to watch your intake because they are high in carbohydrates and cholesterol.