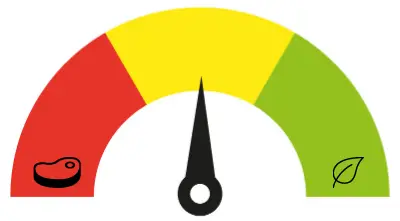 Most flavors of Krusteaz Pancake Mix involve dairy products and therefore are not vegan. However, flavors like Plant-Based Pancake Mix, Blueberry Mix, and Original Pancake Mix are generally vegan-friendly. There are just a few controversial ingredients that we will check later in this article.
Pancakes are great for breakfast to pair with your favorite cup of joe. Or at least that's what I always do in the morning. But of course, I always make sure I'm making my own pancakes that don't involve animal byproducts.
Most Continental Mills' famous Krusteaz Pancake Mix flavors contain milk and eggs. These are the culprits, although three flavors can be considered vegan.
Don't fret. There are several vegan pancake mixes that you can find at your local grocers or supermarkets. Let's dig in.
Krusteaz, For Makers By The Makers
Krusteaz, a name coined from Crust Ease, is owned by Continental Mills. It produces shelf-stable, factory-prepared flour and dried buttermilk mix used for baking. It's widely used in waffles, pancakes, biscuits, dump cakes, and cobblers.
Krusteaz was founded by Seattle Bridge Club members in 1932, including Rose Gilbreath Charters, who attended Washington State University. She was the one who coined the name Krusteaz, a brainchild of her spirit of innovation to provide special and delicious baking products.
The brand is also a proud partner of Boys & Girls Club of America, which promotes Feeding Great Futures, a food security-related programming club. Its Pancake Breakfast Fundraiser Program has been helping schools, hospitals, and private charity organizations raise funds across the United States.
Krusteaz Pancake Mix
So as mentioned earlier, most Krusteaz Pancake Mix involves dairy products, which vegans avoid, especially since they're sourced from animals. There are several flavors to choose from, including Buttermilk Mix, which contains, oh well… milk and eggs. Not fun!
Let's find out its ingredients and see more of what makes it non-vegan.
Enriched Bleached Flour. This involves malted barley flour, wheat flour, niacin, thiamin mononitrate, reduced iron, riboflavin, and folic acid.
Sugar. Sugar may be a controversial ingredient for strict vegans, especially since it's not stated whether it's processed with bone char, which is not vegan-friendly.
Dextrose. It's a simple sugar that's derived from maize. So, it's vegan-friendly, especially since its refinement process doesn't involve bone char.
Leavening. It includes baking soda, monocalcium phosphate, and sodium aluminum phosphate. It's mostly vegan, but there are instances that it's sourced from fossilized shells and bones of dead animals called ammonia. Most vegans, though, use leavening.
Food Starch-Modified. This can be made from corn, maize, tapioca, wheat, or potato. Yes, it's vegan-friendly.
Salt. Most salt, such as sea salt, table salt, Kosher salt, and more, are vegan-friendly. I like the Pink Himalayan Salt too.
Soybean Oil. It's made from oil and is, therefore, suitable for vegans.
Egg Whites. Obviously, this is the culprit.
Buttermilk. Here's another culprit of Krusteaz Pancake Mix, as it's made from dairy-based milk.
Krusteaz Pancake Mix Flavors
There are several flavors that Krusteaz Pancake Mix offers, and upon checking them, sadly for us vegans, nothing is plain plant-based. All of them include dairy products that are not suitable for vegans.
Buttermilk Pancake
Heart Healthy Buttermilk
Sweetcream Pancake
Chocolate Chip Pancake
Pumpkin Spice
Gluten-Free Buttermilk
Gluten-Free Confetti Buttermilk
Protein Buttermilk
Protein Blueberry Pancake
Possibly Vegan Krusteaz Pancake Mix Flavors
I checked each flavor of Krusteaz Pancake Mix and found out that three mixes are possible vegan or can be considered vegan. If you're not too strict regarding Natural Flavors and Sugar, then these Krusteaz Pancake Mixes are fine for you.
Let's check each ingredient of these flavors and see what's considered a little controversial. Others are obviously vegan, so we don't really have to dig deeper.
Pro Tip: The FDA has pointed out that Natural Flavors can be from meat, fish, poultry, vegetables, plants, or fruits. However, they also explained that most Natural Flavors are derived from vegetables and fruits.
Krusteaz Plant-Based Pancake Mix

Whole Wheat Flour
Sugar. Different kinds of sugar involve bone char during its process. This is considered non-vegan. Krusteaz didn't specify what sugar it uses for this mix, but if you're not very strict, it's fine to use this.
Wheat Protein Isolate
Leavening. This involves baking soda, sodium aluminum phosphate, and monocalcium phosphate.
Chickpea Protein
Dextrose
Salt
Soybean Oil
Natural Flavors. This contains a caramel color, which is vegan-friendly.

Krusteaz Blueberry Pancake Mix

Enriched Bleached Flour
Imitation Blueberry Pieces. This involves dextrose, palm oil, and enriched bleached flour.
Natural and Artificial Flavor. This mix contains blueberry juice solids.
Citric Acid
Cellulose Gum
Blue 2
Red 40
Blue 1
Sugar
Leavening
Dextrose
Soybean Oil
Salt

Krusteaz Original Pancake Mix

Sugar
Leavening
Salt
Soybean Oil
So, if you notice, the Natural or Artificial Flavors used on these mixes are likely vegan-friendly, as well as the sugar. But if you're still in doubt, it's best to avoid using Krusteaz Pancake Mix. It's always great to follow your heart, especially when it's about food.
Vegan Pancake Mix Brands
Of course, it's fun to check new things out, and if you're also into pancakes, I have a few suggestions that you can use. These mixes are vegan-friendly and are great for pancakes, waffles, and more.
Birch Benders Pancake & Waffle Mix
Bob's Red Mill Paleo Pancake Mix
Bisquick Original Pancake & Baking Mix
Annie's Organic Pancake & Waffle Mix
Arrowhead Mills Organic Gluten-Free Pancake & Waffle Mix
Pearl Milling Company Original Mix
Surprisingly Vegan
Hungry Jack
Cherrybrook Kitchen
Angie's Pancakes
Cooggies Gluten-Free Pancake & Waffle Mix
Purely Elizabeth
Simple Mills
Stonewall Kitchen
Trader Joe's Ube Mochi
Make Your Own Vegan Pancake At Home
Of course, life is incomplete when homemade isn't involved. I love cooking and baking at home. So, if you're also a fan, then let's try making our own vegan pancake that's not only delicious but is also packed with nutrients.
What you need:
1 cup Flour
2 tbsp. Organic Sugar
1 tbsp. Baking Powder
1/2 tsp. Salt
1 cup Non-dairy Milk
1 tbsp. Apple Cider Vinegar
1 tsp. Vanilla Maple Syrup
What to do:
Add the flour, baking powder, sugar, and salt to a medium bowl and mix well.
Add almond milk or any non-dairy milk, vanilla, and apple cider vinegar in a liquid measuring cup or a separate bowl and mix well.
Pour the milk mixture into the flour mixture and whisk until it's smooth.
Leave it for five minutes.
Using a non-stick pan on medium heat, pour about 1/2 cup of batter.
As soon as the top starts to bubble, flip to the other side, and wait until it's golden.
Serve it warm and drizzle with any vegan syrup of your choice.
Breakfast is served!
Best Sides And Toppings To Go With Your Vegan Pancakes
Breakfast is definitely great with pancakes with a delicious side dish. I have my own favorite top picks that I can share with you. I usually do this with my morning coffee, and trust me, they make my day complete.
Here's what you can have. These are vegan-friendly, but you also make your own side dish at home to activate veganism on a full scale!
Vanilla Maple Syrup
Fresh Berries
Banana Slices
Strawberry Syrup
Blueberry Syrup
Vegan Whipped Cream
Nuts
Vegan Chocolate Chips
Orange Juice
Coffee
Lemon Juice
Rice Syrup
Agave Nectar
Coconut Oil
Apricot
Cherries
Orange Zest
Vegan Greek Yogurt
Are Pancakes Healthy?
Pancakes are among the most common breakfast served with different sides and toppings. Along with waffles, pancakes are generally made with flour, which is relatively low in fiber.
Pancakes are also often topped with flavored syrups that contain high fructose corn syrup that brings in a lot of added sugar. However, if you're vegan, you can control these ingredients, especially when you make your own pancakes at home.
To give your pancakes a healthy twist, try using almond flour, oat flour, or whole wheat flour. You can also make them with nuts or other fiber-rich toppings and sides. This will help balance your blood sugar to avoid any adverse health effects.
The toppings and sides I listed above should help keep your pancakes as healthy as possible. I also suggest using pure maple syrup instead of the flavored ones that only give you added sugar.
The Bottom Line
In a nutshell, pancakes are often not vegan-friendly, as we discussed in this separate article. They usually contain eggs and dairy products that are not suitable for vegans.
However, there are a lot of vegan pancake mixes that you can buy at your local grocers.
Breakfast, they said, is the most important meal of the day. So enjoy it!