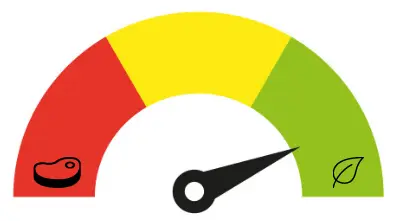 Carl's Junior is a fast-food chain that started in the 1940s on the West Coast. Their charbroiled burgers are their signature dish. Carl's Jr. now has over 1000 US locations and operates in over 28 countries.
Carl's Jr. Burgers started a vegan campaign in 2019 by introducing the Beyond Meat Burger and has since blown up. Carl's Jr understands that food preferences change over time, and restaurants have to adapt to them.
52% of Americans are making an active effort to eat more plant-based meals in their daily lives. However, 1/3rd of the population identifies themselves as flexitarians, and the hospitality industry has to cater to varying dietary needs.
Are Carl's Jr Fries Vegan?
The fries, along with several other options, are entirely vegan. However, they are cooked in equipment used to cook chicken nuggets and other meat products. So it isn't possible to certify them as 100% vegan.
How to Eat Vegan at Carl's Jr?
Having a vegan option is very common in restaurants today. But it wasn't this common five years ago. Starting with the Beyond Burger, Carl's Jr. has released several vegan options. These options include fries, plant-based patties, and sandwiches.
Carl's Jr. sold over 4.5 million burgers in the US in a year. In addition, Carl's Jr has sold over 12 million burgers as of April 2021.
The fries available at Carl's Jr. are vegan as there is no use of lard, and the ingredients are devoid of animal products like milk and eggs. The list of allergens on the website shows the ingredients and nutrition of every meal.
You can choose a Beyond Burger with a side of fries for an easy meal.
Are You Hungry Yet?
Carl's Jr. was the first major US chain to promote a vegan diet and have it available at the drive-throughs.
The ingredients in the Beyond line are entirely vegan, but since the burgers are cooked in a mixed kitchen, they are not 100% vegan or certified. Also, Carls Jr. cooks the vegetarian/vegan sides with mixed equipment, making it hard to approve them as 100% vegan.
What Kind of Fries Does Carl's Jr. Have?
The fries at Carl's Jr. are vegan with ingredients like potatoes, vegetable oil, modified food starch, rice flour, and xanthan gum. However, they cannot be 100% certified vegan due to the cooking method.
The fries are cooked in equipment, and fryers cook chicken nuggets and other meat-based products. As a result, if this bothers you, Carl's might not be the right choice for you.
Criss-Cut Fries
Criss-cut fries are like waffle fries. To make criss-cut fries, you quarter-turn the potato before shredding it on a mandolin and deep-frying it. They are skinny and very crunchy.
Criss-cut fries are vegan and taste great with ketchup mustard or the Spicy Buffalo sauce. Finish your meal with fries and a salad, and you'll be good to go.
Natural-Cut French Fries
If you do not like waffle fries, you can pick the natural cut fries. You can have a salad with them if you want greens in your meal. However, the onion rings and fried zucchini are not vegan as there's egg in the batter.
Are Carl's Jr. French Fries Vegan?
Yes, the fries at Carl's Jr. are vegan. With fierce competitors like Burger King and Dunkin' Donuts, Carl's Jr. teamed up with Beyond Meat to ensure that they can cater to consumers' dietary requirements. The allergen and nutrition chart is on the website.
With over 1500 locations in America, Carl's Jr. released Beyond Burgers and Sausages to allow the customers to choose a plant-based diet. The fries and hash browns at Carl's are vegan and are verified to be so. In addition, they do not contain egg/milk allergens.
What Other Food Items at Carl's Are Vegan?
Carl's Jr. released a vegan line in 2019 as part of a collaboration with Beyond Meat. These tempting items contain plant-based meat options and can replace any meat patty in the burgers or sandwiches.
Beyond Famous Star Burger
The Beyond Famous Star Burger is a plant-based take on the classic American burger. The only modifications you need to make are asking for the removal of cheese and mayo and requesting a sesame seed bun.
The burger has everything you'll expect in a fast-food burger. The burger has a Beyond patty with lettuce, tomato, sliced onions, dill pickles, and special sauce. It is a tough competitor to the Impossible Whopper.
If you love a burger and want to go vegan, this is the best pick for you.
Beyond Sausage Burrito
Carl's Jr. has a fairly vegan-friendly breakfast menu and is one of the first to have a plant-based sausage option. The Beyond Sausage Burrito is one of the best options and can be made without eggs and cheese.
A delicious burrito needs fresh salsa, tomatoes, hash rounds, a veggie patty, and guacamole. This dish is one of the best breakfast options and is available at an excellent price.
Garden Salad
A complete garden salad is an easy meal for an affordable price. First, you have to make sure to remove the cheese and croutons, and you're good to go. The salad has ingredients like red onion, tomato, and lettuce with a balsamic vinaigrette dressing.
Crunchy or Soft Taco
The tacos are one of the most beloved options on the menu for years and are easily adjustable to be completely vegan. It means that you can get a taco with all your favorite fillings and toppings without worrying about whether or not they're vegan.
Hash Rounds
The hash brown patties are a good breakfast option. They are very crispy and go well with ketchup and vegan buns. However, this dish is not 100% vegan as it is cooked in shared vessels.
Side Salad (No Cheese or Croutons)
The salads have greens fresh from the farm, even though the side salad doesn't qualify as an entrée. So the only modification you'll have to make when placing the order is to remove cheese and croutons.
You can get a dressing like low-fat balsamic vinaigrette for your salad.
Sauces and Dressings
Carl's Jr. has a few vegan condiment options available for you, like the spicy buffalo dipping sauce, sweet and bold barbecue dipping sauce. Other sauces are ketchup, mustard, and low-fat balsamic vinaigrette.
Where Else Can You Find Vegan Options?
KFC
The KFC fries are vegan-friendly as they do not contain any animal-based derivates. However, an important note to remember is that they use shared fryers in a few branches like Carl's Jr. So, it is always a good idea to confirm what you're getting.
The Beyond Fried Series in KFC is also cooked in the same oil used to cook the meat products. So, depending on your definition of vegan and vegetarian, this might or might not be suitable for you.
Burger King
Unlike the food at McDonald's or KFC, the Burger King fries are 100% vegan. Every set of fries are cooked fresh in vegetable oil and specific fryers. Therefore, you can enjoy every bite without a single worry.
The preparation of the Impossible Whoppers, on the other hand, has 100% vegan ingredients and is cooked in the grills used to cook meat. Thus, the consumption of these burgers might not meet a vegan or vegetarian dietary requirement.
Wendy's
Regardless of when you became vegan, eating at Wendy's will hold a special place in your heart. However, if you abandoned Wendy's because they don't have vegan options, you no longer have to worry. Wendy's now uses vegan oil for cooking their fries.
While the fries are nowhere close to Burger King or Carl's Jr., the seasoned potato fries are cut and cooked perfectly with garlic and black pepper traces.
However, some options at Wendy's have the disclaimer of being "cooked in the same oil as menu items that contain wheat, milk, and fish." Make your choice wisely.
Chipotle
Chipotle has the philosophy of preparing real food and firmly believes that a connection exists between how the food is obtained, and made and the resulting taste.
Chipotle has vegan and vegetarian options that are simple, customizable, and affordable as a Mexican restaurant. The various options include rice, beans, plant-based protein, greens, and veggies.
The options for toppings include guacamole, salsa, and queso.
Einstein Bros.
Einstein Bros., US, offers the Daiya vegan cream cheese. With more than 70% of the bagel menu being vegan, you have the choice to customize them. The various choices of toppings include avocado, peanut butter, hummus.
The vegetables available at your disposal are arugula, cucumber, capers, spinach, and tomatoes. They also have the options of blueberry bagels, pretzels, fries, French toast, and ancient grain.
Wrapping Up
The next time you're looking for a healthy fast food option, you know where to go. You can rest assured that there are restaurants that can cater to your dietary requirements. Do your research about what works for you and what to pick at the drive-thru.
It doesn't hurt to double-check your options and confirm your order.