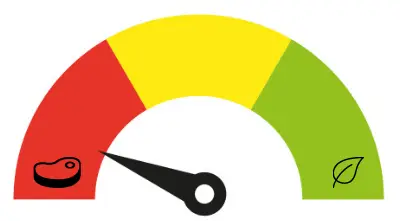 Are Papa John's Garlic Knots Vegan?
Garlic knots are a tasty delicacy to enjoy as a side to pizza or a solo dish.
However, you need to examine the dish in detail since you have chosen or been prescribed veganism. Papa John's garlic knots are partially vegan. They are made with parmesan cheese. They use animal-based cheese. However, that is the only non-vegan item in the garlic knots.
You can bake your vegan version of them. There are other vegan alternatives on the Papa John's menu if you want to order from there.
What Are Papa John's Garlic Knots?
The Papa John's garlic knots are a delicacy served with a pizza sauce. They are twisted bread knots made with pizza dough. The pizza dough is vegan and does not contain any dairy products. Avoid ordering gluten-free dough. It is made of yolk and dairy.
The knotted bread is tossed in yummy and flavorful garlic parmesan sauce. Garlic knots are soft, chewy, and crumbly with kicks of garlic flavor. The ingredients used to make garlic knots are listed down.
Wheat flour or refined flour
Water to knead the dough
Sugar
Soybean or olive oil
Salt to season
Yeast
Parmesan cheese made of cheese culture, pasteurized milk, enzymes, and salt
Garlic knots also contain starch, spices, onions, red bell peppers, and a minimal percentage of vegetable mono, diglycerides, phosphoric acid, and more. Ingredients like sodium benzoate and calcium disodium are used to maintain freshness.
Nutritional Content of Papa John's Garlic Knots
The Papa John's garlic knots contain 110 calories in one knot. This is without including the pizza sauce dipping. The bread knot contains zero dietary fiber. With 53.6% carbohydrate content, the garlic knots are starchy.
Garlic knots are high in carbs and have only 20% vitamins and minerals. While it is not a wholly vegan dish, you can make it vegan and increase its nutritional value.
Does Papa John's Have Vegan Alternatives for Garlic Knots?
Papa John's is a vegan-friendly pizzeria compared to its competitors. If you want to have pizza, you should order their original hand-tossed crust. That is their vegan dough; other options contain egg and dairy products.
Since you enjoy garlic bread, you want an alternative to it, don't you? Your safe option is to order the original breadsticks with garlic sauce. The original breadsticks are vegan and don't need any customizations.
As for their garlic sauce, it does not contain any dairy products. It is made wholly with soy and natural flavors. It may not be the healthiest option, although it's tasty and lets you enjoy vegan garlic bread.
Some other vegan dishes on Papa John's menu include barbeque pizza sauce, vegetable toppings, and a special seasoning packet. The side dish options they provide are not fully vegan, except for the original breadsticks.
Does Papa John's Have Vegan Cheese Options?
Papa John's has only a vegan pizza dough option. It does not have vegan cheese options in the USA yet. However, Papa John's offers a vegan cheese option in the UK too. In the US, they provide a plain pizza base with vegetable toppings and a vegan pizza sauce. To enjoy your breadsticks and pizza with cheese, you must procure vegan cheese yourself.
To enjoy garlic bread knots with cheese, you need to know how to get vegan cheese. Vegan cheese is easily made from plant-based ingredients. You can buy cheese from cashews, tapioca, tofu, coconut, or almonds. You can buy this cheese or make it yourself.
Can Garlic Knots Be Made Vegan?
Of course, garlic knots can be made vegan. You have two alternatives. You could request Papa John's to skip tossing your bread in the garlic parmesan sauce. Parmesan is the only non-vegan ingredient. Another healthy option is to make your garlic knots at home. You will be in control of the ingredients used and the quantity baked.
All you need are the ingredients like wheat or whole wheat flour, sugar, salt, soybean oil, and yeast. You can replace the parmesan with plant-based cheese to make the garlic sauce. The flavor may not be exactly like at Papa John's, but you will have your delicious garlic knots made vegan.
Are Garlic Knots Healthy?
Garlic knots are tasty and yummy. They are filling, and their flavor leaves you wanting more. But garlic knots are not a wholesome, healthy dish. They contain sugar and do not have fibrous vegetable content. Garlic knots are merely a delectable snack to enjoy.
Combining them with a wholesome salad or soup can be a healthy option. Even without the parmesan, Papa John's garlic knots are not healthy. They have at least 110 calories and can be greasy.
Where Can You Enjoy Vegan Pizza and Garlic Knots?
PETA has given a list of pizzerias that provide vegan options. They also give you a guide to ordering from some famous pizzerias to have the best experience. MOD pizzeria offers you vegan pizza dough, BBQ sauce, and garlic rub. You will also get vegan cheese at 50 of their joints. Pizza Rev is another place that offers vegan options. They have vegan sausage too. Vegan cheese and gluten-free crust options are also available at Pizza Rev.
For your favorite garlic knots, you need to make them at home or at frequent places that offer garlic knots without the parmesan. Or, if you follow a flexitarian diet, you can still consume Papa John's garlic knots.
As mentioned earlier, parmesan is the only non-vegan ingredient. Ultimately, you can customize your order at any pizzeria to ensure you get a vegan dish.
Some FAQs Answered by Papa John's
Papa John's is a well-known pizzeria with a variety of dishes. They have tasty pizza and garlic breadsticks. Most of their dishes are customizable, and they offer vegan options. The original pizza dough is vegetable-based. No cheese is dusted on it.
Their pizza sauce is also vegetable-based. Dehydrated garlic, sunflower oil, fresh tomatoes, spices, salt, and sugar is used. No animal fats are used in their pizza sauce. Mozzarella is the most commonly used cheese. Papa John's claims that they make this dairy-based product without animal-derived enzymes. If you are a flexitarian, you might find this agreeable.
Papa John's mentions that they often use the same pizza cutters on vegetable and meat-toppings pizza. You should specify that you are a vegan and tell them to use a newly sanitized pizza cutter.
Papa John's also ensures that meat and dairy products are stored and opened separately from vegetarian and vegan items. They ensure that the utensils are sanitized before use to minimize contamination.
Endnotes
The flavorful and yummy garlic knots at Papa John's are a delight. But, as a vegan, you strive to avoid animal-based food. You want to consume something that is natural and does not harm animals. Your food should be produced by safe means, and it should be as healthy as possible.
Don't worry; you can still eat a similar dish. All you have to do is, get original breadsticks with garlic dip. Eliminating the cheese alone makes your dish vegan.
Of course, the alternative is preparing garlic knots at home using this recipe. You need to substitute the butter and cheese with something made of plants. Or, you can altogether eliminate the cheese and substitute it with flavored olive oil.