Answer: No. This dish is not vegan. Popeyes Red Beans and Rice contains bacon and pork fat.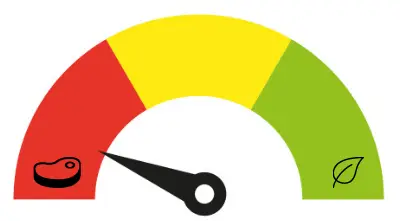 Is Popeyes Red Beans and Rice Vegan?
We're in the car trying to decide where to eat lunch and end up in Popeyes. I quickly scan the menu and think maybe I can eat Red Beans and Rice while everyone else orders their Cajun fried chicken and biscuits. It will not be too difficult to get a vegan meal in this place, correct?
Popeyes Red Beans and Rice is cooked with bacon for its unique flavor. This dish is not vegan as it uses bacon and pork fat mixed into the beans. Any food that uses meat or by-product of an animal is not vegan.
When you are with friends or family, the challenge is choosing a dish you can order without making a fuss about your lifestyle choice. When they pick a restaurant, you quickly decide what's acceptable for your vegan diet. It doesn't mean you can't go home and replicate the exact dish, using safe vegan ingredients that your tummy can heartily enjoy.
What Is Popeyes Red Beans and Rice?
Popeyes is a fast food restaurant known for its crunchy fried chicken and biscuits. You'll notice the Cajun and creole flavor recipes from its New Orleans roots. This quick-service chicken house has added many dishes to its side menu that vegans can snack on.
Popeyes Red Beans and Rice is a Louisiana recipe with a prominent taste of Cajun flavor. The dried red beans are cooked with a mixture of bacon or ham cock and pork fat, with many spices such as paprika, rosemary, chipotle, green peppers, and liquid smoke or hickory. It's served with plain rice and topped with gravy-like red bean sauce.
Is Popeyes Red Beans and Rice Healthy?
Red Beans and Rice dish is flavored with pork fat and cannot fall under a vegetarian menu. It has a serving size of 146 grams with 230 calories, while the large order of 438 grams has 690 calories. Eating this dish will give you 5 and 15 grams of dietary fiber in regular and large servings. Other nutritional values are 14 and 42 grams of fat, 580 and 1,740 grams of sodium, and 7 and 21 grams of protein.
The big plus on this dish is the 15 to 53 percent fiber you get based on 2,000 calories. Be warned that eating Red Beans and Rice's large order has a high sodium content and goes above the daily recommended amount. It has a direct cause to elevate readings of high blood pressure and other complications like stroke.
Alternative to Popeyes Red Beans and Rice
Popeyes is not an ideal restaurant for vegans. Known for its Cajun fried chicken with some side dishes, you can choose from the limited sidings to munch. The chance for you to get a full vegan meal is quite impossible since the restaurant proudly advertises itself as a chicken house.
The safe vegan dishes on the menu are corn on the cob without butter, grits made with water, and applesauce. The Cajun fries are said to be vegan-friendly, but there hasn't been a clear statement about whether these are fried separately from the oil as the chicken.
Another thought to consider is the cross-contact with chicken. Ordering your food from the menu can be tainted with chicken handling. Whether it be sharing the same workspace, using the same utensils, or even refrigerating uncooked foods.
Vegan Diet and Popeyes
Even for a whole-food vegan who eats whole grains and legumes, Red Beans and Rice cannot pass their palette because of Popeyes' use of pork fat. There's no way around this dish except to avoid it and opt for safe choices. These are dishes without a trace of animal ingredients or dairy products.
Substitute Ingredients for Red Beans and Rice
Vegans can enjoy a vegan style of Red Beans and Rice with Popeyes recipe. The first thing you'll have to do is substitute the pork and lard ingredients with plant-based materials instead.
Liquid Smoke Substitute for Ham or Bacon
Liquid Smoke is a water-soluble seasoning with a yellow to reddish color. Some call it hickory flavoring, while others label it a smoked marinade. This potent flavor adds an aftertaste and wooden aroma to a dish.
It imitates the smokey flavor when you cook with wood and is used for meats and vegetables. They get this flavor by condensing the wood smoke and then adding additives. Once the condensed smoke is encased, molasses, vinegar, salt, and caramel coloring are mixed.
Vegetable Shortening Substitute for Lard
Solidified fat or vegetable shortening comes from plant-based oils. The fat source is either coconut oil, soybean, or cocoa butter. It is mixed with liquid fats like canola, grapeseed, sunflower, and safflower.
When added to the red bean recipe, vegetable shortening creates texture and body to the sauce. It is creamier and moist because of the composition of its fat content.
DIY Red Beans and Rice
Popeyes Red Beans and Rice is a favorite for many. You can easily make your version using similar ingredients minus the bacon or pork fat. There are different ways to execute this recipe, but the result should be a delicious rendition of the Popeyes Red Beans and Rice.
Canned Red Beans and Rice
Boil two cans of red beans for ten minutes and mix ¼ teaspoon of liquid smoke. Cool down.
Mix the boiled beans with ½ teaspoon onion powder, ½ teaspoon garlic salt, ¼ teaspoon red pepper flakes, ½ teaspoon salt, and three tablespoons of vegetable shortening.
Place ingredients in a food processor and mix for four seconds to thicken the mixture.
Add the extra can of red beans for three seconds. The beans must not look mushy but whole.
Place back in the pot and cook on low heat, stirring the mixture until ready to serve.
Cook 4 cups of long-grain rice.
In a bowl, put cooked rice almost halfway through the bowl and top with the red bean sauce.
This recipe serves 10 -12 bowls of vegan red beans and rice.
Traditional Louisiana Red Beans and Rice
Soak 1 pound of dry red beans in a pot for eight hours or overnight. If you don't have time to do that, you can boil beans for a minute and then soak them for an hour. Drain the water from the beans.
Using fresh water, boil the beans on high heat while you prepare the ingredients.
Finely chop the four cloves of garlic, one large white onion, four celery ribs, and one large bell pepper. Add this to the bowl of beans.
Start adding to the pot of red beans the three pieces of bay leaves, two teaspoons thyme, one teaspoon oregano, ½ teaspoon red pepper, ½ teaspoon ground black pepper, and one teaspoon canned adobo chipotle pepper.
Once the beans start boiling, reduce the heat to simmer and cook for another 3 hours adding water to the beans until soft and tender. Add ¼ teaspoon liquid smoke, one teaspoon tabasco sauce, and one teaspoon salt.
Keep the fire on a steady simmer with occasional stirring until the beans have disintegrated and the sauce has thickened.
Serve the red beans on top of the cooked rice.
Instant Pot Red Beans and Rice
Put the 1 pound of dry red beans soaked in water in the instant pot. Place the valve setting on the label pressure, and select the pressure cooking setting with time at 1 minute.
Leave the cover on the pot until the pressure has normalized. In about 20 minutes, open the valve to release the heat and pressure.
Drain the beans from the water, then add 4 cups of water to the beans. Put the setting on saute at medium temperature.
In a food processor, combine the four cloves of garlic, one large white onion, four ribs of celery, and one large bell pepper.
Add in three bay leaves, two teaspoons thyme, one teaspoon oregano, ½ teaspoon red pepper, and ½ teaspoon ground black pepper.
Change the setting from saute to pressure. Set on high pressure for 10 minutes and release the valve.
Once cooled, check if the beans are tender and boil to take out some of the liquid and allow thickening.
Set the pot on a saute, occasionally stirring to scrape the bottom until it becomes a gravy consistency.
Add the ¼ teaspoon liquid smoke, one teaspoon tabasco sauce, and one teaspoon salt.
Serve on top of cooked long-grain rice.
Endnotes
Unfortunately, even though Popeyes Red Beans and Rice looks acceptable at first, it is not vegan.
However, dining out with friends and family need not be a difficult task. If you can adjust to the menu selection and carefully research the ingredients, you will do fine.