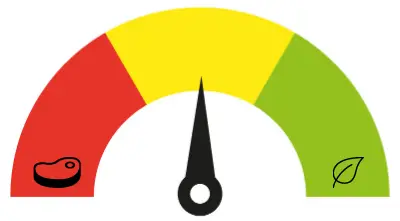 The traditional pizza rolls are made with meat as the key ingredient. However, there are several food manufacturers that produce vegan-friendly pizza rolls. And that's what we're going to check and learn more about.
Pizza rolls are undoubtedly a crowdpleaser. These bite-sized pizza pockets have won the hearts of many food connoisseurs. But the classic pizza rolls contain melted cheese, and mostly meat such as pepperoni, sausages, and sometimes mixed meat. These make them non-vegan, but nowadays, there are already vegan pizza rolls that you can even buy straight from the shelves.
If you're on the lookout for healthy alternatives for pizza rolls, we have comprehensive pointers for you in this article.
What Are Pizza Rolls?
Also called pizza poppers or pizza bites, pizza snack rolls are among the favorite snacks of every American in all walks of life. Well, it's reasonable because pizza rolls originated in Duluth, Minnesota by businessman Jeno Paulucci.
In 1967, he trademarked the name Jeno's pizza rolls officially, and in 1985, he sold the rights to Pillsbury, the company that owned Totino's Pizza. Jeno's was then rebranded to Totino's Pizza Rolls in 1993. General Mills then bought Pillsbury in 2001 and is now the official owner of Totino's.
Totino's then gained popularity and earned more sales in 2016 after a series of stints on Saturday Night Live.
Because the name "pizza rolls" is exclusively trademarked to Totino's, many brands that produced the same kind of snack rolls named their product differently. There are versions of them such as organic, non-GMO, and vegan. Don't worry, we will give you a list of these brands too.
The traditional pizza rolls are stuffed with melted cheese, tomato sauce, as well as pizza toppings with different flavors. They are frozen and are intended to be cooked in a microwave or oven. Flavors include hamburgers, cheeseburgers, pepperoni, supreme, mixed meat, sausage, ham, and cheese, among others.
Additionally, Totino's use both microbial and animal rennet on their cheeses. So, you don't really know what kind of cheese is inside regardless of the idea that it might use microbial at any time.
Vegan Pizza Rolls Brands
Since the traditional Totino's pizza rolls are not vegan-friendly, a few food manufacturers have gone their own way to produce cruelty-free and plant-based pizza rolls.
As long as these are vegan, we are rooting for these brands. You can buy them at your local grocers, including Walmart, Target, Whole Foods, or order them on Amazon.
Amy's Pizza Rolls
Wholly Veggie! Pizza Bites
Feel Good Foods Pizza Rolls
Morning Star Farms Pizza Bites
How To Make Your Own Vegan Pizza Rolls
There are not too many food manufacturers that produce vegan pizza rolls. But what's great about homemade? You get to make your own vegan-friendly and cruelty-free pizza bites.
Plus, you get to choose whatever flavor you like. If you love baking, this would be the perfect time to try your own vegan pizza rolls at home.
Homemade is everything, so let's jump in and start making vegan pizza rolls!
What you'll need:
2 tsp. avocado oil or vegetable oil
3.5 oz Beyond Meat hot Italian sausage or any vegan sausage brand
2 tsp. Italian seasoning
4 tbsp. vegan melted butter
1/2 cup of vegan parmesan cheese
Salt and pepper to taste

2 1/2 cups of separated marinara sauce

7 oz vegan mozzarella shreds. Daiya cutting board mozzarella shreds are great!
1/2 cup of chopped fresh basil

Flour for dusting

1 package of ready-made no-knead pizza dough or homemade dough
Ravioli press or 2 empty ice cube trays

Fresh finely chopped flat leaf parsley

for garnish
What to do:
Preheat the oven to 400°F.
Add oil to the pan under medium heat. Add Italian seasoning and sausage as soon as the oil is hot. Crumble sausage into bite-size pieces using a spatula or a wooden spoon, and cook for about seven minutes until they're golden and crisp on the edge.
Put the sausage pieces in a bowl, toss some mozzarella shreds, fresh basil, and a cup of marinara sauce, and mix well. Put some sesoning, salt, and pepper to taste according to your preference. Set it aside.
Cut the pizza dough into four halves using a knife.
On a clean flat surface, dust some flour. Roll out each dough enough to cover the ice cube tray or a ravioli press. It should be around 15 inches long and 5 inches across. Dust the tray or ravioli press with flour.
If you're using an ice cube tray, put the first sheet of dough on top of the ice tray. Get another empty ice tray and press it down on the dough to form the pockets. Put one tablespoon of cheese filling and sausage in each pocket. Avoid any loose fillings. Tap the ice tray to avoid air pockets.
If you're using a ravioli press, simply follow the directions and put a tablespoon of cheese and sausage.
Put the other half of the sheet of dough on the ice tray and press it using your hand to remove any extra air pockets. Run a rolling pin over the dough until the ridges are visible. Then flip over the mold and peel it away slowly.
Put the pizza rolls on parchment paper, and brush them with the melted butter of your choice. Then sprinkle with Parmesan cheese. Bake for about 13 minutes, or until they're golden and crispy. To make them more enjoyable to eat, garnish with fresh parsley, and let them cool down before serving. You can also add more marinara sauce.
Are Pizza Rolls Healthy?
Pizza rolls definitely make a healthy meal for anyone. Well, as long as it's in moderation.
However, non-vegan pizza rolls are loaded with calories, fats, sodium among others. And these are from animal byproducts, which vegans avoid.
The traditional pizza rolls are frozen, which means that they involve preservatives and additives to keep them last a little longer. Although there are several vegan preservatives like potassium sorbate, most non-vegan frozen foods don't use vegan ones.
Most non-vegan preservatives used on processed foods pose dangers to human health, especially when consumed excessively. For instance, sodium nitrite increases the risk of stomach cancer, according to a review.
Other studies also found that this preservative is also linked to colorectal, breast, and bladder cancer. It may also increase the risk of type 1 diabetes.
There are common food preservatives and additives that you should try to avoid, especially when you're following a strict vegan diet. These mostly involve animal-sourced products and are not a great source of healthy nutrients. You might even have them in your pantry at this time.
However, some of these are also great for a healthy diet such as guar gum.
Monosodium Glutamate (MSG). This flavor enhancer is also linked to metabolic syndrome and weight gain.
Artificial Food Coloring. This may cause allergy, and promote hyperactivity in kids.
Sodium Nitrite. As mentioned above, a high intake of sodium nitrite may cause the growth of certain types of cancer.
Guar Gum. It's also used to thicken and bind foods, and it's vegan to the core! Studies also suggested that it helps achieve a better digestive system, and lowers cholesterol and blood sugar.
High-Fructose Corn Syrup. This is always linked to weight gain, inflammation, and diabetes when consumed excessively. It's also high in calories.
Artificial Sweeteners. These may help weight loss and blood sugar control although excessive intake might lead to a mild side effect like a headache.
Carrageenan. While this is a vegan preservative that acts as a thickener or binder for some food products like vegan marshmallows, excessive use may lead to high blood sugar and intestinal ulcers. Carrageenan is sourced from a type of red seaweed that's commonly used in vegan cooking to thicken or bind dishes.
Sodium Benzoate. This is also linked to hyperactivity and may cause cancer development when mixed with vitamin C.
Trans Fat. Excessive consumption of trans fat may also cause heart diseases, inflammation, and diabetes.
Xanthan Gum. When eaten excessively, this may cause digestive problems such as soft stools and gas.
Artificial Flavoring. There's still no substantial evidence about the effect of artificial flavors on humans, but some studies suggest that this may be toxic to the animals' bone marrow.
Yeast Extract. This may cause mild side effects such as headaches, and numbness. Also, its's vegan!
The Bottom Line
Traditional pizza rolls are not vegan-friendly and contain many calories, fats, and sodium. But nowadays, our friends who are passionate about veganism have found ways to produce plant-based dishes.
There are not too many brands that produce vegan pizza rolls, but it's better than nothing. Also, cooking or baking is fun. From there, we can explore what we want for our dish. You can even have a healthier option since you get to choose your own vegan ingredients.
Just make sure that everything in your pantry is vegan-friendly. Because really, we don't want to consume something that causes animals to get slaughtered. No way!