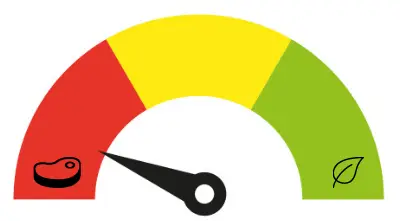 Totino's Pizza Rolls contain both animal and microbial rennet on their pizzas and rolls.
Nothing beats Netflix nights in your pajamas while munching on Totino's Pizza Rolls. Vegan pizza rolls that, I mean.
Like the traditional pizza rolls, Totino's uses cheese that has both microbial and animal rennet sources on its pizzas and rolls. Most of its flavors include animal-sourced ingredients. So, it's not really safe to consume its pizza rolls, at least for vegans.
No worries. If you're looking for vegan pizza rolls, there are a few vegan brands you can purchase right from the shelves. Let's find out more about these oh-so-delish snacks and see what other healthier alternatives we can have.
Who Is Totino's?
In 1951, couple Rose and Jim Totino started a pizzeria business in Minneapolis, Minnesota. It was later sold to Pillsbury Company, also purchased by General Mills in 2001.
Also, American entrepreneur Jeno Paulucci, who started developing pizza rolls in the 1940s, sold his brand Jeno's Pizza Rolls to Pillsbury in 1985. It was then rebranded in 1993 to Totino's Pizza Rolls.
Totino's has a mascot made of pizza named Pete Za Roll. He's really cool!
Totino's Pizza Rolls
The traditional pizza rolls, also called pizza bites, are frozen with breaded pizza pockets filled with tomato sauce, several pizza toppings, and melted cheese. The first flavor, which was cheese, was made by Jeno Paulucci, and later added more varieties such as sausage, pepperoni, multiple kinds of cheese, supreme, and mixed meats.
There are also other flavors, such as a cheeseburger, ham, cheese, cheeseburger, and a combination of pepperoni and sausage. Frozen pizza rolls are cooked quickly in a microwave or an oven.
As discussed in this separate topic, pizza rolls also have different names from other companies, especially since the name itself is already a registered trademark of Totino's or General Mills. Other versions include non-GMO, vegan, and organic pizza rolls.
Unfortunately for Totino's, the cheese they use includes microbial and animal rennet. So we don't know what cheese they use for the pizza rolls.
Totino's Pizza Rolls Flavors
Totino's Pizza Rolls have different kinds of flavors to choose from. They're not for us, but let's find out what makes these tasty bite-sized snacks non-vegan.
Pepperoni
Cheese
Triple Meat
Supreme
Triple Cheese
Cheeseburger
Combination
Ham and Cheese
Pepperoni & Bacon
Takis' Fuego' Mini Snack Bites
Triple Pepperoni
Ingredients
I've checked the ingredients of Totino's Pizza Rolls Cheese Flavor, and I'm astounded by the number of dairy products used in it. Other flavors also include dairy products and artificial flavors sourced from meat.
Enriched Flour. This is vegan and is commonly used in cooking or baking.
Tomato Puree. It's made out of water and tomato paste. We can say this is vegan-friendly.
Water. This one is a no-brainer.
Imitation Mozzarella Cheese. All of its ingredients are vegan-friendly except for one. Rennet Casein is a milk protein and not vegan-friendly. This is what makes Totino's Pizza Rolls Cheese Flavor non-vegan.
Vegetable Oil. This involves either soybean or canola oil and is vegan-friendly.
Rehydrated Fat-Free Mozzarella Cheese. This involves skim milk and cheese cultures, among others, in the making. Apparently, this is also non-vegan.
All other flavors, especially the meaty ones, involve animal byproducts such as beef, pork, and chicken. Unfortunately, non of Totino's Pizza Rolls flavors are in our favor.
Totino's Pizza Rolls Nutrition Facts
Totino's in 2007 was recalled for E. Coli contamination, especially since they use cheese subs made with hydrogenated oil. They were also called out for their high trans fat and sodium with low fiber.
Fortunately, in 2013, Totino's Pizza Rolls started to produce bite-sized snacks with zero trans fat per serving, as seen in their product labels.
Here's what you can see on Totino's Pizza Rolls Cheese Flavor per serving.
Calories. 160 of the Daily Value (DV)
Total Fat. 8% of the DV
Sodium. 16% of the DV
Total Carbs. 11% of the DV
Protein. 5 g of the DV
Calcium. 6% of the DV
Iron. 10% of the DV
Potassium. 2% of the DV
Vegan-Friendly Pizza Roll Brands
If you're really interested in pizza rolls, there are only two options you can do. One is to find vegan brands from your local grocers or on Amazon. Or better yet, make your own pizza rolls at home.
But here's a list of a few names you can count on for vegan products. There are not many of them, but they're easy to find.
Wholly Veggie! Pizza Bites
Amy's Pizza Rolls
Morning Star Farms Pizza Bites
Feel Good Foods Pizza Rolls
Pizza Rolls Healthier Alternative
So, yes, the traditional pizza rolls are packed with calories, sodium, fat, and carbs, among others. What can you do?
Here's the thing. There are many different ways to find healthier alternatives. Totino's Pizza Rolls are frozen, and some health experts don't even recommend eating frozen foods.
In replacement of pizza rolls, there are a few vegan options you can have. These are my go-to healthy meals whenever I can't find vegan pizza rolls. Take note, these are vegan-friendly!
Pizza Pita
Cabbage Leaf Rolls
Baked Pizza Wontons
Mini Pizzas
Pizza Rolls are frozen food. This means that they need more preservatives to keep their shelf life longer. Although vegan preservatives exist, most frozen food manufacturers don't use them.
Healthy experts have warned that excessive intake of frozen foods can cause adverse health effects such as breast, colorectal, and bladder cancer. Preservatives and additives like trans fat, xanthan gum, high fructose corn syrup, sodium nitrite, MSG, and sodium benzoate are linked to these health issues.
How To Make Skinny Vegan Pizza Rolls
If you love cooking and baking, this is high time to learn how to make your own vegan pizza rolls. What's good about homemade is that you can feel and taste its love, especially since it's for you and your loved ones.
You will need vegan alternatives for these ingredients, by the way.
Ingredients:
½ chopped bell pepper
1 chopped carrot
1 chopped small zucchini
½ diced onion
2 minced garlic cloves
3 oz tomato paste
2 tsp. oregano
2 tsp. basil
2 tsp. paprika
½ tsp. cayenne pepper
1 tsp salt
24 MD Nasoya vegan wonton wraps
Almond Ricotta (optional topping)
What to do:
Preheat the oven to 450°F, and prepare a large baking sheet with parchment paper. You can also use foil. Coat all sides with a non-stick cooking spray.
Put all the vegetable ingredients with a dash of vegetable broth on the cooking pan and saute until they're tender. Stir occasionally.
Transfer the vegetables, spices, and tomato paste to a blender until they're smooth and become spreadable sauce for your skinny pizza rolls.
On your work surface, prepare the wonton wrappers and water nearby to help seal the wraps. Stack all the wrappers and begin filling them with the sauce. Do not over-fill each wrapper, as you still need to seal each.
To seal the sauce-filled wrappers, wet your fingers with water and trace the bottom or top corners of the wonton wraps. Fold it in half so both dry and wet corners would seal.
When the filling is done, spray them with cooking spray, and sprinkle them with your choice of topping, such as Almond Ricotta or any vegan cheese. Put them on the baking sheet, and bake for 15 to 20 minutes or until they're golden brown.
Serve them warm, and enjoy your skinny pizza rolls!
Pro Tip: You can always choose any veggies you like to go with other ingredients. What I listed above is just a great sample for making vegan skinny pizza rolls.
The Bottom Line
Totino's Pizza Rolls are definitely not vegan-friendly as they contain different kinds of cheese sourced from microbial and animal rennet. They also have other meat flavors, including beef, chicken, and pork. So, we obviously don't want that.
Also, non-vegan pizza rolls are loaded with calories, which many vegans avoid, especially since we aim for a healthy lifestyle. It's worth noting that the USDA's 2020–2025 Dietary Guidelines for Americans recommend limiting your daily calorie intake to 2,000.
Additionally, pizza rolls are also high in sodium, and it's possible that you'll go beyond the recommended daily amount of 2,300 mg. So, apart from being non-vegan, pizza rolls are also packed with calories and sodium and are relatively low in fiber.
Get the ones from brands that sell vegan pizza rolls for a healthier vegan fix. The best option is to make your own at home. It's definitely a great idea as you get to pick the vegan ingredients!