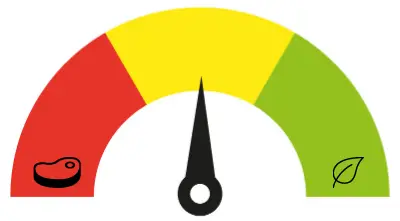 Are Raisins Vegan?
Raisins are consumed worldwide. They are used in various appetizers, pastries, and salads, and you can even eat them raw.
Most raisins are vegan-friendly, but there are a few main issues to be aware of. Raisins are often a natural snack with no extra ingredients; however, this is not always the case.
Non-vegan substances are sometimes added to raisins by some companies. So make sure you read this beforehand, so you know precisely what to be on the lookout for.
What Are Raisins?
Raisins are fermented grapes. This drying method concentrates both the nutrients and sugars found in grapes, resulting in raisins that are both nutritional and calorie-packed.
Raisins originated in the Middle East before spreading to Europe, where they were prevalent among the Romans and Greeks. Raisins were formerly employed as cash, like trophies in athletic events, and to heal maladies such as food poisoning.
Raisins are now accessible in most stores and come in various shades depending on the drying technique employed. Golden yellow raisins are widely used in baked dishes, while red and brown raisins are popular snacking options.
Raisins are nutrient-dense and rarely processed food that contains no extra preservatives or additives. However, because they are rich in sugar and calories, they should be used in moderation.
Production Process
Raisins are dried grapes that differ a bit among manufacturers and places in the world depending on the grape used in production. Unlike wine, which may include animal products in the filtration process, the same cannot be done with raisins. To help the grapes dry quickly and keep their color, they are first washed with a solution containing potassium carbonate. Vegan grapes can be dried manually in a faster, more controlled environment or by the sun, which has greater unpredictability with bugs and insects. Most raisins on the market are mechanically dried to maintain consistency.
After the drying process is complete, the already vegan raisins are cleaned with water to remove the residue and to gently rehydrate them, somewhat not to the point of being mushy. There is no further procedure that may include animal products, such as in the production of wine…so enjoy your raisins!
Nutritional Content of Raisins
A quarter-cup of raisins has the following nutrients:
| | |
| --- | --- |
| Calories | 108 |
| Protein | 1 g |
| Fat | 0 g |
| Carbohydrates | 29 g |
| Fiber | 1 g |
| Sugar | 21 g |
Raisins have a natural sweetness and are rich in calories and sugar, yet when consumed in moderation, they are healthy. Raisins can help with iron levels, digestion, and bone health.
So, the next time you have a longing for candy or sweets, try chewing on some raisins to fulfill your craving. Your body will profit from the healthful effects.
Health Benefits of Eating Raisins
Raisins are a good source of fiber and include a range of minerals and vitamins, including iron and potassium.
Raisins are a naturally occurring source of energy.
Raisins have a medium glycemic index, which means that they generate energy slower than many processed foods.
Snacking on a small amount of raisins instead of processed 'unhealthy food' snacks may reduce blood sugar levels.
Raisins are completely natural, containing only naturally produced sugars and no artificial flavors or colors.
Raisins are organically gluten- and lactose-free, making them suitable for persons with lactose intolerance or Coeliac Disease and vegans.
Raisins have been shown in studies to reduce the risk of heart disease by lowering blood pressure and blood sugar levels. Raisins' fiber helps to decrease LDL bad cholesterol, which lessens the pressure on your heart.
Raisins are an excellent source of potassium as well. Low potassium levels have been linked to high blood pressure, heart disease, and stroke, according to research. The quantity of potassium our systems require rises when we consume a lot of salt, which is prevalent in many people's diets nowadays. Raisins, as a low-sodium meal, are an excellent approach to maintaining enough potassium intake.
Raisins Are Not Always Vegan
Although it's unlikely, I don't want to rule anything out. For whatever reason, certain brands may flavor their raisins. It's uncommon, but if you come across any flavored raisins, make sure they're vegan.
That being said, let's look at what you should avoid.
Added Vitamins
Another big concern in the vegan diet is the addition of vitamins. It may not appear to be a huge issue, but it is. This is due mainly to the fact that not all vitamins are vegan. In this post, you will learn more about which vitamins are vegan.
Vitamin D3 is a troublesome vitamin that many food manufacturers add to their products. It's the vitamin humans receive from sunshine, although it's frequently produced from animal-based products. At the very least, when added to meals.
Vitamin D or Vitamin D3
Animal components can be found in any of these two categories. It is not always produced from an animal, so if you have a favorite brand, you can always contact the manufacturer and inquire.
Possible Non-vegan Ingredients in Raisins
So there are several substances you should avoid. Here's a list of some of the substances you could come across:
Vitamin D3
Natural Flavors
Egg Protein
Honey
Glycerin
Lactose
Just looking at the ingredients list isn't always enough. These are some of the elements that may be present. However, it is occasionally a concern because the product is manufactured in the same facilities as egg or dairy products.
"MANUFACTURED IN SAME FACILITIES THAT PRODUCE EGGS AND DAIRY CONTAINING PRODUCTS": It usually looks like this and is situated just beneath the ingredients list. The label may vary, but be wary of anything that looks like this.
Commercial Vegan Raisins Options
Here are some lists of vegan raisins you can grab for your snacking.
Sun-Maid Raisins
Sun-Maid raisins are among the most famous raisins on the market. And with good cause! They take pride in being organic and nutritious. That's what Sun-Maid raisins are, but are they vegan?
Sun-Maid Raisins are completely vegan since they include only one ingredient: dried grapes, often known as raisins. Furthermore, due to hygienic manufacturing facilities, they lack any trace levels of animals.
Raisins are made entirely of grapes. Dehydrated dried fruit with no added sugar provides excellent nutritious snacks for adults and children. Simple, adaptable snacks that are ideal for on-the-go consumption.
That's all there is to it. Sun-Maid raisins are genuinely a natural snack. So don't hesitate to buy Sun-Maid raisins. Because they don't go bad for a long time, you can get them cheaply on Amazon.
Dole Seedless Raisins
Dole is another well-known raisin brand. Their technique of manufacture adds a lot of taste, but are they even vegan?
Dole Seedless Raisins are completely vegan because the sole ingredient is raisins. Furthermore, no animal products are used in the manufacturing process. As a result, you can rest assured that your raisin is cruelty-free.
That is minimalism, something many vegans appreciate. There are no preservatives, flavor boosters, or other additives. Simply put, raisins.
DOLE California Seedless Raisins are organically delicious, low in cholesterol, and low in fat. They're also gluten-free, making them ideal for toppings, salads, toppings, trail mix, snacking, and baking.
California Raisins
California Raisins are a sunny fruit that is organically dried and naturally sweet, making them an excellent component for cooks and bakers and a tasty on-the-go snack. California Raisins are an excellent sugar alternative and may be used in both sweet and savory meals. California Raisins, in whatever form they are consumed, give energy as well as fiber, minerals, and vitamins.
Are Raisins Gluten-Free?
Gluten-free people do so for a variety of reasons. Some do it due to gluten sensitivity, while others follow a gluten-free diet. Many vegans, in particular, love the gluten-free diet. Many people perceive major advantages to doing so.
Raisins are completely gluten-free since they are just dried grapes, which do not contain gluten. It's uncommon to discover raisin brands that include gluten-containing ingredients in their goods.
As a result, practically all raisins are gluten-free, even though certain raisins may be produced in the same facility as gluten products. The problem is that the raisins may become contaminated with gluten due to this.
It is, however, extremely unusual. So far, I haven't come across any examples. To be sure, simply search for a label beneath the ingredients that states that trace levels of gluten are present.
Conclusion
Raisins are, in many ways, the ideal vegan snack. They are nutritious and free of animal products. However, like with other things, there is always the risk that animal products will be used.
Glycerin, natural taste, and vitamins are examples of such ingredients. Having said that, it's still a good idea to read the components to be sure.
If you want to incorporate this antioxidant-rich fruit into your diet, I recommend mixing it with proteins such as nuts and butter to satisfy you. Pick up some fresh and juicy raisins today and enjoy this vegan snack!