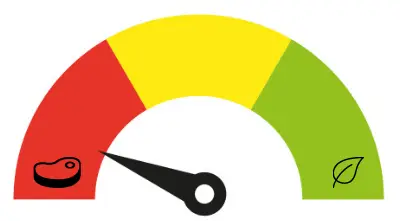 If you're thinking about munching a Twix, you've come to the perfect spot.
Unfortunately, because they include milk-based components, all Twix flavors mentioned on Mars Chocolate's website are not vegan. Skim milk and milk fat are both mentioned as components in the Dark Chocolate Twix. Peanut Butter, Milk Chocolate, Caramel, White Chocolate, Dark Chocolate, and Ice Cream Bars are among the non-vegan Twix flavors. However, because the only animal-derived components utilized are milk-based, each of these tastes would be deemed vegetarian.
Is there any hope, I hear you ask? Well, sad to say that there are relatively few vegan-friendly Twix alternatives on the market.
Read on to find more about Twix and what alternatives you can try to still enjoy chocolates while going vegan.
What Are Twix?
Twix is a biscuit or a cookie made of a shortbread-like base wrapped in caramel and chocolate. This candy bar is incredibly crunchy, chocolatey, and screams for a drink when eaten. Twix was originally known as Raider in the United Kingdom before being renamed Twix after its arrival to the United States. Twix is packaged in an aluminum-like wrapping with two or four stick-like or cylinder-shaped biscuits in each container.
Twix features a flat base and a textured top, with chocolate frosting the cookies and typically peanut butter, caramel, and other confections within that surround the pastry inside of the candy bar. It wasn't the most popular candy bar in the world, but it has battled hard with several different flavors and types to become and stay a beloved treat with many fans throughout the world.
Are Twix Healthy?
Resisting the urge to eat your favorite candy bar may be difficult – we've all learned that, haven't we? It's hard not to be tempted by an aisle brimming with delectable chocolate-covered caramel candy bars.
Twix are not vegan, but are they healthy? Unfortunately, while indulging once in a while may not seem like such a bad thing, the nutritional facts tell a different picture. While it's easy to get lost in the chocolatey flavor of a Twix candy bar, try to keep your eyes open when reading the nutrition information on the wrapper, since there may be something you should know. If you can't decide whether to eat the left or right half of the renowned Twix candy bar, maybe you should just eat one and skip the second, or at the very least think twice before consuming them.
Twix – To Eat Or Not To Eat
Twix was listed sixth on The Daily Meal list of the most unhealthy treats owing to its high-calorie content. A fun-size Twix pack has a whopping 24 g of sugar and 250 calories, as well as 7 g of saturated fat, which accounts for about one-quarter of your daily recommended fat consumption. Although "fun-sized," there isn't much fun about this Twix bar in terms of nutritional content.
Nutritional Content
| | |
| --- | --- |
| Calories | 201 |
| Calories from Fat | 14.9 |
| Total Fat | 11.8 g or 30% |
| Saturated Fat | 7.1 g or 26% |
| Trans Fat | 0 g |
| Cholesterol | 25.5 mg |
| Sodium | 25.8 mg |
| Total Carbohydrates | 23.9 g or 18% |
| Dietary Fiber | 0.5 g or 2% |
| Sugar | 19.6 g |
| Protein | 1.4 g |
| Calcium | 2% |
| Iron | 2% |
| Potassium | 2% |
Why Are Twix Not Considered Vegan?
After looking at the ingredients of Twix written on the manufacturer's website, we've highlighted the substances originating from animals in the list below. As you can see, Twix contains a number of substances that are neither plant-based nor vegan.
Dairy
Dairy is a catch-all phrase for anything derived from milk. It is sometimes referred to as milk products, although it is the same thing.
Twix contains a lot of dairy ingredients. One of them is milk chocolate. Milk chocolate is not dairy-free, despite the fact that it is made from a bean. Milk chocolate is a dairy product since it is prepared using milk.
Skim milk and milk fat are two more dairy products. In reality, there are a lot of milk-containing items. If you are lactose sensitive or follow a vegan diet, you should avoid this.
Palm Oil
Palm oil may not be an item you consider frequently. And besides, it is not, in either way, an animal-based product. Although palm oil has a number of environmental consequences that you should be aware of.
According to reports, over 300 football fields are destroyed every hour to make way for palm oil products. It may appear to be a typo, but it is correct. Every hour, almost 300 football fields are destroyed in the name of palm oil production.
As a result, many people consider it a non-vegan product. Not all vegans consider this problem, but many do. So whether it's vegan or not is a matter of faith.
Although most vegans should at the very least minimize their usage of palm oil.
Twix Are Vegetarian But Not Vegan
Milk Chocolate Coating
Dark chocolate could be vegan, but milk chocolate, as the name indicates, has never been dairy-free. Twix makes use of nearly all milk products available. The Twix bar's chocolate coating includes skim milk, milk fat, and lactose.
Vegetarianism, on the other hand, does not forbid the use of dairy products.
Caramel
Then there's the caramel coating to worry about.
Caramel is an orange-colored sweet prepared by cooking simple sugars and resulting in them caramelizing.
Sounds like a harmless enough situation. Caramelization typically entails boiling milk, which burns the lactose and the simple sugar that is always present in milk.
It is unclear whether Twix uses authentic caramel obtained in the method described above. Rather, it's probable that the more processed foods, such as Twix bars, employed a caramel-like material consisting of hydrogenated oils and corn syrup.
But, in any case, the caramel-like ingredients in the bar contain milk in some manner. As a result, caramel is another reason why Twix bars are acceptable for vegetarians but not vegans.
Are Peanut Butter Twix Vegan?
The Peanut Butter Twix was released in 1983 and has been available on an irregular basis since then. Obviously, it is not as famous as the original, but it appears to have a significant fan base following. The main filling is peanut butter rather than caramel.
Is it vegan, though? The peanut butter Twix bar, like the regular Twix bar, is vegetarian but not vegan. Although Peanut Butter Twix lacks caramel in the ingredients, it still has the milk chocolate topping to take issue with. This Twix version bar, in particular, comprises milk chocolate, palm oil, sugar, and natural and artificial colors.
Vegan Twix Alternatives
So we've just shattered your heart because you had your heart and stomach set on a Twix, but it's not vegan. You can, however, consume something comparable to Twix if you want to!
Read on to find what alternatives you can try.
The 2fer by Go Max Go is one commercially available dairy-free Twix replacement that we could consider. Go Max Go's mission is to develop candy bars that are free of eggs, dairy, hydrogenated oils, artificial additives, trans fats, or cholesterol, making all of its products vegan. Furthermore, according to their website, their signature-recipe chocolaty coat tastes like milk chocolate but is non-dairy.
Nut Butter Filled Bars
All of the flavors for this bar are vegan. It's a wonderful alternative for any vegan who likes nuts. It's high in beneficial nut fats, so this is not only delicious but also nutritious. Although there is some palm oil in this type of chocolate bar. Not the healthiest fat, however, it is complemented by other high-quality fats.
It has a little higher calorie density, which may be an issue for some. However, keep in mind that the increased calories are related to high-quality fats. So don't let that stop you from enjoying this snack.
Clif Builder Bars
In the ears, the term alone is concerning. Animal products are frequently used in bodybuilding and muscle development products. Most of these bars are not vegan since they include whey powder, which is a milk protein. Fortunately, this protein bar is completely vegan in most ways. It does not include any animal products, although it does contain palm oil. Nonetheless, a superb whey protein-packed protein bar alternative to the standard.
This bar's protein level is actually fairly high. It is created from Soy Protein Isolate, a high-quality protein. It contains all of the necessary amino acids, making it a perfect protein bar for vegans who want a little extra protein.
Endnotes
Twix are famous candy bars, however, they aren't the best deal health-wise. They have a lot of dairy and palm oil in them.
However, as a vegan, you are unlikely to eat Twix anytime soon. Because all of Mars' Twix varieties are not vegan-friendly, it is advisable to seek one of the few vegan alternatives. I recommend that you try a Cliff bar as an alternative. They offer a wide variety of flavors, and the majority of them are delicious.
Just don't consume too many at once because they're rich in calories!