Answer: It Depends. You need to have a close look at the ingredients. Read on to find out what to look out for.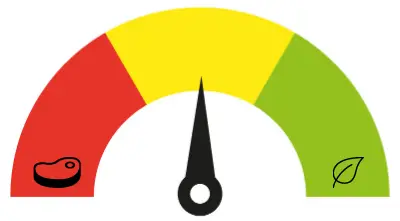 The answer to whether vegans can eat candy canes is not definitive. There are vegan candy canes, but the sad news is that most of them are not.
More on Candy Canes
Nutritional Value of a 12 g Candy Cane
| | |
| --- | --- |
| Calories | 50 kcal |
| Total carbs | 12 g |
| Sugar | 9 g |
You just can't imagine Christmas without the sweet and candy-licious candy canes. These long red and white striped candies have forever been a part of Christmas and decorations.
Most candy canes come with a wintergreen or peppermint flavor. The cane bends on the top for a unique shape. Not many of us can refuse a candy cane. But have you ever wondered if they are vegan?
The good news is that some of the candy canes are vegan. But the majority of them are not. Candy canes come with a variety of ingredients. These ingredients are the main determiners of whether the candy cane is vegan-friendly.
So, don't forget to check out the list to see if it contains animal-based products. The best suggestion would be to buy vegan-labeled candy canes.
Non-Vegan Ingredients To Watch Out For
Here are the ingredients to avoid if you are looking for vegan candy canes.
It comes from the skin and bones of sheep.
This coloring ingredient comes from insects called cochineal.
Unlike organic sugar, some sugar comes from the bones of cattle. So watch out for the vegan label.
This ingredient offers a shiny texture in candy canes. But it comes at the cost of the lives of so many KeriaLacca insects.
Although most glycerin is plant-based today, it has an animal-based origin. So, make sure you buy only the ones that have a vegan or organic label on it.
The Best Vegan Candy Cane Brands
Not many candy canes are forgiving enough to be vegan. But that doesn't mean you have to skip the best kinds of stuff. Some brands produce high-quality, delicious, and vegan candy canes. So, you can still eat your candy cane more healthily.
Here are the top 2 vegan candy cane brands.
Wholesome
List of Ingredients
Organic cane sugar
Organic fruit juice
Natural peppermint flavor
Organic brown rice syrup
This organic candy cane brand must be familiar if you are a fan of candies. It is a popular brand offering 100% organic and vegan candy canes.
Wholesome candy canes do not contain gluten, corn syrup, and casein. It also does not have added artificial flavors, colors, and preservatives. Many reviews report that they are allergen-free and taste delicious.
Hammond's
List of Ingredients
Organic sugar
Organic palm oil
Natural vegetable glycerin
Organic tapioca syrup
Organic flavors
With organic certification, Hammond's is a famous producer of vegan peppermint candy canes.
One great thing about this candy cane brand is that it offers relatively higher calorific-content candy canes. There are 90 calories per serving.
Since all the ingredients are vegan and organic, Hammond's is a great brand to get your candy canes, including other natural products.
Health Benefits of Candy Canes
Although candy canes are sweets, it is laden with several health benefits.
A good source of antioxidants
Candy canes contain peppermint oil. The antioxidant levels of this oil surpass those of fruits, cereals, and vegetables. Antioxidants boost the immune system and reduce the risk of chronic diseases.
A form of mouth freshener
You can say goodbye to bad breath with peppermint candy canes. Peppermint oil not only covers up bad breath, but it also works to kill the bad breath bacteria.
Peppermint in candy canes may help boost the gastrointestinal tract to promote a healthy stomach.
An effective appetite suppressant
Peppermint works to curb your appetite and reduce the chance of overeating. With lesser eating, you can also expect probable weight loss as a bonus.
Good relief for tension headaches
Many factors can cause a tension headache, such as stress and anxiety. Some studies claim that peppermint is a great form of relief for tension headaches.
The ultimate solution for a stuffy nose
Peppermint can help clear a blocked nose. The menthol in peppermint candy canes is an excellent decongestant for nasal passages.