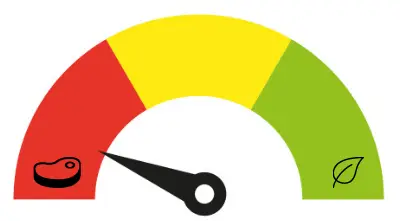 Chips Ahoy is not vegan. One of its main ingredients is whey, which is an animal byproduct.
Chips Ahoy is a product of Nabisco by Mondelez International. You might see plant-based ingredients on its label. But there are a few items that are considered controversial, including sugar, natural or artificial flavorings, colors, among others.
So, if you're a fan of cookies, and are considering Chips Ahoy as part of your vegan diet, you may have to scratch it off your list. But let's find out more about these tempting cookies.
What Is Chips Ahoy?
In 1963, American brand Chips Ahoy made its first appearance in the market through Nabisco, an ancillary of Mondelez International. According to Nabisco, Chips Ahoy is associated with the famous nautical term "Ships Ahoy!" which was featured in a journal titled "The Uncommercial Traveller" by Charles Dickens.
When Chips Ahoy first sold in America, it was then widely marketed throughout the world, especially in Latin America, South Africa, and the Asia Pacific. Several years later, Nabisco produced more Chips Ahoy varieties such as striped, chewy, and sprinkled that were sold in groceries and supermarkets.
What Makes Chips Ahoy Non-Vegan?
While the majority of Chips Ahoy ingredients are vegan-friendly, whey milk makes it not suitable for those who are following a vegan diet. And to add to the wrinkle, there's also sugar, which may be made from bone char. Additionally, palm oil also harms the environment and is also not too close to the hearts of many vegans.
Let's check the Chips Ahoy ingredients and find out what else are the culprits of making these delicious cookies non-vegan.
Chips Ahoy Ingredients
Unbleached Enriched Flour. This may contain Reduced Iron, Niacin, Wheat Flour, Thiamine Mononitrate, Riboflavin, and Folic Acid.
Sugar. This is a controversial ingredient as the process may have involved animal bone char. PETA cleared it out that not all sugar is vegan. It's either made from sugarcane, coconuts, or sugar beets. Only beets and coconut sugar don't involve bone char in the process.
Cocoa Butter
Dextrose
Milk. Here's another controversial ingredient that Chips Ahoy has. Although there are several kinds of plant-based milk out there like almond, coconut, or soy milk, Chips Ahoy may have animal-sourced milk such as Whey, which is not great for vegans.
Skim Milk. This is no longer controversial, by the way. Skim Milk is clearly derived from animals such as cows, buffalos, or goats that undergo a skimming process to remove fat.
Soy Lecithin
Chocolate
Soybean
Canola Oil
Palm Oil. In its raw form, palm oil is vegan. However, its massive demand in the industry has forced farmers to plant more palm trees, which means that many rainforests have to get burned down resulting in the lack of natural habitat for wild animals. It's a controversial ingredient for many vegans, and most of us don't use palm oil due to the decline of biodiversity and the ecosystem.
High Fructose Corn Syrup
Leavening
Baking Soda
Ammonium Phosphate
Salt
Artificial and Natural Flavor. Here's another controversial ingredient. According to the FDA, natural flavoring can be either from plants, fruits, seafood, meat, and dairy products. Most natural flavors though are derived from plants.
Caramel Color
Chips Ahoy Flavors
Not only that Nabisco succeeded in its Chips Ahoy brand. It also became a huge success after producing more varieties and flavors of its famous cookies. Unfortunately, none of these are vegan-friendly.
Sour Patch Kids
Thins
Original Crunchy
Candy Blasts
Reese's Pieces
Choco Chunky
White Fudge Chunky
Chunky Chocolate Chip
Original Chewy
Chewy Brownie Filled
Hershey's Fudge Filled
Reese's Peanut Butter Cups Crunchy
S'Mores
Red Velvet
Reese's Peanut Butter Cups Chewy
Is Chips Ahoy Healthy?
Chips Ahoy might be delicious for a snack, but its ingredients give you 210 calories per serving/pack. This is heavy enough for a snack although average adults should limit their calories intake up to 2,000 daily. So, if you're more conscious of your waistline for the summer season, the 210 calories that Chips Ahoy gives are high enough to burn.
Additionally, Chips Ahoy also contains high fructose corn syrup, which is known for increasing body fats, weight, as well as your triglyceride levels. When this happens, it increases the risk of adverse health effects like stroke, heart attack, and heart disease. And one more thing, Chips Ahoy gives 11 grams of sugar per serving, which is obviously high enough for just a pack of cookies.
So, the next time you crave cookies, make sure to check the label to see how many calories it gives you as well as the ingredients used. Chips Ahoy is still good for a snack as long as you do it in moderation.
Vegan Cookie Brands
If you're including cookies in your diet, there are too many vegan brands out there that you can buy from groceries and supermarkets. These are also recommended by PETA, so there's no way that these aren't vegan-friendly.
Girl Scout Thin Mints
Nabisco Nutter Butters
Trader Joe's Organic Animal Crackers
Girl Scout Lemonades
Trader Joe's Maple Leaf Cookies
Nature's Path Sandwich Cookies (Vanilla, Duplex, Chocolate, or Ginger Lemon)
Michelle's Naturally
Gourmet Treats Baking Co. Vegan Cookies
Girl Scout Peanut Butter Patties (By ABC Bakers)
Kookie Cat Vegan Cookies
Alternative Baking Company Vegan Cookies
Trader Joe's Soft-Baked Snickerdoodles
Sweets From the Earth Vegan Cookies
Enjoy Life Soft Baked Cookies
Enjoy Life Crunchy Cookies
Girl Scout Thanks-A-Lots (By ABC Bakers)
Emmy's Organic Coconut Cookies
Trader Joe's Vegan Cookies
Lenny and Larry's Complete Cookies
Annie's Chocolate Mint & Chocolate Sandwich Cookies
Smart for Life
Newman's Own
Nana's
Uncle Eddie's
Biscoff
Chunkie Dunkies
MadeGood Soft-Baked Cookies
Cybele's Free To Eat Oatmeal Raisin
Good To Go Soft-Baked Bars
Alyssa's Gluten-Free Vegan Cookies
Steve and Andy's Gluten-Free Organic Vegan Oatmeal Coconut Cookies
Swedish Original Ginger Snaps Cookies
Lucy's Chocolate Chip Cookies
Partake Crunchy Cookies
How To Make Vegan-Friendly Cookies
If you're into baking, vegan cookies can also be your thing in the kitchen. While there are many vegan brands that we have listed above, homemade cookies are also the best. Now, if you're ready for a new adventure, you can follow this version of vegan cookies that you'll definitely love.
What you will need:
One and 1/4 cups of packed light brown sugar
1/4 cup of coconut milk
1/2 cup of solid, but scoopable coconut oil
Two tsp. of vanilla extract
1/4 cup of unsweetened applesauce
One tsp. of baking soda
Two and 1/3 cups of all-purpose flour
1/2 tsp. of salt
Two cups of divided vegan chocolate chips
Flaky sea salt (optional)
What you need to do:
Preheat your over to 375°F, and put a large baking sheet with parchment paper then set aside.
Using a large bowl, whisk the brown sugar, coconut oil, and vanilla altogether until they're well-mixed. Add and whisk the applesauce and coconut milk until they're well-mixed and then set aside.
In another bowl, mix and whisk the baking soda, flour, and salt.
Add all the other dry ingredients into the bowl of the wet mixture and stir using a wooden spatula or spoon until they're well-combined resulting in a thick batter. Fold it in 1 and 3/4 cups of chocolate chips.
Put at least three tablespoons size of the dough into the baking sheet. Just leave a few inches in between them. Bake for ten minutes, or until you see the golden edges and when the centers have settled. If you have some chocolate chip cookies left, press them on top of the cookies, and sprinkle with some sea salt. The latter is optional.
Cool the baked cookies on the sheet for 15 to 20 minutes before putting them on a cooling rack.
And you're done. Enjoy munching on your vegan cookies!
Pro Tip: If you notice that the dough is too dry, add at least a tablespoon of coconut milk. If it's too sticky, add at least a tablespoon of flour, one at a time. Also, don't freeze the cookie dough as it may not give you the best result when baked. However, you can definitely put the baked cookies in the fridge, just in case you need to.
The Bottom Line
Chips Ahoy isn't vegan-friendly and gives a lot of calories in just one pack. As a vegan, this isn't an option for you because of its animal byproducts, but we have listed above the best vegan cookie brands that you consider buying next time. Some of them are gluten-free, which is perfect for those who have celiac disease.
However, if you love baking, the steps above and all the ingredients needed are perfect for you to bake your own vegan cookies. As long as you have the right ingredients or replacements of what we listed, you should be able to pull it off.
Also, you may also consider fortune cookies. They are healthier, cruelty-free, and guilt-free!