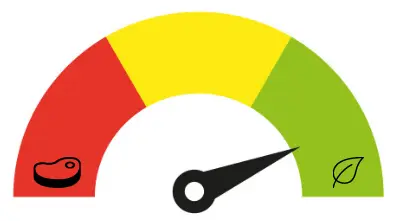 Is Ezekiel Bread Vegan?
Are you wondering, "Is Ezekiel bread vegan?" Here's your answer: yes. Ezekiel bread is a famous brand that makes bread from germinated whole grains. Germinated grains for bread are allowed to sprout before milling into flour.
It does not contain any dairy products, eggs, or honey. Ezekiel bread is truly vegan and rich in proteins and fiber. Additionally, the legumes and grains in the bread are excellent protein sources which are not typical of bread.
Therefore, this can be a perfect choice if you are looking for 100% vegan bread options. Further, you can read the label and product information for more information.
This article addressed whether Ezekiel bread is vegan or not and why it is so. Please go on to find out if it's suitable for your needs.
Vegan Community's Concerns and Challenges
Vegans make up almost 2.5% of the US population, and the community grows larger daily. Hence, more people are questioning the accuracy of food labels. Therefore, the food industry is also becoming aware of its role.
Many companies avoid labeling their products as vegan when they are not vegan. Moreover, this can draw unnecessary attention if the labels are misleading. Hence, most brands do not label themselves vegan as long as they are 100% sure of the ingredients.
However, Ezekiel bread is vegan since it contains only nutritious super seeds and no dairy, eggs, or honey. Some of the super seeds include sprouted chia seeds, sprouted millet, and sprouted quinoa.
Is Ezekiel Bread Good for You?
Ezekiel bread may provide you with more nutrients than bread made from grains that are not sprouted. Sprouting reduces the levels of antinutrients in grains, which will prevent the absorption of nutrients.
It decreases the levels of enzyme inhibitors and phytic acid. This process will reduce the absorption of nutrients from grains and seeds.
Also, Ezekiel bread is healthier and richer in nutrients and fiber than white bread. Moreover, sprouting improves lysine content, an essential amino acid your body does not produce naturally. So, consuming them can improve your overall health.
Additionally, sprouting wheat can lead to an increase in vitamin C, soluble fiber, and beta-carotene. It also breaks down starch, and hence sprouted grains have fewer carbohydrates.
About Food for Life: The Manufacturer of Ezekiel Bread
Ezekiel bread is manufactured by Food For Life. The company was founded in 1964 by Max Torres. They have been manufacturing food for 50 years and have manufactured about 60 different products.
Their diet-specific products are certified by 3rd parties. They do not use GMOs, preservatives, refined sugars, or shortenings. Moreover, they employ a slow baking process to preserve the barn benefits of grains and natural fiber.
Ingredients in Ezekiel Bread
The best way to know if any food product is vegan or not is by looking at the ingredients. So, looking at the ingredient list, you will find some of the healthiest ingredients. The regular whole grain Ezekiel bread includes sprouted wheat, barley, and lentils.
Let's break down the list.
It has four types of cereal grains. They are as follows:
Organic malted barley
Organic sprouted wheat
Organic sprouted spelt
Organic sprouted millet
Plus, it has two legumes on the list:
Organic sprouted soybeans
Organic sprouted lentils
Some additional ingredients:
Filtered water
Fresh yeast
Millet contains numerous antioxidants essential for your immune system.
Spelt promotes tissue growth, and it is good for your bones. At the same time, wheat and barley are rich in fiber and cholesterol-lowering beta-glucan.
Soybeans contain fiber and magnesium, and lentils can improve your gut health. Moreover, legumes are associated with a decreased risk of cancer.
Ezekiel Bread Options
The brand offers several varieties of bread. We have listed some of them below.
Moreover, all the varieties of Ezekiel bread contain more or less the same ingredients as the regular whole grain kind. However, they will have a few additions, such as dried fruits, corn, or brown rice. Now, let's take a look at them.
Sesame Sprouted Whole Grain Bread
This bread contains the same ingredients as regular whole-grain bread with organic sesame seeds. Sesame seeds are a good source of fiber and can lower cholesterol and triglycerides.
Flax Sprouted Whole Grain Bread
This bread contains organic flax seeds in addition to regular ingredients. Flax seeds are rich in omega 3 and have higher levels of protein.
Cinnamon and Raisin Bread
Cinnamon and raisin bread contains additional cinnamon and raisins. Cinnamon has anti-bacterial and anti-fungal properties, which are suitable for your immune system. At the same time, raisins are a good source of fiber and potassium.
7 Sprouted Grains, Cinnamon, and Raisin Bread
This bread is similar to the cinnamon and raisin bread mentioned above. Plus, it contains extra grains that improve its nutrient content.
7 Sprouted Grains
This bread contains common ingredients, along with corn and brown rice. Corn contains high levels of fiber, vitamin B, and minerals such as zinc, copper, and magnesium. Further, brown rice has high magnesium levels and makes you less vulnerable to heart diseases.
Genesis 1:29 Sprouted Whole Grain and Seed Bread
This bread contains the same ingredients as regular whole-grain Ezekiel bread. However, it is inspired by a different scripture verse than the traditional bread. Also, it contains more variety of nuts and seeds, including teff and amaranth.
Is Ezekiel Bread Gluten-Free?
Ezekiel bread is not gluten-free. Hence, if you are looking for gluten-free and vegan bread, it is better to avoid Ezekiel bread.
The ingredients include wheat gluten. Moreover, it also gluten that is naturally occurring in sprouted organic wheat.
However, most gluten-sensitive do not experience digestive issues when consuming sprouted bread. It is because the sprouting process activates several enzymes that can metabolize the starch naturally.
It can also digest carbohydrates and gluten proteins. This process explains most gluten-sensitive people can tolerate sprouted grains. Nonetheless, it is better to be on the safer side. Hence, you can avoid this bread if you are gluten-sensitive or gluten intolerant.
Furthermore, barely and spelt also contain gluten. Therefore, it is best to avoid Ezekiel bread if you have celiac disease or gluten intolerance.
Gluten-Free Vegan Alternatives
So, are there any 100% vegan and gluten-free alternatives?
Yes, you can find various healthy choices that are vegan and gluten-free, like Ezekiel. Here is a small list of some of the popular ones:
Little Northern Bakehouse
Little Northern Bakehouse offers a wide range of gluten-free and non-GMO-certified vegan bread. It ranges from loaves to sprouted loaves.
The manufacturers are based in Canada and use ingredients such as brown rice and millet. The bread is usually moist and delicious. They also offer vegan hot dogs and vegan burger buns.
BFree Bread
BFree is one of the most popular brands of vegan bread. Their vegan bread is celiac-friendly, gluten-free, and made with various healthy ingredients. Some include whole grains, seeds, buckwheat, and pea protein.
Moreover, this Ireland-based company offers a wide range of food products apart from bread. It includes springy loaf, stone-baked vegan pizza, vegan bagels, and chia seed wrap. You can directly order Bfree gluten-free bread on Amazon.
Bread SRSLY
Bread SRSLY is a brand focused on producing allergy-friendly, gluten-free bread that is 100% vegan. They offer a wide range of bread types which are great and taste delicious as well. Moreover, their most popular load is the classical sourdough with a fantastic texture and a sour taste.
Furthermore, all the packages are marked as vegan as well as gluten-free. Hence, you do not have to double-check the ingredients. Some popular products include sweet onion sourdough, seeded sourdough, and sourdough dinner rolls.
Simple Kneads
Simple Kneads is a brand that makes bread that is gluten-free and safe for celiacs. Moreover, they make artisan bread that can give you a home-baked feeling.
You can choose a simple sourdough bread or a protein-filled loaf with teff and quinoa. Or, you can choose the delicious dark rye and pumpernickel bread.
The Right Way to Store Ezekiel Bread
You may have noticed Ezekiel bread in freezers, although some are stored at room temperature. Although there is no wrong way to store this bread, keeping it in the freezer is advisable.
Ezekiel bread does not contain any preservatives. Therefore, the freezer is the best place to store sprouted bread.
Hence, the shelf life of Ezekiel bread depends on storage. According to 'Food For Life,' the fresh loaf can stay fresh for up to 5 days. In comparison, refrigerated loaves and frozen loaves can remain fresh for two weeks and almost a year, respectively.
Final Words
Ezekiel bread loaves do not contain any trace of butter, eggs, or milk. Moreover, they contain nutrients deficient in most vegan foods, such as proteins and iron.
So, is Ezekiel bread vegan? Yes, it is 100% vegan. Therefore, if you are looking for vegan bread packed with protein, you can definitely go with Ezekiel bread.