Answer: No. Jack in the Box Tacos is not vegan because they contain dairy products, chicken, and beef.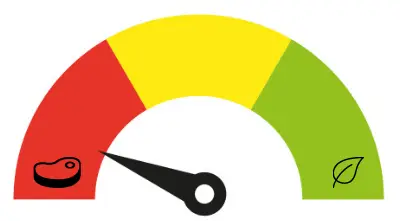 Are Jack in the Box Tacos Vegan?
Tacos are undoubtedly the most popular item on the menu at Jack in the Box. But they're not vegan-friendly because they contain numerous animal-derived ingredients apart from the meat.
Nevertheless, they also have a few vegan options on their menu, which we will explore further in this article. We will also look at a few vegan-friendly fast-food chains and learn how to replicate their delicious tacos at home.
What Are Jack in the Box Tacos Made Of?
Soy stands out as one of the star constituents as you glance down the ingredients list for the Jack in the Box tacos, which might lead to the misconception that they're made entirely out of soy protein and are okay to eat for vegans. But that's not true since they contain both dairy products and meat.
The issue arises because the link to the ingredients on their website doesn't lead to a complete list of all the constituents – it just shows allergen information. Not reading that carefully, many people fall into the false belief that the filling is made of textured soy protein and its derivatives. While that's true because it's a common and significantly cheaper substitute for meat, certain amounts of chicken and beef are present.
Now that we have established that these tacos that millions of Americans devour each day contain meat, the question arises of the suitable alternatives you can have. We'll explore a few other options on their menu, some fast-food chains that offer vegan tacos, and a guaranteed vegan-friendly route of making some tacos yourself at home.
Vegan Options at Jack in the Box
Unfortunately, Jack in the Box is not ideal from a vegan standpoint. But that doesn't mean that putting together a delicious meal while you're there is impossible. However, it'll be easier to accomplish that if you're not strict as a vegan.
Most of the sides on their menu are free from meat, dairy, or animal-derived constituents, and then there are a few that you can munch on by avoiding the non-vegan toppings.
The potato-fried snacks, namely french fries, hashbrowns, wedges, and even curly fries, are delicious and suitable for vegan consumption. You can spice things up here as most of the chain's hot sauces and dipping sauces are acceptable for vegans. Just avoid anything that might contain buttermilk or honey.
Even though you might not be going out with a health-conscious mindset to a fast-food chain, the side salads at Jack in the Box make up for a good contender in the health domain, and a few of them are vegan too. The low-fat balsamic vinaigrette is a great vegan addition for that extra dash of flavor to these salads. However, you must be vigilant and give the server clear instructions to avoid sauces like ranch or croutons containing non-vegan milk.
Vegetables on a Bun is a favorite among the vegans at the chain. As the name suggests, it's just a burger with vegetables on the bun but can be packed with flavor by adding a few sauces of your choice. Another go-to dish for vegans is the Teriyaki Bowl if you replace the meat with vegetables.
You're safe when it comes to drinks. They have a few good options on their menu, from regular sodas to raspberry, mango, and peach teas. So, you should be okay.
Other Fast Food Chains You Can Try
Your commitment to a vegan lifestyle need not force you to stay away from the craving for delicious fast food. Many chains out there have vegan alternatives on their menu, and a few even have a completely separate vegan menu.
Burger King offers an animal-free burger, sausage, and a vegan garden salad apart from the usual sides. At Carl's Jr., you can switch their regular patty in any burger with the mouth-watering Beyond Burger patty and enjoy the same flavors with pickles, onion, ketchup, and mustard on a sesame seed bun as you possibly used to before.
However, if you're craving those tacos, you can head to Del Taco or Chipotle. Del Taco offers Beyond meat in both burritos and tacos nationwide. Chipotle offers sofritas prepared using organic tofu with some peppers and iconic spices. You can order these in a bowl, burrito, taco, or salad.
Making Vegan Tacos at Home
If you're longing for those scrumptious tacos from Jack in the Box that you used to have before you adopted this lifestyle, then the best way to satiate that hunger is to make them yourself at home! They'll not only be vegan but much healthier compared to any alternative from a fast-food chain.
They're relatively simple to replicate too. Once you figure out the right ingredients for the filling, it will be an easy ride from there. While you can go from various meat substitutes right off the shelf, such as textured soy protein or vegan mince, finely chopped mushrooms or eggplant are also fantastic alternatives.
While the rest of the filling ingredients, such as onions, jalapenos, and lettuce, are plant-based, you wouldn't need to put much effort here. However, getting the sauces and the toppings right will be crucial for the flavor. You'll need to find a good taco seasoning and some vegan alternatives to the dressings of your liking.
You can very well bake your taco shells using homemade or pre-packaged tortillas and a mold to give them the right shape. However, if you're buying them off the shelf, make sure you're going for a fully vegan brand.
To top it all off, you need some shredded vegan cheese, and voila! You've got your very own Jack in the Box tacos prepared with healthy and vegan-friendly ingredients right at home. And the best part is yet to come. You can flavor this precisely as per your choice. Prepare the sauces, add or remove some vegetables, and use different varieties of cheese or anything else that suits your palate!