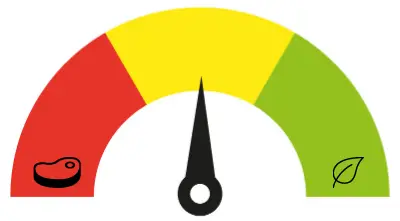 When it comes to syrups, few can compare to the unparalleled taste of Hershey's. Chocolate may be the most popular, but it is also available in strawberry and caramel flavors, which taste equally good.
The sweet condiment, available in several flavors, is the classic finishing touch to desserts such as ice cream, chocolate milk, or milkshakes. It makes any food taste infinitely better, and few would argue with that. But is Hershey's syrup vegan?
The answer is that it depends on the flavor. The chocolate and strawberry flavor is vegan, but the caramel flavor contains skim milk.
As a vegan, you might sometimes find it challenging to keep up with all the dietary restrictions. But as far as the vegan-friendliness of Hershey's syrup is concerned, we have all the answers right here.
So, what exactly are the ingredients that make Hershey's syrups vegan or non-vegan? Is the consumption of Hershey's syrup good for health? What are the vegan substitutes for the caramel flavor?
Read on to find answers to all the dilemmas you might have regarding Hershey's syrups and their vegan-friendliness.
Ingredients That Go Into Hershey's Syrups
You might be surprised to know that, unlike milk chocolate produced from dairy, Hershey's chocolate syrup doesn't contain any milk. Nor does it include any other animal product, which makes it completely vegan.
The same goes for Hershey's strawberry syrup, which is also vegan and is dairy-free. But the caramel flavor has skim milk, which makes it non-vegan. Here is a breakdown of the ingredients that make up each of these flavors.
Chocolate
Corn syrup and high-fructose corn syrup
Cocoa
Water
2% potassium sorbate
Sugar
Salt
Xanthan gum
Polysorbate 60
Mono-glycerides and di-glycerides
Vanillin
Strawberry
Corn syrup and high-fructose corn syrup
Xanthan gum
Sodium benzoate
Artificial red coloring
Caramel
Corn syrup and high-fructose corn syrup
Sugar condensed skim milk
Water
Xanthan gum
2% sodium citrate
2% disodium phosphate
Caramel color and artificial yellow coloring
Artificial flavor
Of all these, skim milk is the one ingredient that can raise alarms about being vegan-friendly. It may be a low-fat version of regular milk, but we still obtain it from cows.
The only difference is that this milk has gone through a skimming process to remove the excess fat. But it remains an animal by-product, and Hershey's caramel syrup remains off-limits for you.
If you like the flavor of caramel, you may be out of luck in this case. But Hershey's still has a whole range of vegan syrups that can be a substitute to use as a topping. And they taste just as stellar!
Hershey's Vegan Syrups
Hershey's classic chocolate and flavored strawberry syrup – As mentioned earlier, all the flavors and ingredients used in preparing these two classic flavors are entirely dairy-free and vegan.
Hershey's chocolate lite calorie and sugar syrup – Enjoy the characteristic Hershey's flavor but with 50% fewer carbs, calories, and sugar. In addition to being 100% vegan as well.
Hershey's five ingredients chocolate syrup – Cocoa, water, organic cane sugar, and natural flavors are what go into its making and not a single animal by-product.
Hershey's sundae dream double chocolate syrup – Egg-free, artificial color-free, MSG-free, nut-free, and gluten-free is what the delicious sundae dream double flavor is. So this ingredient list makes it wholly vegan, as well as dairy or soy-free too.
Sugar-free chocolate and strawberry syrup – These two flavors are the perfect substitutes for party guests who prefer sugar-free treats. Apart from that, these kosher syrups are also gluten-free, dairy-free, and completely vegan.
Is Hershey's Syrup Healthy?
Everybody prefers to have some condiments to go with their snacks. But what grants them brownie points is whether they are suitable for consumption by people with different dietary preferences.
So, is Hershey's syrup vegan? Yes, some flavors are. But is Hershey's syrup healthy? Unfortunately, it is not.
One look at the ingredient list should suffice to tell you why. Sugar as an ingredient in the top five, and even before water. This fact goes for all Hershey's flavors, including the vegan ones.
Don't be fooled, though, as this is not the run-of-the-mill sugar you buy from your nearby grocery store. In reality, this particular sugar implies liquid glucose or invert sugar, or similar variants.
Such kinds of variants like invert and liquid glucose, are sweeteners that increase the flavors of any commercial food. But in many cases, they also serve as preservatives to improve shelf life.
Consuming this kind of sugar in a large amount daily can be highly unhealthy. This is because it is highly loaded with calories and is a processed product.
The nutrition information on each Hershey's syrup bottle mentions a presence of 63.6g of sugar in every 100g. This, in turn, means that a serving of around two tablespoons would contain 39g of sugar. One serving would then have 35g, which is still alarming.
The sugar-heavy syrups also contain potassium sorbate, a class II preservative. Various compounds are chemically derived to obtain such preservatives.
As a result, they allow each pack to last over a year from the date of manufacture by inhibiting mold growths.
But on the other hand, sorbates are known to be associated with health problems like eczema and asthma. They can also cause behavioral issues among small children and nasal or eye irritation. In many cases, it can even aggravate food intolerance.
Most importantly, unchecked consumption can prove toxic to white blood cells and potentially damage our DNA.
FDA's Warning Letter
The U.S. Food and Drug Administration (FDA) issued a warning letter to Hershey's over their nutrition labeling. The letter made public on 14th February 2012 said that the nutritional claims made by the company violated federal law.
The nutrition labels on the syrup bottles mentioned vitamin, calcium, and mineral fortification, but according to the FDA, these are contradictory to regulatory guidelines.
Hershey had to remove these words from their labels as the FDA mandated that the nutritional contents of the products failed to meet the guidelines. And as such, they were not qualified to write these on their labels.
Among other criteria, an ingredient must have a minimum of 10% of minerals and vitamins present to meet FDA guidelines. The amount must be about a daily intake to be mentioned on a food label.
Since Hershey's failed to meet any of these criteria or guidelines, they had to remove and change their nutrition labels.
Ways to Enjoy Hershey's Syrup
Despite the health concerns associated with them, it is undeniable how a small amount of Hershey's syrup can make our food taste so much better. While not a healthy food choice, the chocolate and strawberry flavors are still excellent options for vegans.
However, in reality, Hershey's syrups are meant to be condiments you consume only now and then. They are neither meant for nor recommended for regular consumption.
Therefore, if you eat them in moderation, there is no need to worry about the product's healthiness. Just sit back and enjoy the delicious zing it brings to your desserts.
From brownies to cupcakes, pastries to milkshakes, Hershey's syrups can be a cherry on the cake for almost any food. They are the magic ingredient to any recipe; all they require is some generous squeezes to get you going.
Here are a few ways how you can enjoy any flavor of Hershey's syrup:
The most traditional and easy way is to use it on chocolate milk. It's a recipe that never fails.
Believe us when we say that fruit tastes equally delightful with Hershey syrups. A small amount of syrup makes it all the more special, be it banana, watermelon, or orange slices.
Drizzle on milkshakes or ice cream. It works like a charm every time.
How about having pancakes and waffles with Hershey's syrup? Once again, a classic.
Final Words
So now you have another vegan-friendly food item you can include in your diet chart. Although, the healthiness of this particular food item remains a question.
If you ask us, though, it would not be a significant problem. Hershey's syrups are there to give a dish an extra touch of sweetness and dressing it up on the whole. They are not meant for independent or daily consumption.
But if you are looking for a sweet fest, there is hardly a possibility of going wrong with this syrup. So, there is no harm in stuffing your face or slurping up some flavorful Hershey's syrup with a dessert or two.
As long as you take care to do so in moderation, you are fine. Bon Appetit!