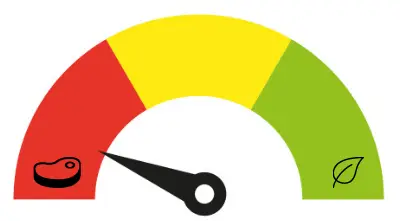 Obviously, honey mustard is usually a 1:1 ratio of honey and mustard. Honey is considered a non-vegan ingredient because it is an animal product.
Honey mustard is a popular condiment known for its sweet, tangy flavor. The product is commonly served with chicken or nuggets. While it's a known fact that vegans don't consume meat, honey mustard can also go well in vegan proteins.
So, if you've just transitioned to a vegan journey, you might have wondered if you can consume honey mustard. Unfortunately, commercial honey mustard is usually a non-vegan item. Aside from having honey, an animal product, it also contains mayonnaise, which uses eggs.
In this article, we will know more about honey mustard and some alternative options that you can try to make your vegan protein a more delicious one.
What Are The Ingredients Of Honey Mustard?
There are many ways to make honey mustard. But most preparations normally include honey, mustard, mayonnaise, and some spices.
Honey is an essential ingredient in achieving the overall taste of honey mustard. It gives the product a sweet and healthy twist. It is a good source of antioxidants and fructose at the same time.
The preparation will only take a few minutes, and the product can be paired with different foods, such as wraps, vegetables, chicken, and many more. This is also popularly used in dressing salads.
Nutritional Information
It suggested that you only consume 2 tablespoons of honey mustard per serving. The table below presents the nutritional information of honey mustard per prescribed serving. Just take note that this is just a guide, and some products may contain different nutritional information. Read labels carefully to avoid being misled.
| | |
| --- | --- |
| Nutrition | Amount per serving |
| Calories | 46 |
| Calories from fat | — |
| Total fat | 4.2 g |
| Saturated fat | 0.7 g |
| Trans fat | 0 g |
| Cholesterol | 3.5 mg |
| Sodium | 63.4 mg |
| Total carbohydrates | 2.5 g |
| Dietary Fiber | 0 g |
| Sugars | 2.1 g |
| Protein | 0.4 g |
| Vitamin A | 0% |
| Vitamin C | 0% |
| Calcium | 0% |
| Iron | 0% |
Is Mustard Vegan?
Mustard is generally vegan. Its typical ingredients include mustard seeds, vinegar, salt, sugars, and vegan-friendly spices. However, some mustards are considered non-vegan, such as honey mustard and Dijon mustard. Other than this, most commercially available are normally good for your vegan shopping cart.
Why Is Honey Considered Non-Vegan?
The vegan community fights against animal product consumption, not only for health reasons but, most importantly, for political ones. They want to condemn corporations that profit from animal violence and cruelty.
Honey is a natural product of honeybees. Vegans believe that honey farming harms the health and habitats of bees. This is because honey is supposedly a source of nutrients for these bees. It provides them with carbohydrates, amino acids, antioxidants, and antibiotics. Hence, honey is a very important factor in the survival of bees.
Bees make honey for themselves and not for human consumption. Honey farming is a way of stealing their food to make it commercially available. Plus, lots of inhumane practices are being exercised in bee farming. An example is that beekeepers normally use a heavy number of smokers to pacify the bees to avoid being stung.
More practices are against the nature of these innocent animals. We can only imagine how they are being treated on these farms.
Does Honey Mustard Contain Eggs?
Well, most honey mustards contain mayonnaise, which uses eggs as a primary ingredient. So, we can say that these commercially available honey mustards do contain eggs. Unless, of course, they are using vegan mayonnaise.Â
Same reason as honey, vegans do not consume eggs because they are animal products. Several inhumane production practices are being exercised in its production. One would be forcing chickens to lay eggs, then disposing of them when they cannot produce anymore.
Does Honey Mustard Contain Dairy?
Normally, honey mustard does not contain any dairy product. Its typical ingredients, honey, mayonnaise, vinegar, water, and sugar, are all considered to be dairy-free ingredients. However, note that some products may contain milk, so read the labels carefully.
Is Honey Mustard Gluten-Free?
If you're on a strict gluten-free diet, make sure you buy the naturally gluten-free variation of mustard to avoid consuming gluten. On the other hand, honey is considered gluten-free, so you don't have to worry about that (unless you're a vegan).
What Are The Vegan Alternatives To Honey Mustard?
You can alternatively enjoy honey mustard vegan alternatives in two ways: do it on your own and search your local store for vegan variations. First, let us discuss what products you can alternatively purchase. These products can be found in local supermarkets or online shops, such as Amazon.
If you still want that sweetness of commercially available honey mustard, then Follow Your Heart Vegan Honey Mustard will save your day. The product has no GMO included, is gluten-free and dairy-free, and has been certified to have 100% plant-based ingredients.
A bottle contains 12 servings, with 2 tablespoons per serving. The product contains 110 calories and total fat of 9 g. The product also contains soy, so if you have any allergic reaction to it, this product is not advisable for you.
Daiya Foods Inc Hon'Y Mustard Dressing promises you the sweet yet tangy flavor of classic honey mustard we all know. It also has a very smooth and hearty consistency which the brand tells to be something you'll crave again and again.
The product has no GMOs included. It is also certified to be free of gluten and any dairy product. It does not contain any of the following allergens: soy, eggs, peanuts, tree nuts, fish, and shellfish. It is also a 100% plant-based ingredient product.
One bottle contains a total of 8 servings, with a prescribed amount of 2 tablespoons per serving. The product has 120 calories per serving.
Making Your Own Honey Mustard At Home
If you're feeling lazy to go out and find some commercially available vegan honey mustard, or they are just too pricey, you can easily create your own honey mustard with just some of your home ingredients.
Just a reminder, making your own won't guarantee the same taste, but we can be close. An alternative would be finding good nectar from plants that we can directly use. And fortunately, there is what we call the agave nectar.
Agave nectar contains high water content with a sticky consistency. Its taste is close to honey so it's a good replacement. However, consider that agave nectar contains higher fructose contents, making it sweeter than honey.
So, make sure not to instantly put a huge amount of agave nectar into your mustard. Instead, add some little until you get your honey mustard's desired sweetness.
Also, make sure that you use naturally non-vegan mustard. That would mean that the mayonnaise used in its preparation is vegan. There are locally available vegan mustard/mayonnaise in different local stores around.
What Condiments Are Vegan?
Now, you may think that both of these ways can be tiresome for you, and you want something that is instantly available. Well, check your drawers because we will list a few of the vegan condiments you can use to replace honey mustard in the meantime so you can still enjoy your meal.
There are commercially available condiments like Tofutti's Better Than Cream Cheese and Sour Supreme. You can also have some Trader Joe products, such as their Goddess Dressing and Tahini Sauce. Earth Balance's Natural Peanut Butter and Buttery Spread can also be used as alternative condiments. You can also look at Annie's Naturals Organic BBQ Sauce, Ketchup, Mustard, and Worcestershire Sauce. Sabra's Hummus and Guacamole condiments can also be good options. Or simply, you can just use any of your preferred veganaise.
So, if you see anything of this on your shelf lying around, you can use some as a temporary replacement for honey mustard.
Honey Mustard Is Not Vegan
It's clear as day – honey mustard is off-limits to your vegan diet. It contains honey and eggs, which are both animal products. But there is no need to worry because we have listed above some commercially available vegan alternatives to honey mustard and how you can do your own at home.
So, the next time you have to dress that chicken or salad of yours, and you want the sweet, tangy flavor of honey mustard, you already know what to do.