Answer: Yes. Teriyaki Sauce is typically vegan as it doesn't include any animal-derived ingredients.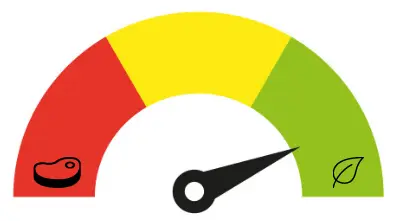 Teriyaki Sauce is a staple of Asian Cuisine and is best for many dishes such as noodle salad, fried rice, and many more. While it's mostly used in fish and meat dishes, many vegan foods use it for a more flavorful taste.
Japanese cuisine uses Teriyaki Sauce, which is made by mixing sugar, mirin, or sake, and soy sauce. There are also different variations, such as adding pineapple juice, garlic, onions, herbs, and others. Some would add honey to it, which makes it non-vegan.
If you're a fan of Asian fusion, which has a lot of vegan options, let's find out more about Teriyaki Sauce, a staple of popular Asian dishes.
What Is Teriyaki Sauce?
The term Teriyaki is derived from the Japanese word Teri, referring to the glaze that the sugar does when put in the Tare or sauce, and Yaki means grill or broil, a cooking method common in Japanese cuisine.
Japanese chefs invented Teriyaki in the 1700s with traditional cooking where meat or fish is dipped in or brushed with the sauce while cooking.
Authentic Teriyaki Sauce is made by mixing soy sauce, sugar, mirin, or sake and then boiling to achieve the desired thickness. Some would use cornstarch as a thickener.
Different variations have emerged over the years, like adding herbs, onions, garlic, ginger, and pineapple juice, and some would add honey too.
These kinds of Teriyaki sauces, though, are no longer vegan-friendly because of the involvement of honey.
Teriyaki Sauce is a staple of Asian Cuisine, especially Japanese, as it originated in Japan in the 1700s. While the sauce is vegan-friendly, it's used mostly on meat and fish dishes.
In Japan, different varieties of fish such as salmon, tuna, trout, mackerel, marlin, yellowtail, and more are cooked using Teriyaki Sauce. Sometimes, they would use the sauce on meatballs, squid, or hamburger steak.
The Teriyaki Burger also became popular in Japan. It's either topped with the Teriyaki Sauce, or the patty is cooked with the sauce.
In the U.S., meat such as pork, chicken, lamb, beef, and other red meat is cooked with Teriyaki Sauce either dipped in or brushed several times while cooking.
Some Americans would use wine instead of mirin or sake as an alternative. They would also add sesame and garlic as well as pineapple juice, which helps tenderize the meat faster.
Teriyaki Sauce is popular in the U.S., especially in the Seattle area, where almost 100 restaurants serve Teriyaki-style dishes.
How Does Teriyaki Sauce Taste?
Because of mixing soy sauce and sugar with mirin or sake, Teriyaki Sauce tastes tangy and somehow sweet with a hint of salty umami flavor.
This is why it works perfectly with meat and fish dishes because of its savory and tangy taste.
There are, however, different sauces similar to Teriyaki, although they do have different ingredients used.
Some of them though are not vegan-friendly as they use animal-sourced ingredients such as Oyster Sauce.
Is Teriyaki Sauce Healthy?
Teriyaki Sauce is both healthy and unhealthy, I'd say. It's because it can give you lots of sugar, especially sodium.
But when consumed moderately, it helps balance all the nutrients that your body needs.
For what it's worth, here's the nutritional value of every 100 g of Teriyaki Sauce, based on a 2,000-calorie diet per the USDA.
Calories. 89
Total Fat. 0 g
Cholesterol. 0 mg
Sodium. 3,833 mg
Potassium. 225 mg
Total Carbs. 16 g
Protein. 6 g
Do you notice how heavy the sodium content is? That's because of its main ingredient, which is soy sauce that's already packed with sodium.
The Dietary Guidelines for Americans recommend limiting your sodium intake to 2,300 mg per day or less to keep adverse health issues at bay.
As for Teriyaki Sauce, 100 g is equivalent to 7 – 8 tablespoons, which is already a lot for a dish. While it's relatively unhealthy, consuming small amounts of Teriyaki Sauce is fine.
Excessive sodium intake can lead to many chronic diseases, such as strokes and heart diseases. Your kidneys will also suffer if you have too much sodium in your body.
Several studies show that those with higher sodium intake had a greater risk of cardiovascular diseases and strokes. This will also lead to hypertension or high blood pressure and kidney stones.
So if you're a fan of Teriyaki Sauce, it's time to tone down your intake to avoid any health issues in the future.
Best Vegan Substitutes For Teriyaki Sauce
If you're not confident enough in consuming Teriyaki Sauce because of its high sodium content, there are many condiments for your favorite dishes.
These also work great for Asian fusion, and you can even make them at home. However, most of them are readily available on the shelves. You only have to find them at your local grocer or supermarket.
These condiments are traditionally vegan, although different versions are no longer vegan-friendly. Nonetheless, these are healthier and typically plant-based.
Salsa
Tahini
Sauerkraut
Hummus
Guacamole
Nut Butter
Apple Cider Vinegar
Nutritional Yeast
Lemon Juice
Balsamic Vinegar
Red Hot Sauce
Toasted Sesame Oil
Extra Virgin Olive Oil
Tamari
Teriyaki Sauce might be tagged as unhealthy by most health experts, but this doesn't mean that you have to avoid it entirely. You can still have it in smaller amounts, especially since it's a perfect condiment for most Asian dishes.
Unhealthy Condiments To Look Out For
Apart from Teriyaki Sauce, which is high in sodium, there are also other condiments that you may want to reconsider using.
These are high in calories, added sugar, sodium, high-fructose corn syrup, MSG, trans fat, or artificial sweeteners.
Vegan or not, you can avoid these condiments or consume them in smaller amounts for a healthier food intake.
Pancake Syrup
Ranch Dressing
Barbecue Sauce
Queso
Margarine
Fat-free Salad Dressing
Artificial Sweeteners
Top 5 Vegan-Friendly Store-Bought Teriyaki Sauce
While Teriyaki Sauce is typically vegan, there are other versions like the ones in the U.S. that involve honey, which is no longer vegan.
However, there's a great selection of vegan Teriyaki Sauce that you can buy from supermarkets and online. If you have time to check these brands at the grocery, feel free to do so.
These are vegan-friendly, certified Kosher, organic, and mostly gluten-free.
Primal Kitchen No-Soy Organic Sauce and Marinade Island Teriyaki
Annie Chun's Japanese Style Teriyaki Sauce
Best of Thailand Teriyaki Soy Sauce
Organic Asian Fusion Low Sodium Teriyaki Sauce
Coconut Secret Organic Teriyaki Aminos Seasoning Sauce
Homemade Vegan Teriyaki Sauce
Well, in fact, you can make your own Teriyaki Sauce, and there's a healthier option for soy sauce, which is low in sodium. That's right! You can buy any vegan-friendly brand from the supermarket or on Amazon, like the Coconut Secret Organic Coconut Aminos Low-Sodium Soy Sauce.
So, whenever you're ready, let's get to work!
Ingredients
1 cup low-sodium Soy Sauce
1 tbsp. Balsamic Vinegar
1/4 cup Pure Maple Syrup
1/2 tsp. Garlic Powder
1/2 tsp. Ground Ginger
1 1/2 tsp. Cornstarch
1/4 cup Water
What you need
Oven
Saucepan
Small Bowl
Air-tight Container
What to do
Whisk the soy sauce, vinegar, garlic powder, maple syrup, and ginger together in a saucepan and mix well.
Boil the mixture over medium-high heat and simmer after a few minutes.
In a small bowl, whisk the cornstarch with water and mix well.
Whisk the mixture into the Teriyaki Sauce until it thickens.
And you're done! You now have your own healthier, vegan-friendly Teriyaki Sauce.
Store the Teriyaki Sauce in an airtight container and consume it within a week.
Best Vegan Dishes Flavored With Teriyaki Sauce
With moderation, you can always have Teriyaki Sauce in any of your favorite vegan dishes, especially Asian fusion. Of course, they're not complete without the famous Teriyaki Sauce, provided that you take it consciously to avoid health issues in the future.
You can even make these delicious finger-lickin' dishes at home if you love cooking.
Teriyaki Cauliflower Tacos With Pineapple Salsa
Teriyaki Pulled Jackfruit Sandwiches
High-Protein Teriyaki, Tofu, & Cauliflower Rice Bowl
Asian-Inspired Cauliflower Wings
Spicy Teriyaki Soba Noodle Spring Rolls
Pineapple Teriyaki Portobello Burger
Teriyaki Cauliflower and Kale Stir Fry
Cauliflower Rice Tabbouleh With Teriyaki Cashews
Sticky Cashew Cauliflower
Teriyaki Glazed Tofu Steaks
I know that just by reading these, you'd start looking for recipes. Don't worry. There are many healthy vegan recipes you can find online.
I've tried a few of these dishes at home, and I'm telling you. they're worth your time and budget! You can also do it with your own Teriyaki Sauce. It's both fun and exciting!
The Bottom Line
Teriyaki Sauce is vegan-friendly as it doesn't contain any animal-derived ingredients. However, it's high in sodium, which you can always consume moderately.
In the U.S., there are many Teriyaki restaurants to try, such as Teriyaki Madness, where you can have vegan-friendly options. I've rounded up about this place in this article if you're up to some Teriyaki-flavored dishes!