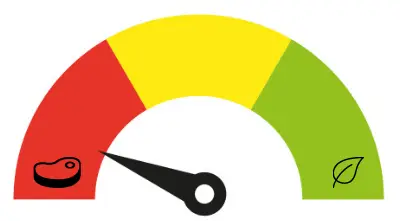 Wonton soups contain wonton – a Chinese-styled dumpling that is available in several Chinese cuisines. If you are one of those people who grew up eating wontons or wonton soups, you're probably wondering if you have to give these food products up after migrating to a 100% plant-based diet.
Unless it's mentioned on the menu or product, wonton soup is never vegan. This is because the wonton soup recipe contains all sorts of dairy and animal products, such as egg, pork, beef, crab, cream cheese, and more.
Read on to learn everything you need to know about the vegan status of wonton soups.
What Is Wonton Soup Made Of?
Delicious and mouth-watering wonton soups are the best way to satisfy any craving for Chinese food. Wonton soups are a standard of Chinese cuisine. So if you love Chinese noodles and other foods, wonton soups are the best pick for you.
However, wonton soup is never vegan. It is made of tender wontons filled with a seasoned chicken broth flavored with garlic, sesame, soy, and ginger. To give you a better idea, we have compiled a list of ingredients used in wonton soups.
Chicken or pork broth
Ginger
Shallots
Scallions
Soy sauce
Chicken cooking wine
Shrimp or prawns
Ginger
Minced pork
Eggs
Non-vegan Ingredients of Wonton Soup
As mentioned earlier, it is nearly impossible to find vegan wonton soup. These soups are rich in animal and dairy products. Therefore, if you are a vegan and trying to follow a 100% plant-based diet, we recommend avoiding this Chinese food.
Here are some of the most common non-vegan ingredients that you'll find in a wonton soup.
Filling: Cheeses and Meats
Both fried wontons and wonton soups contain fillings in the shape of cheeses and meats. Wontons are usually made from meat fillings, such as pork, chicken, and more. On top of that, most people use duck sauce as a seasoning. However, hot mustard and hot and sour sauces are great alternatives to duck sauce.
Cheese is one of the most common food ingredients used in wontons. However, because this ingredient is a dairy product, it is a no-no for vegans (unless you are a Lacto-vegetarian). In addition, most cheese wontons are stuffed with Rangoon or crab meat, which makes them unsuitable for Lacto-vegetarians too.
Chicken Broth and Meat Stock
In both Canada and US cuisines, wontons are available in different forms – wonton soups and appetizers. For vegans, the soup form has several problems because broth is the most significant ingredient that you will have to deal with.
Many people use meat stock and chicken broth in their soups. However, you can also use vegetable broths in your homemade, vegan wonton soups. Most restaurants mention vegan/vegetarian broth in their menu. In addition, it's a possibility that they will serve you water as the medium.
Eggs
The main ingredient in wonton soups is the wontons. Wonton is a type of pasta that contains eggs. Compared to traditional pasta, wontons have a pretty heavy use of eggs. According to experts, the main ingredients of wontons are eggs, salt, water, and flour.
As eggs are animal products, it is not suitable for vegan. Unfortunately, at this point, there are no eggless wontons available on the market. However, as many vegan products are evolving all the time, it is a possibility that there will be vegan-friendly wontons in the future.
Is Wonton Soup Healthy?
Wonton soups are not vegan, but are they healthy?
Well, according to Healthy Families BC, 854-gram wonton soup with noodles contain up to 430 calories and 2,510mg of sodium. Plus, it is an excellent source of protein and vitamins A and C.
In comparison, the 728 grams of wonton soup without noodles contain fewer calories and have only 260 calories per serving. However, this soup has nearly the same amount of sodium: 2,510 mg. They are also a great source of essential vitamins and proteins.
Vegan Alternatives to Wonton Soup
Now the real question is, what vegan soups can you enjoy instead of wonton soups? Well, fortunately, there are hundreds of vegan options available out there. Due to this wide range, it is nearly impossible to select a product from all these options.
You don't have to worry; in this part of the article, we have mentioned some of the best alternatives to wonton soups for vegans.
Tantan Ramen
With a creamy and delicious sesame flavor, Tantan ramen is a Japanese-Chinese fusion soup that provides the heat of chilies. Instead of creamy chicken-based and pork-based broth, Tantan ramen is seasoned with just salt, making it a perfect alternative to wonton soups.
Raw Japanese Corn Potage Soup
Next, we have Japanese-styled corn-potage soup. Potage is a French word meaning stew or thick soup. This soup is one of the many foods the Japanese adopted from the west and made their own. Along with a delicious and refreshing taste, this one offers thick corn delight that is truly mouth-watering.
Edamame Miso and Zucchini Soup
This soup is tasty and healthy, with a refreshing mixture of nori, miso, edamame, and zucchini. We recommend using low-salt vegetables because miso has a pretty salty taste. This recipe is perfect for early autumn and late summer when there is a moderate temperature.
Easy Cashew Ramen
Easy cashew ramens are not instant noodles, but they are pretty close. These noodles are gluten-free, vegan, and have no refined sugar. Instead of chicken broth and eggs, this cuisine contains coconut milk, vegan red Thai chili paste, and rice ramen.
Vietnamese Noodle Soup
Vietnamese noodle soup or vegetable pho is comfort food. Everything from shopping for ingredients to consuming the last drop of Vietnamese soup is entertaining. This soup is a mixture of fennel, cinnamon, licorice, cardamom, coriander seed, and star anise that allows you to make different variations of it.
Onion and Garlic Miso Soup
This Asian-inspired soup contains tofu that is enough to fill you up. This soup offers several nutrients, such as 10g of protein, and is low in fat, carbs, and calories, with a mouth-watering flavor. However, as plain tofu can be a little bland, this cuisine allows you to combine the neutral taste of tofu with garlic and miso.
How to Get Vegan Wonton Soup
As we all know, different dishes have different tastes, and no two cuisines are the same. So, no matter how many wonton soup alternatives you consume, you won't be able to enjoy the taste of wonton soup.
However, there are following two approaches that you can select to get vegan wonton soup.
First, you can locate a vegan-specific Chinese restaurant near you. To do that, you can get help from different applications, such as Google Maps or Happy Cow, or get a referral from your friends, coworkers, or family members.
Second, you can also make your vegan wonton soup from scratch. In this approach, you'll need to follow a recipe and invest your time. The most significant benefit of this approach is that you have control over the ingredients.
You can remove all the non-vegan ingredients from a recipe and add some additional ingredients to increase the taste and consistency of your dish.
Commercial Vegan-Friendly Wonton Products
Unfortunately, there are no premade wonton soups available out there. As default, wontons contain eggs, so they are not suitable for vegans. However, you can use spring rolls as an alternative to your wontons; they fry up crispy and nice but offer a different texture.
Here are some of the most common commercial wonton products that you can use to improve your vegan soups:
Nasoya Wonton Wrappers
To create wontons without eggs, the Nasoya wonton wrappers are the best pick for you. These wraps are free from genetically engineered ingredients, eggs, artificial flavors, and added preservatives.
These paper-thin sheets have multiple uses, from creating traditional wonton dumplings and spinach ravioli to empanadas and cinnamon sugar dippers.
Vegan Wonton Soup Mix
If you are one of those who hate cooking but love to experiment, a premade mix is the perfect choice for you. When it comes to wonton soups, no other product can beat vegan wonton soup mix. Dynasty Foods offer this mix, and it's got all the vegan ingredients, such as:
Salt
Glucose
Caramel color
Hydrolyzed protein
Monosodium glutamate and more
Yes, the vegan wonton soup mix does not contain wontons. However, it is a pretty decent replacement if you can get some vegan-friendly wonton wrappers from the market.
In a Nutshell
It is nearly impossible to find vegan wonton soups. This is because wonton soup is a mixture of several animal and dairy products, such as eggs, chicken/pork broth, cheese, and more.
If you are following a 100% plant-based diet, above, we have mentioned some of the most popular alternatives to wonton soups that are completely vegan-friendly and delicious.