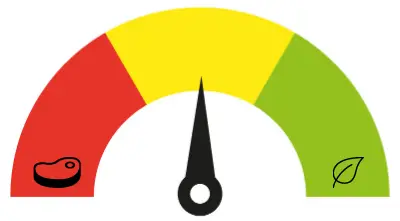 Turning vegan is not a switch you can turn on or off whenever you want. You make a series of choices that completely change your lifestyle. After a point of time, veganism becomes an identity and not just a short-lived experience.
People abandon their vegan diet simply because of the variety of foods available. When they do not find anything that caresses their taste buds, they feel they should give up on veganism.
Do not give up on that vegan diet you're trying so hard to maintain. We are here to make your day! BelVita Breakfast Biscuits happen to be vegan!
Are BelVita Breakfast Biscuits Vegan?
Most BelVita Breakfast Biscuits are entirely dairy-free, which makes them vegan. A few vegan-friendly BelVita biscuits are crunchy blueberry, chocolate, cinnamon brown sugar, cranberry orange, golden oat, toasted coconut, and belVita sandwiches. They are also available online if you can't find these in a store.
It's your lucky day! Yes, these breakfast biscuits are accidentally vegan! These biscuits were not created intentionally to be marketed to vegan eaters, but they are vegan!
Here are a few things you need to know about belVita breakfast biscuits before you devour them!
Are BelVita Breakfast Biscuits Healthy?
Upon looking at the ingredients of BelVita Breakfast Biscuits, it is noticed that these breakfast biscuits contain minerals, vitamins, and fiber. All these ingredients are good for your body. BelVita biscuits come in packs of four, having 2g of fiber and 11g of sugar, and they also provide you with energy.
They have 230 calories. If you are health-conscious, you should know that the BelVita Fruit And Fiber Biscuits contain more than 4g of dietary fiber in one serving.
What Are the Ingredients of BelVita Biscuits?
BelVita biscuits come in a wide variety, but most of the ingredients remain the same for all biscuits. These breakfast biscuits contain the following ingredients:
Whole grain blend (rolled oats + rye flakes)
Enriched flour
Whole grain wheat flour
Canola oil
Sugar
Brown sugar
Malt syrup (corn + barley)
Baking soda
Salt
Invert sugar
Soy lecithin
Disodium pyrophosphate
Cinnamon
Datem
Natural flavor
Iron
Molasses
Vitamin B6
Vitamin B2
Vitamin B1
Niacinamide
What Are the Benefits of Belvita Breakfast Biscuits?
Fuelling your morning with a belVita breakfast will give you steady energy from the slow-releasing carbs found in BelVita biscuits. These biscuits have 18-20g of whole grain in 50g of serving. They are also a good source of B vitamins and iron.
BelVita biscuits have no fructose corn syrup, artificial flavors, or colors. BelVita breakfast biscuits contain 8-9g of fat per serving.
BelVita Biscuits in Various Recipes
BelVita biscuits are a magical and accidental find that you can add to the list of vegan snacks. These biscuits can even be paired with your favorite beverage, such as coffee, hibiscus tea, fruit-infused water, coconut water, or kombucha.
You can even pair BelVita biscuits with fruits such as pear, banana, figs, melon cubes, mixed berry cups, or cold-pressed juice. BelVita biscuits can be used in multiple recipes, such as:
Mango topper
Avocado topper
BelVita breakfast parfait
Spicy avocado BelVita toasts
Breakfast banana split
Apple and cheddar BelVita topper
BelVita chocolate sandwich with fruit & nuts
What Do BelVita Biscuits Taste Like?
BelVita biscuits are thin and crispy. They are sweet but not too sweet and taste slightly buttery despite having no butter content.
These biscuits are crispy like cookies, and there is a subtle tinge of nuttiness in them. People like to eat such a snack with peanut butter, but the flavor of BelVita biscuits alone is enough. The cream in BelVita biscuits is highly flavored and delicious.
Which BelVita Breakfast Biscuits Are Vegan?
With the wide variety of belVita biscuits available in the market, it can get confusing to know which ones are vegan and which ones are not. Don't worry. We are here to help you!
BelVita Crunchy Biscuits
These biscuits contain sugar which may be a grey area for vegans as some sugar is filtered with bone char. These biscuits also contain natural flavors, including a wide variety of ingredients from plants and animals.
Here is a list of BelVita Crunchy Biscuits you can consume if you are looking for food on the go:
Toasted coconut
Blueberry
Cinnamon brown sugar
Cranberry orange
Golden oat
Chocolate
BelVita Bites
BelVita Bites are mini breakfast biscuits. They are nutritious, convenient, and an on-the-go choice containing slow-releasing carbs coming from wholesome grains. These contents fuel your body for four hours.
They contain similar ingredients to the crunchy biscuits. Here are the three vegan-friendly flavors:
Mixed berry
Chocolate
Cinnamon brown sugar
BelVita Soft Baked Biscuits
BelVita Soft Baked Biscuits provide you with steady nutritious energy.
They come from a combination of specially selected ingredients and a carefully controlled baking process that helps preserve the integrity of the grain.
The taste, texture, and aroma – all fall right into place! There are different flavors of BelVita soft-baked biscuits. Here are three of them which aren't vegan:
Protein oats, honey, and chocolate – not vegan because it contains honey, eggs, and milk.
Protein blueberry almond – not vegan because it contains milk.
Oats and chocolate – not vegan because it contains milk.
However, here are a few BelVita Soft Baked Biscuits that are likely to be vegan. 'Likely' because along with sugar and a natural flavor, they contain glycerin which is another grey area for vegans:
Mixed berry
Oats and peanut butter
Banana bread
BelVita Sandwich Biscuits
BelVita Sandwich Biscuits are filled with a luscious cream/yogurt inside. Surprisingly, this cream is not made of milk and is entirely vegan.
These sandwich biscuits are specially baked to release at least 4 hours of nutritious and steady energy. They don't have high fructose, corn syrup, or artificial flavors, or sweetness.
Here is a list of the flavors that you can add to your daily snack:
Vanilla yogurt cream
Strawberry yogurt cream
Dark chocolate cream
Peanut butter
In a Nutshell
BelVita biscuits are:
Vegan
Have a high content of dietary fiber, which makes them nutritious
Convenient and can be eaten without making a mess
Give you lots of energy
Quite filling
A perfect to-go snack, especially when you are in a hurry
Eaten with a lot of other foods including fruits
Lightly sweet
Go perfectly with your morning tea or coffee
Act as a replacement for your breakfast
Do not crumble when you bite into them
Release energy into your body slowly for four hours
Come in a lot of flavors – lots of options to choose from
Most importantly, you don't have to keep craving snacks throughout the day. Biscuits are generally not vegan, which makes us lucky to have come across BelVita biscuits.
They make for a great breakfast snack and contain whole grains, which are good for your body. BelVita biscuits are perfect for your vegan lifestyle, especially if you like to eat snacks a lot!
Final Thoughts
Most breakfast biscuits do not contain eggs, but you should watch out for milk as an ingredient. However, with Mondelez International blessing us with BelVita biscuits, it is now easier for vegans to find snacks.
The fact that they have been in the market for so long proves their reliability. BelVita biscuits contain minerals, calcium, magnesium, and iron, giving them an edge over other biscuits and making them nutritional boosters.
BelVita biscuits can be a part of a healthy and balanced diet, making them more appealing to vegans.