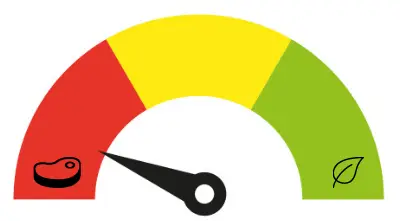 Cheetos Puffs are not vegan-friendly. Even though corn is the main component, they are covered with a milk-based seasoning mixture.
Today, we'll see if vegans can consume Cheetos, a famous cheese-flavored snack. The word "flavored" is important here since not all snacks with cheese flavor include real dairy components.
Whereas most people are mindful that cheese is a no-no to vegans, it isn't always clear whether anything promoted as containing a cheese taste contains dairy substances.
What Are Cheetos? Brief History
Cheetos are a type of cheese puff food. A Pepsi Company affiliate, Frito-Lay is responsible for this well-known chips brand. Charles Elmer Doolin, the inventor of Fritos, invented Cheetos around 1948. Cheetos' growth was undoubtedly one of several driving forces behind the merger of two firms, Frito Company and H.W Lay. In around 1961, they merged to establish Frito-Lay.
Only after 4 years, Frito-Lay merge with Pepsi-Cola to establish Pepsi Company, the existing Cheetos CEO.
In 2010, the Cheetos product was the best-selling cheese puff in the United States. This outstanding performance aided in the expansion of the product range, which now includes 21 different versions of this food in North America exclusively.
Cheetos are marketed in more than about 36 countries, thus a few of the various flavors that are available in different places of the world were introduced based on cultural and regional preferences.
In Japan, for example, you may get Savory American Cream or Strawberry Cheetos.
Why Are Cheetos Puffs Non-Vegan?
Most Cheetos snacks, as you may expect, include dairy. It's hardly unexpected, given that the title is a pun on the term "cheese." Despite the fact that many items have a distinct flavor without actually containing the listed component. Cheetos, on the other hand, are among the few goods that truly include exactly what they advertise to be. Excellent for non-vegans, however vexing for a Cheetos-obsessed vegan. As a result, vegans are still unable to consume Cheetos.
Are There Any Available Vegan Cheetos?
There are still no vegan Cheetos varieties available. Upon combing across numerous Cheetos flavors, we discovered there were no vegan Cheetos. Dairy is present in all Cheetos in some form. That's terrible news for vegans.
Vegan Cheetos Alternatives
Being a vegan doesn't exclude you from enjoying certain delectable foods. Cheetos are popular because of their cheesy flavor, which may well be something you miss if you follow a vegan lifestyle. Fortunately, there are plenty of vegan alternatives to these cheesy munchies.
Today, Peatos' Fiery Hot snack has been one of the similar things to Flamin' Hot Cheetos. It's highly crispy, fiery, and tasty, and it tastes a little like Cheetos. Bear in mind that, even though it does not taste precisely like Cheetos, this is an excellent vegan substitute.
Peatos snacks include no dairy ingredients, making them the greatest vegan substitute to Cheetos available today.
If you enjoy cheese and prefer vegan Cheetos but not spicy, go no further than Hippeas' Vegan White Cheddar.
This option is strongly recommended because it is both mild and crispy! Also, vegan ingredients are used.
It's mostly made out of chickpeas. The addition of vegan white cheddar cheese contributes to the cheesy taste of such puffs. This gives it the flavor of Cheetos cheese puffs! It is also gluten-free, organic, and kosher, in addition to being vegan.
As the title implies, they're more of a substitute for cheese puffs rather than cheese curls. However, the puffed Cheetos are still quite popular, and the topping is non-spicy, so they are a decent alternative.
They comprise sunflower oil, sorghum, and a plant-based cheddar cheese seasoning made entirely of tapioca maltodextrin, salt, nutritional yeast extract, natural flavors, annatto extract, lactic acid, and paprika extract.
If somehow the lactic acid piqued your vegan interest, don't worry; the component is now mostly cruelty-free and vegan. If such non-vegan lactic acid was included in the food sector, it will not be sold as a vegan product.
Other Vegan Chips Options
We strongly suggest exploring also the vegan chips listed below.
Tortilla Chips From Taco Bell
Taco Bell is among the best vegan-friendly fast-food restaurants today. In addition, they offer completely vegan tortilla chips.
There are three tastes available here: Mild, Classic, and Fire. So, if you're looking for a crispy alternative to Cheetos, this is it!
Doritos Spicy Sweet Chili
Why would it matter if you can't eat Flamin' Hot Cheetos? You may always choose Spicy Sweet Chili Doritos, which have been highly tasty with just the perfect amount of crunch and spice.
You can also use these Doritos to create vegan nachos for a filling snack!
Scoops Of Tostitos
Tostitos Scoops, with their distinctive form and taste, is unquestionably a one-of-a-kind snack. But, the best thing is that they have been completely vegan and an excellent alternative to Cheetos.
Because they're scooped, you can eat them with whatever dips you like!
Organic Leafy Green Chips By Forgaer
If you're searching for some heat, the Barbeque Chipotle Greens taste is a must-try. The amazing thing about Forager chips is that they look like regular tortillas but are made of quinoa and brown rice, leaving them healthier rather than corn chips.
Sweet Chili Pringles
Even if not as fiery as Hot Cheetos, they can still hit the spot and taste great. You may be certain that Sweet Chili Pringles were vegan, however, keep an eye out for additional varieties like Prawn Cocktail and Salt and Vinegar. The Pringles chip assortment does not include any vegan variants.
Frequently Asked Questions
Before we end this post, let us answer some of the frequently asked questions relating to Cheetos.
Are Cheetos Healthy?
Sorry, but not at all! As a result of the highly processed and artificial components utilized, this snack is classified as junk food or a nutritionless snack.
When we look now at the nutrition labels, we can see that there is a lack of nutritious content. In every serving of Cheetos, there is 11 g of fat or 4% of the daily recommended intake, 170 calories, less than 1 g of fiber,1 g of protein, 15 g of carbohydrates, almost no vitamins, and 250 mg of sodium or 11 percent of your daily recommended amount.
Therefore, while these crispy Cheetos may appear enticing as a pleasant snack, they will give no nutritional value to your body and should be consumed in moderation.
Are Cheetos Vegetarian?
There are no meat-derived items in them, however, the cheese used in Cheetos is not entirely vegetarian.
Cheese is made with two kinds of rennet: animal-based rennet and microbiological rennet. The latter is vegetarian but the former is not.
This is because animal-sourced rennet is obtained from animal intestines.
Currently, the cheese being used in Cheetos contains animal-based rennet, making it inappropriate for both vegetarians and vegans. Cheetos also includes whey, which itself is obtained from animals.
As a result, if you're a vegetarian, you should forgo Cheetos owing to the inclusion of non-vegetarian cheese.
Are Cheetos Gluten-Free?
If you're allergic to gluten, there's some good news: Cheetos are gluten-free in the United States! Frito-Lay now lists them as gluten-free food on their website.
Since gluten is commonly present in wheat-based goods. Cheetos puffs feature corn-based components including cornmeal, making these gluten-free and acceptable to eat!
Are Cheetos Kosher?
Cheetos, on the other hand, are not inherently kosher. When you look at the Frito-Lay page for the lists of certified kosher items, you won't find any Cheetos varieties.
It's possible that this is due to the rennet-based cheese being used. Cheetos aren't obtained from animals that are killed and processed in accordance with kosher law.
Final Thoughts
It's a shame that something just as tasty as Cheetos is not really available in vegan varieties. Each Cheetos package contains a dairy-based component, like cheese flavoring or buttermilk.
Furthermore, the cheese in use is not only non-vegan but is also non-vegetarian, because it is made from the animal digestive lining. Cheetos are therefore neither vegetarian nor vegan.
But don't be disheartened! We've reviewed a variety of Cheetos substitutes and also vegan chips that may easily satisfy your hunger. Simply switch to them and search for your ultimate vegan snack!