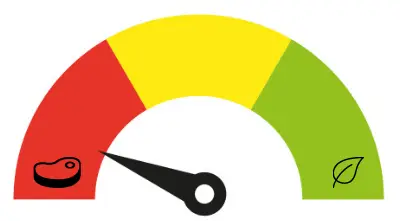 Are Churros Vegan?
For those who aren't familiar with churros, they are fried dough delicacies that are sprinkled with cinnamon and sugar. While they are similar to donuts in appearance, the texture is crisper on the exterior and less doughy on the interior. They're typically accompanied by a chocolate dipping sauce.
These hot, long, delicious snacks surely hold a special place among people's taste buds. Very few people can resist the "oh so crunchy but soft" offering of churros. Aside from your local coffee shop, you may get churros at various supermarkets.
Churros are available in a variety of sizes and forms, in addition to their various qualities. The type sold on the street is not the same as the kind sold at fast-food restaurants such as Taco Bell. What we'll do here is examine churros' vegan status from every angle and what vegan alternatives we can make for our churros.
A Little Bit of History
If you ask most people where this mouth-watering delicacy originates, they will undoubtedly answer Spain.
Well, technically, they're not wrong. Traditional churros in Spain are created with only three ingredients: flour, water, and salt. Easy, right?
But did they originate there? Some historians believe churros are descended from a Chinese confection known as "youtiao". This deep-fried dough resembles Spanish churros without sugar topping and chocolate dip.
It is currently popular as a street snack in several countries, including Spain, Portugal, and Ibero-America.
What Are They Made From?
Churros are considered a snack rather than a meal. They have also grown in popularity in English-speaking nations such as the United States, the United Kingdom, and Australia. Churros are not a nutritious food, but they are a tasty delicacy adored worldwide, particularly in Spanish and Portuguese-speaking nations.
In making these savory snacks, the following essential ingredients are needed for preparation:
Water
Flour
Oil
Eggs
Butter
Cinnamon
Salt
As you can see, animal-based products like cheese, butter, and eggs are used to make churros. Churros are nearly never vegan-friendly unless you go to a vegan or specialized baker. So, if you truly crave them, learning to prepare your own is your best option. Because seriously, who said you need these animal-based products and dairy to make some churros?
How to Make Vegan-Friendly Churros?
It's amusing because I've seen several vegan churros recipes on the internet that use expensive ingredients like coconut oil, brown sugar, vanilla essence, and vegan butter.
But none of it is required to make churros! It is, without a doubt, one of the easiest recipes in the world. All you need is flour, water, and salt, as well as some olive oil for frying and sugar and cinnamon to sprinkle on top of the finished delicacy.
Here's everything you'll need to create these vegan churros. Unless otherwise stated, please avoid replacing ingredients.
For Churros
Oil – Any oil with a neutral taste can be used. Vegetables, canola, and safflower oils are all perfectly suitable.
Sugar– You may use white sugar, brown sugar, or coconut sugar.
Water– To mix everything!
Flour– All-purpose flour or gluten-free flour can both be used. If you go for the gluten-free option, ensure the flour mixture has xanthan gum; otherwise, your churros will be gummy.
Cinnamon– To sprinkle the cooked churros, mix them with some sugar.
For Hot Chocolate Dip
Coconut cream– Make sure you're using the full-fat variety, not the reduced-fat variety. The latter produces a more watery sauce.
Chocolate chips of choice– Choose your favorite flavor of chocolate chips.
Tips to Make the Best Churros Recipe
You may test the heat of the oil using a candy thermometer or a kitchen thermometer to determine whether it reaches 190C/400F. That is the ideal temperature for frying the churros.
Don't worry if you don't have a star tip—the churros may be piped out as is. They just will not have the crimping down the sides.
When covering the churros in the cinnamon and sugar mixture, work quickly. The longer the churros wait to cool, the more difficult it is for the cinnamon to stick to them.
Can I Bake These Vegan Churros?
Since they are prepared without eggs or milk, these churros can be chewy and dry when baked. Personally, I am not a big fan of the texture as well as the cinnamon and sugar mixture didn't stick well enough.
But if you really want to bake them, keep a close check on them and spray the churros with cooking spray before coating them with the cinnamon/sugar mixture.
Can I Make the Churros Sugar-Free?
Definitely, yes! You can make sugar-free churros by replacing the sugar with monk fruit sweetener or erythritol.
Are Churros Gluten-Free?
Churros may be vegan, but they are most certainly not gluten-free. Churros are often prepared with regular wheat flour; therefore they are not gluten-free. There are various gluten-free and vegan churros recipes on the internet, so you might try cooking them yourself.
However, unless you are dining at a gluten-free restaurant, you should assume any churros you come across contain gluten.
What Are Churros Filled With?
Typically, churros are not filled with anything. To flavor the basic dough, it is dipped in hot chocolate.
However, in places where churros are sold as street food snacks, the practice has been modified to make churros an eat-on-the-go. The middle of the churro is hollowed out and filled with some form of sauce or paste.
These fillings frequently contain milk. Common fillings in Mexico, for example, include dulce de leche and cajeta, which are sweetened, caramelized goat's milk. In Cuba, however, guava and other fruits are utilized as fillings, and they are devoid of all animal ingredients.
Tres Estrella Churro Flour Mix
If you like to use an instant churro flour mix for making churros, this flour mix is suitable for vegan cooking. This package is merely a mix, however, if you make them by yourself, you may substitute the eggs and milk for vegan alternatives.
Ingredients include enriched flour which contains Riboflavin, Zinc Oxide, Nicotinamide, Ferrous Fumarate, Thiamin Mononitrate, and Folic Acid, as well as Monocalcium phosphate, Iodized Salt, Sodium Bicarbonate, Sodium Propionate as preservatives Partially hydrogenated Vegetable fat,
Fast-Food Churros Options
If you don't have time to make your own vegan churros and are wondering where you can grab some to satisfy your cravings, here is a list of fast-food restaurants that serve churros. Let's check whether their churros can fit on your vegan plate.
Costa Churros
The churros offered at Costco aren't always vegan. They include milk and eggs, which excludes them from being classified as vegan.
Even though the Churros available at Costco are not vegan, it is a great destination for vegans. This is due to the vegan-friendly meal options available in this food court, which include cinnamon buns, pretzels, and apple pies.
Tesco Churros
Tesco now sells vegan chocolate and hazelnut-filled small churros, which is great news for dessert fans. The supermarket's rendition of the classic Spanish and Portuguese snack, topped with cinnamon sugar, can be cooked from frozen.
Tesco's version is loaded with hazelnut paste and chocolate powder made from plant-based ingredients. It's not the only vegan sweet treat available from the business, which has introduced a number of new plant-based goods in the last years.
Taco Bell Churros
Taco Bell sells churros in the United Kingdom. Unfortunately, they are not vegan. They include milk, according to the ingredients list on their website.
In the United States, however, Taco Bell sells something similar to churros called cinnamon twists instead of churros. These aren't quite as wonderful as churros, but they're vegan. They are made from wheat flour, rice flour, yellow cornmeal, salt, sugar, cinnamon, maltodextrin or dextrin, soybean oil, canola oil, and natural flavors. All of them are suitable for vegans.
Domino's Pizza Churros
Domino's Pizza serves oven-baked churros for dessert in Australia and New Zealand. Regrettably, these are not vegan. They include both eggs and milk, according to the allergen information on Domino's website. Given that Domino's appears to be the slowest large chain in accepting vegans with their other items, I don't think this will change very soon.
San Churro Chocolateria
It is a popular vegan churros chain in Australia. Technically, their dough is vegan-friendly, plus they also have vegan cookie butter and vegan dark chocolate as your dipping sauce.
The Happy Vegan is a handcrafted churro dish covered in cinnamon sugar and combined with vegan salted caramel and honeycomb gelato, topped with fresh strawberries and crumbled Oreos. Wow!
Summing It Up
Churros are commonly not considered vegan, and there are only a few fast-food chains that offer this kind of snack as a vegan. They can be made at a few vegan bakeries, but they are not common. If you have a small local bakery that specializes in unique delicacies, you might be able to request a customized batch.
Practically, making your own vegan churros is probably easier. You can use the recipes provided above as a reference. If you're not much of a baker, you may ask a buddy to make them with you.