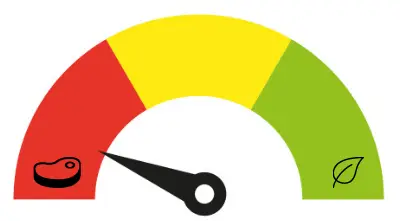 It's tricky to determine whether cereals are vegan or not because of the questionable ingredients they may contain. For instance, most of them contain sugar and artificial colors – two of the main ingredients that vegans avoid.
While some people consider Trix to be vegan, it's not suitable for strict vegans because this cereal is made with artificial colors, sugar, and lanolin-derived vitamin D3. Lanolin is a waxy substance derived from the sheep's sebaceous glands. These arguable ingredients are the main reasons vegans don't support Trix cereal.
Others may overlook the animal-based ingredients in their cereal mix, but full-blooded vegans know that products with these controversial ingredients should be boycotted. Let me explain why you should opt for the best vegan alternatives and how you can kick-start your day with a fresh bowl of healthy cereal.
Ingredients Of Trix Cereal
General Mills is the largest cereal brand in North America, and Trix cereal is one of the most popular choices among households. It has been distributing cereals for over 60 years, with Nestle making it more known in the global market.
So what are the ingredients used in making Trix cereals? Let's discuss each ingredient to determine whether it is good for vegans. Here's the list:
Whole Grain Corn
Rice Flour
Canola Oil
Corn Syrup
Trisodium Phosphate
Malic Acid
Citric Acid
Folic Acid
Palmitate
Thiamin Mononitrate
Riboflavin
Pyridoxine Hydrochloride
Niacinamide
Zinc
Iron
Vitamin C
Tricalcium Phosphate
Calcium Carbonate
Vitamin B12
Salt
The following are the problematic ingredients Trix cereal contains with an explanation why they are not suitable for vegans:
Sugar – Non-organic cane sugar is made more white by filtering it with animal bone char. There's no way to check if the product you are buying uses sugar filtered with bone char. For this reason, vegans avoid food products that contain sugar.
Natural and artificial flavors – Don't be deceived by the word "natural" regarding the flavor of your breakfast cereal. These so-called natural flavors still contain animal-derived ingredients. While Trix cereal may only have fruit-based flavoring, there's no guarantee that it doesn't contain animal ingredients.
Vitamin D3 – This ingredient in cereals is animal-based since it is derived from lanolin or the oil found in sheep's wool. However, lanolin is added in small amounts and is the last ingredient in Trix cereal. It may be okay for some vegans but not for dedicated vegetarians.
Artificial Colors: Blue 1, Yellow 6, and Red 40 – While these artificial colors are made from petroleum instead of animal by-products, they are still tested on animals for safety purposes. As a result, vegans avoid products that contain these artificial colors.
Considering these controversial ingredients as vegan or not depends on how strict you are in living a vegan lifestyle. If you're a laid-back vegan, these things might not be an issue for you.
But since it has vitamin D3, I would say it's not suitable for vegans. Many people don't think it's compatible with vegans in the least, you can count me in. Animal-derived ingredients should be avoided if you want to live a plant-based lifestyle.
Is Trix Cereal Dairy-Free?
Trix cereal doesn't contain dairy products such as lactose, butter, whey, or milk. Moreover, there's no milk warning or traces of milk on the label, so Trix is safe for consumers with lactose intolerance or milk allergies.
Another thing, Trix doesn't say gluten-free on its label. However, it also doesn't mention any gluten on its list of ingredients. The only thing that could be tricky here is that the flavored puffs may have dairy in their flavorings.
Going dairy-free, especially in cereals, is completely healthy and beneficial to your body. In addition, it also prevents bloating, gas, and stomach pain – the most common symptoms of too much dairy in your daily diet.
When the body can't break down milk sugar, this leads to gases and acids in the intestinal tract. As a result, you experience bloating, stomach cramps, and diarrhea. Detoxing from dairy may take up to three weeks; starting with a dairy-free cereal is a good step to living healthier.
What Trix Cereal Flavors Are Vegan?
Unfortunately, all Trix cereal flavors are non-vegan. This brand makes exclusive versions or flavors for its cereals. The most recent flavor they have released in the market is the Trix Trolls with Marshmallows.
From the ingredients per se, you will know that this new flavor is not suitable for vegans. It's made with the same ingredients as the original version, but the gelatin is even more problematic. We all know that gelatin is certainly not vegan-friendly.
Other popular flavors that are not vegan are Froot Loops, Cheerios, Life Cereal, Rice Krispies, and Frosted Flakes. If you want to eat cereal in the morning, there are vegan alternatives you can try that we will also cover in this article.
Why Trix Is Not Suitable For Vegans?
Apart from the controversial ingredients that Trix contains, there are other reasons why it's not suitable for vegans. For instance, it's low in fiber and high in sugar, just like other cereals you can find on the market.
Eating Trix won't keep you full, as well as fruits and veggies. According to Time, Trix cereal product contains 38% of sugar. This is too much, especially for children. Also, this is usually for kids who love to munch on sugary, colored cereals.
Moreover, health experts say it's not healthy to consume cereal for breakfast daily. If you have nutritional goals, Trix is not a healthy cereal brand that you should include in your everyday diet. Removing this cereal from your lifestyle is like removing additives, artificial colors, sugar, and preservatives from your body.
Best Trix Vegan Alternatives
Now that you know Trix cereal is not vegan, you can explore other alternatives that suit your vegan lifestyle. While these alternatives still contain artificial colors, natural flavors, and sugar, you are guaranteed that they are free from the most controversial ingredient – vitamin D3.
The following are the best vegan alternatives to Trix cereal:
Nature's Path Organic Sunrise Crunchy Cinnamon – This vegan alternative cereal contains organic cane sugar, meaning it's not filtered using bone char. Other essential ingredients include brown rice flour, molasses, cinnamon, sea salt, buckwheat flour, flax seeds, quinoa, corn flour, cornmeal, organic cane sugar, and whole-grain cornmeal.
Quaker Life Breakfast Cereal – This is another healthy choice because Life Cereal is a great source of whole grains and vitamins. You can count on this cereal brand if you're looking for a heart-healthy breakfast option, as it contains vitamin A, vitamin B6, soluble fiber, and plant-based protein.
365 Everyday Value Organic Morning O's – The Organic Morning O's is made with 100% whole grain oats, organic cane sugar, organic rice flour, sea salt, and other essential vitamins. It has a wholesome flavor and delicate crunch, an excellent way to prepare yourself for the day.
Barbara's Original Morning Oat Crunch – This super crunchy whole grain cereal make the perfect breakfast option for vegans who are always on the go. The toasted-tasting oats are high in fiber, protein, and vitamins you need to kick-start your day. It doesn't contain vitamin D, so it's a good option for a vegan cereal that is delicious and healthy at the same time.
Kashi GO Cinnamon Crisp – When it comes to vegan protein, fiber, and other plant-based ingredients, Kashi GO cereal is one of the popular choices. This cereal is non-GMO and is packed with vitamins and minerals needed to start your day. Plant-based ingredients include peanut butter, soy flakes, brown rice, rosemary extract, and whole grain oats.
Trix cereal and these vegan alternatives have almost the same ingredients, including the ones in the gray area. However, the only thing that makes a cereal not vegan-friendly is vitamin D3 from lanolin or the grease that is extracted from the wool of a sheep.
Trix Or A Healthier Treat
Some vegans say that it's okay to eat Trix cereal because vitamin D3 is only used in smaller amounts. This is why many people, including the brand, say it's a healthy option for kids and adults.
On the other hand, strict vegans say otherwise. Vitamin D3, no matter how minimally added to the cereal, is still an animal by-product and should be avoided at all costs.