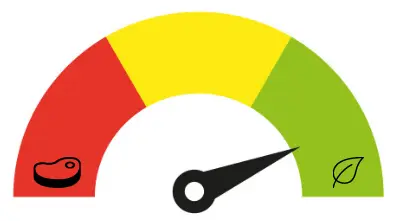 It is quite a necessity for vegans to question the ingredients of whatever they eat. However, the process of checking and confirming whether each food item you consume is entirely vegan can get pretty exhausting. Therefore, we do that research for you to present detailed, well-researched answers to questions about everything vegan! Here we answer the question a lot of you might have – are corn tortillas vegan?
To put it briefly, corn tortillas are vegan. They are primarily made from cornflour and water and fried in vegetable oil. All these components are vegan. Earlier, the tortillas used to be fried with lard, which is saturated fat and not vegan. It is still used in some places, so you need to look out for this in the list of ingredients.
Apart from the fact that corn tortillas are vegan, you should know more about them, their nutritional value, and possible vegan alternatives. Read on to find all you need to know about corn tortillas to incorporate them into your vegan diet.
What Are Corn Tortillas?
Translated to "little cake" in Spanish, the tortilla is an authentic and staple element of rich Mexican cuisine. These are made out of corn flour or wheat flour and fried in oil. Corn tortillas can also be made into crisp chips by deep-frying them.
They are used to make tacos and the crunchy, tangy nachos that we love to devour with zesty salsa dip. Corn tortillas form the base of several classic Mexican dishes, including tacos, enchiladas, tostadas, flautas, tortilla soup, chilaquiles, and quesadillas.
When warm, these can also be served alongside soups, stews, and other courses, replacing the role played by bread in different cuisines.
Are Corn Tortillas Vegan?
Today, corn tortillas prepared at most places are entirely vegan in their composition. However, this was not true before the 1990s. Lard or saturated animal fat was often used to fry corn tortillas, making them non-vegan.
Eventually, due to health concerns, the use of lard got limited. Now the use of lard has almost invariably been replaced by vegetable oils. This means corn tortillas from most tortilla manufacturers are now vegan.
This is not the case with all restaurants – you need to be cautious in authentic Mexican eateries! Another ingredient you may want to avoid is animal-sourced vitamin D, found in certain tortilla brands, besides mono- and diglycerides and glycerin.
Apart from these trace non-vegan ingredients, most tortilla companies use enzymes to prepare corn tortillas, which is a matter of concern for some vegans.
Are Corn Tortillas Healthy?
Corn tortillas are made out of whole grains instead of refined grains. Whole grains are usually considered more significant fiber sources and contain several minerals and vitamins than refined grains.
Compared with wheat flour tortillas, the corn variety is said to be healthier. This is based on using whole grains, a higher percentage of fiber, and other nutrients while having a lower calorie and fat count.
For those with gluten intolerance or celiac disease, fully cornflour-based tortillas are safe and healthy to consume.
If you are going for something heftier and want to have a tortilla filling, it might be a better idea to go for the wheat flour tortillas as they are found to be sturdier. To make it an even healthier meal, you could top the tortillas with an assortment of nutritious vegetables.
Corn Tortillas vs Flour Tortillas
Traditionally, tortillas have been of two main types, depending on the flour. Corn and wheat flour tortillas are these two popular varieties. While more variations have popped up along the way, these two remain the predominant ones.
Corn tortillas have been around since the Aztecs and Mayans' time, while flour tortillas are a more recent but equally authentic version.
The cornflour version is said to be the healthier of the two. To quote an example, Mission's 6-inch corn tortilla will get you about 10g carbs, 50 calories, 5mg sodium, and 1.5g fiber, compared to Mission's 6-inch flour tortillas, which have as much as 17g of carbs, 90 calories, 260mg sodium, and no fiber.
Besides being healthier, corn tortillas are more flavorful and textured than flour tortillas, which can seem a little bland and doughy in their consistency.
Since the corn tortillas are smaller, they offer more control over portions. This is especially appealing to those who like to go for smaller treats. Flour tortillas, on the other hand, come in diameters of 8 inches to 10 inches, even larger.
The gluten and added fat in flour tortillas help hold larger sizes together by lending them greater structure and elasticity. By contrast, corn tortillas are gluten-free and easy to fall apart, and cannot be molded in larger sizes.
Further, if you are concerned about the quantity of sodium in your food, corn tortillas are the better option out of the two. Flour tortillas contain significantly more sodium than corn tortillas. If you still prefer the taste and texture of flour tortillas, you can choose to go for whole wheat instead of regular, refined wheat to make it relatively healthier.
Different Ways of Eating Corn Tortillas
There is a wide variety of combinations corn tortillas can adapt to – from spinach enchiladas to cozily-wrapped potato, cheesy egg, and chorizo burritos.
Some dishes you can experiment with range from easy-to-make cast iron pizza, spinach, and bean quesadillas, black bean tostadas along with coconut-corn salsa, flautas, to simple potato wraps and chilaquiles.
Corn tortillas are thus a simple-to-incorporate, versatile and convenient ingredient.
Vegan Tortilla Brands
While some brands offer vegan corn tortillas, to be sure, it is best to ascertain the claim by looking at the list of ingredients. The enzymes used by some of these places in their tortillas are animal-sourced.
Here is a list of brands that offer assured 100% vegan corn tortillas:
Mission Foods
The tortillas offered by Mission Foods are entirely vegan, with absolutely zero animal-derived ingredients. Even the enzymes used in the recipe are also sourced from vegetables.
The only non-vegan options are Chicharrones, Cheddar Cheese Flavored Dip, and Mission Salsa Con Queso.
Guerrero
The entire range of flour and corn tortillas Guerrero offers is fully vegan. There are no traces of animal products in their tortilla varieties, as claimed on their website.
In particular, the corn tortillas made by them are not only vegan but also gluten-free.
Further, Guerrero Tortillas don't contain any trans-fat, cholesterol, or lard in their flour tortillas. The additives, mono, and diglycerides, used in their flour tortillas are derived from vegetables.
La Banderita
The La Banderita Tortillas produced by Ole Mexican Foods are all 100% vegan. They offer a wide variety of flour and corn tortillas, tostadas, and wraps, in multiple sizes. Their soft taco is about 8 inches large, the burrito is about 10 inches, and the fajita is approximately 6 inches.
Their seasoned tortillas and flavored wraps are also fully vegan, with all enzymes and additives being plant-based.
Old El Paso
Old El Paso renders a diverse range of Mexican food items, including taco shells, tortillas, taco kits, and tortilla pockets, among others.
The only items that are not vegan are the Stand' N Stuff Bold Nacho Cheese Taco Kit and Bold Flavored Taco Shells.
Siete
Siete has an assortment of grain-free tortillas. Each one of their tortillas is gluten-free and vegan.
Siete foods provide six vegan, gluten-free, grain-free tortillas. These are the Almond Flour Tortillas made of tapioca flour, almond flour, water, xantham gum, and sea salt, Cassava & Coconut Tortillas made of cassava flour, coconut flour, coconut oil, and vinegar, Cassava & Chia Tortillas, Chickpea Flour Tortillas, Cashew Flour Tortillas, Burrito-Sized Tortillas.
Final Thoughts
Corn tortillas make for a crispy, savory treat.
Healthier than their flour counterparts, corn tortillas are the perfect vegan snack that combines taste and health value. Go on and try out the corn tortillas from the brands mentioned above!