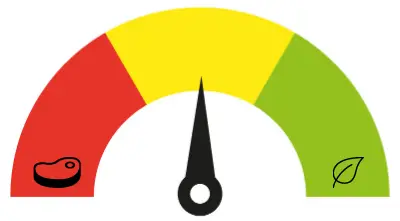 An English muffin is a tiny, round, and flat sourdough bread that is often cut horizontally, buttered, and toasted. It's a popular breakfast dish in North America, Australia, and New Zealand, where it's commonly paired with savory or sweet toppings like fruit jam or honey, eggs, sausage, bacon, or cheese. English muffins are a necessary component of Eggs Benedict, and a variety of breakfast sandwiches are created from them, such as the McMuffin.
Now, let's go over their characteristics in greater detail and look at some vegan alternatives you can try.
English Muffins Are Not English at All
We're sorry to break the news, but English muffins did not originate in England. In fact, until Thomas's English muffins were imported from America in the 1990s, the British were unaware of their existence.
The English muffin was developed by Samuel Bath Thomas. In 1874, he went to New York City as a British native. By 1880, he had established his own bakery in what is now known as Chelsea. The phrase "English muffin" was coined in 1894 and quickly became popular. It gained popularity as a classy alternative to toast on the turn-of-the-century hotel and restaurant scene.
How Are English Muffins Different From Regular Ones?
English muffins are not the same as quickbread muffins in bakeries and supermarkets. These muffins are created using baking soda or baking powder and are available in various flavors, including banana, chocolate, poppy seed, and blueberry. English muffins are yeast bread baked on a cast iron griddle.
English muffins are easy to prepare since they require simple ingredients such as yeast, salt, flour, a little sugar, and water or milk. The dough is prepared, sit to rise. After that, shape it into the traditional round form and allow it to rise once more. On a hot pan, the muffins are cooked soft and fluffy, flipping to brown on both sides. English muffins are now prepared with whole-grain flour to boost their nutritional value.
Read on to find out what vegan English muffins you could try.
Vegan English Muffin Options
Baked goods can be a fraught issue for vegans, especially if you're pretty strict about your vegan eating habits. Fortunately, several kinds of English muffins are now vegan; however, hardcore vegans should still carefully examine the ingredients to be sure.
Continue reading to find out where you can get vegan English muffins.
Rudi's Organic Bakery
Rudi's Rocky Mountain Bakery offers a variety of vegan bread. And mind you, they are not just vegan; they are also non-GMO, soy-free, dairy-free, kosher, and have no high fructose corn syrup. Rudi's Organic Bakery is a vegan paradise for all bread lovers.
Rudi's was the first to create delicious organic white bread, and we're carrying on the legacy by presenting the first USDA organic white English muffin. Toast up the flavor of their English muffins without artificial additives or preservatives, high fructose corn syrup, genetically modified organisms, or trans fats.
Here is the list of Rudi's English muffins you can try as a vegan:
Whole Grain Wheat English Muffins
Multigrain with Flax English Muffins
White English Muffins
Trader Joe's
Trader Joe's offers a solution for your crumbs-in-the-toaster troubles, and you should be excited to test it.
There are two kinds of vegan muffins at Trader Joe's – Original and Multigrain. The bread features a soft center and a crispy, cornmeal-covered shell, similar to an English muffin. According to the package, the bread may be used for sandwiches or served toasted and buttered. While the sliced bread lacks the nooks and crannies of a traditional English muffin, one Trader Joe's influencer said it's sliced thick, like a sourdough loaf, and is ideal for substantial avocado toasts.
Each slice has 100 calories, 3 grams of protein, and 21 grams of carbohydrates, fewer than the carbs found in a Thomas English muffin. Dear vegan soul, their muffin is worth a try!
Dave's Killer Bread
If you've been a vegan for any length of time, you're probably aware that most English muffins, especially the basic varieties, include buttermilk but not Dave's!
Because of the company's commitment to clear, healthful ingredients, you can be confident that their goods are devoid of animal products at the time of this post. This implies that all of Dave's Killer English muffins are vegan.
Dave's Killer bread is not just vegan but also high in protein, whole grains, fiber, vitamins, and minerals. Their goods are always non-GMO, and USDA-certified organic, with no high fructose corn syrup or chemical preservatives or additives.
Can I Make Vegan English Muffins?
Yes! You can definitely make your own vegan English muffins. The procedure of baking English muffins is what makes them special. Traditionally, while making yeast bread, you let the dough rise before shaping it and baking it.
It takes only a few simple ingredients to make your own vegan English muffins at home. And most especially, you need some patience because these require two peaks.
Ingredients for Vegan English Muffins
Water
Bread flour or all-purpose flour
Sugar
Vegan butter
Almond milk or any dairy-free milk of your choice
Active dried yeast
Salt
Apple cider vinegar
The Process
Try to follow the steps below to make your own perfect vegan English muffins. You could try watching videos to help you better understand the process.
Make the vegan buttermilk
Activate the yeast
Make the dough
Rise until double in size
Roll up and shape round bread
Wait for the second rise
Cool down and prepare to serve
What to Make With English Muffins?
Breakfast sandwiches or breakfast toasts can be made with English muffins. They can be served with a sweet or savory filling or topping.
To give a crispy texture to the inside of the bread, slice it halfway and toast it in a bread toaster.
The following are the best plant-based toppings for English muffins:
A smear of whipped margarine
Jam
Nut butter of choice, such as peanut or almond butter
Avocado with spinach mashed
Sun-dried tomatoes with hummus
Toasted nuts or seeds and vegan cream cheese
Serving Suggestions for Vegan English Muffins
You can try the following to make the best out of your vegan English muffins and add spice for your vegan servings:
Topped your muffins with vegan butter
Make it as a base for your vegan eggs benny
Make mini pizzas out of your muffins for the kids.
Use the muffins instead of bread for sandwiches or as a substitute for burger buns.
Toast some bread and top it with your favorite toast toppings such as avocado, grilled tomatoes, or mushrooms.
Are English Muffins Gluten-Free?
English muffins are generally produced with wheat flour, thus, unless the English muffins clearly state that they are gluten-free, they are not.
Plus, an authentic recipe does not use gluten-free flour and instead uses all-purpose wheat flour. Also, this vegan bread recipe cannot be used to produce gluten-free, vegan English bread. All-purpose gluten-free flour yields an extremely hard, chewy, and thick loaf that is not at all fluffy.
Is Yeast Vegan-Friendly?
Yeast is a single-celled fungus that lives in soil and on plants.
It comes in various forms, some of which may be used to help foods ferment or leaven, while others can be used to improve the texture, flavor, or nutritional value of foods.
Unlike animals, yeast does not have a nervous system. As a result, eating it causes no animal suffering, exploitation, or cruelty. Thus, yeast is a good option for vegans.
How Long Do English Muffins Last?
Because English muffins are yeast bread, they last longer at room temperature than regular bread. The vegan English muffins may be kept at room temperature for up to two weeks if wrapped in a towel.
Best Vegan Bread Alternatives
If you can't find vegan English muffins in your neighborhood and you're also not in the mood to make some at home, you can also grab some vegan bread to satisfy you.
Many varieties of bread are made without the use of animal ingredients. Here is a list of typically vegan types.
Sourdough
A fermented bread made with salt, wheat, water, and occasionally commercial baker's yeast. Some variations, albeit unusual, employ milk instead of water, making them non-vegan.
Pita
A basic flatbread made with water, wheat, salt, and yeast. Although most versions are vegan, some may include eggs, milk, eggs, or honey for taste.
Ezekiel
A loaf of bread prepared with sprouted whole grains and legumes. This sort of bread is frequently vegan and higher in protein and other nutrients.
Ciabatta
A flat, elongated bread distinguished by a firmer crust and a delicate, airy crumb. Most varieties are vegan; however, ciabatta al latte substitutes milk for water, making it non-vegan.
Baguette
Long and thin with a crispy top and soft crumb, this is a popular variety of French bread.
Focaccia
An Italian flatbread cooked in a flat pan with herbs and a source of grease. Most recipes utilize olive oil as the fat of choice, making this bread vegan; however, a handful uses butter or eggs instead.
Kosher Bread
Because Jewish dietary regulations forbid combining dairy with meat, many kosher loaves of bread are dairy-free to allow for meat toppings. Some, but not all, are also free of eggs, making them vegan.
The Bottom Line
Not all bread is healthy or vegan-friendly. Many varieties of bread are inherently vegan. Some contain non-vegan components such as eggs, milk, butter, or honey.
English muffins are not an exemption and are not always vegan, but if you make some tweaks while making your own, you can achieve a meal suitable for your vegan diet. There are also several vegan English muffins in the market; just don't forget to check the labels if they are vegan.
Checking the ingredient list is the best method to confirm that your bread is vegan. Alternatively, you may make your own by swapping non-vegan products for vegan ones.