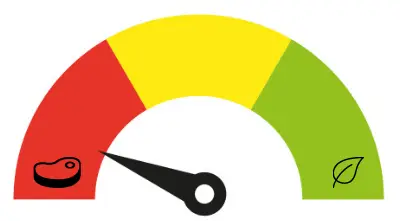 Hush Puppies are not considered vegan because they use eggs as a binder and milk and buttermilk in the ingredients.
Luckily, there are plant-based hush puppies that have become a favorite side dish for many vegans, including myself. Who doesn't love those tasty, small golden brown balls on the side though?
A hush puppy is typically made with cornmeal, wheat flour, eggs, and more. These key ingredients are mixed with other herbs, spices, and seasonings. They're usually served with barbecue or seafood, especially in restaurants.
Are you also a fan of hush puppies? If so, let's go check out more about this crowd-favorite side dish!
What Are Hush Puppies?
Hush Puppies or hushpuppy are made with ground corn meal batter shaped into a small round ball and fried. It's popular in many restaurants as a side dish served with seafood, barbecue, or other deep-fried dishes.
The traditional hush puppies are made with a batter of corn meal, eggs, wheat flour, baking soda, salt, water, milk, buttermilk, garlic, onions, whole kernel corn, spring onions, scallions, and peppers.
The word hush puppy is dated back to 1899 when fishermen, hunters, and cooks would make a cornmeal mixture to feed to their dogs during cookouts. That way, they'd be able to hush their puppies.
Hush puppies are also closely related to red horse bread, named after the red horse fish found in rivers in South Carolina.
Interestingly, Chef Romeo Govan created the bread using the same ingredients and consistency as hush puppies.
In 1927, the red horse bread was called hush puppies in Georgia and later gained national in 1943.
Ground corn or maize, on the other hand, the main ingredient in hush puppies, was a staple in Native American cooking, especially since they were the first ones to cultivate corn back in time.
Cornbread or ground corn was also the go-to ingredient during the American Civil War because it was cheap and easy to cook with other dishes.
In Lufkin, Texas, a hushpuppy championship is held annually.
Hush Puppies Are Not Vegan
Unfortunately, hush puppies are made with eggs as a binding agent alongside milk or buttermilk. The ingredients are mixed well until they form a thick batter.
In heated oil, a spoonful of the batter, which forms into small round balls, is dropped until it looks golden brown and crispy.
Nutrition Facts
Hush Puppies are also high in calories and sodium, which is another reason why they should be eaten with a balanced diet.
Non-Vegan Hush Puppies
Here's an estimated figure for every 100 g of serving of hush puppies, according to the USDA. The figure below is based on a 2,000-calorie diet.
Calories: 337
Total Fat: 14 g
Cholesterol: 45 mg
Sodium: 668 mg
Potassium

:

144 mg
Total Carbs: 46 g
Protein: 8 g
The high sodium content of hush puppies is alarming, knowing that the serving is only 100 g. That whopping 668 mg for just a side dish is already unhealthy.
But here's a great suggestion. Pair it with fruits and veggies rich in flavonoids and fiber to drop some of the salt that hush puppies have.
The figure, though, is for non-vegan hush puppies. Let's check the vegan counterpart to see if sodium and calories are lower.
Below is only an estimated value of vegan hush puppies per serving in one yield.
Calories: 86
Total Fat: 1 g
Cholesterol: 16 mg
Sodium: 315 mg
Potassium: 93 mg
Total Carbs: 17 g
Protein: 3 g
If you notice, the calories and sodium content in hush puppies are lower than their non-vegan counterparts, which contain eggs and milk.
This means that the sodium and calories are lowered with egg replacement and vegan milk. Yes, vegan hush puppies are way healthier than traditional ones.
It's worth noting that excess calories are stored in your body. They become fats over time, and that's definitely hard to burn in just a single sitting. Not a good time for a summer bod.
Also, excessive calories put your heart health at risk. According to research, those who are 5 to 15% overweight have more risk of heart attacks compared to those who are average in weight.
There are many other adverse health issues that one can face when calorie and sodium intake is excessive. These include diabetes, kidney failure, stroke, high blood pressure, stomach ulcers, gallstones, cancer, and more.
Keep watch of your sodium and calorie intake to keep things healthy.
Make Your Own Vegan Hush Puppies
Fortunately for vegans, there is an easy way to eat hush puppies the vegan way. Of course, this means that the ingredients must not include dairy or any other animal by-products.
I found a way…an easier one to make vegan hush puppies, and trust me, they're delicious and even healthier than the traditional non-vegan ones.
Check these ingredients below and find time to make your own hush puppies at home.
Ingredients
Vegan egg replacer of your choice
2/3 cup unsweetened and unflavored vegan milk
1/2 cup flour
1 1/4 cups cornmeal
1/2 tsp. ground black pepper
1 tsp. salt
3 tsp. baking powder
1 tsp. sugar
4 diced medium green onions
1/2 cup or more sweet corn
1 seeded and diced jalapeño pepper
Any vegetable oil for frying
What you need
Large mixing bowl
Small bowl
Dutch oven or Wok
What to do
Whisk the egg replacer and vegan milk together in the large mixing bowl.
Put all the dry ingredients, such as cornmeal, flour, salt, black pepper, baking powder, and sugar, in the small bowl and whisk.
Pour the dry mixture into the wet mixture and mix well.
Add the jalapeño, green onions, and corn. Mix well to combine.
Put about 4 inches of vegetable oil in the Wok or Dutch oven and heat.
Drop one tablespoon of the batter into the heated oil. Work in batches.
As soon as the hush puppies turn golden brown, they're ready. It should take at least five minutes to fry.
Let it cool, and serve it with your favorite dipping sauce.
Best Vegan-Friendly Egg Replacer Brands
Baking these days is a lot easier for vegans because of the companies producing vegan versions of these primary needs.
Whether you need whole eggs or a replacer, the selection is great. These brands come in handy at supermarkets or your local grocer.
You can also find them online, like on Amazon. Here are among the best egg replacer brands you can try.
Ener-G
Bob's Red Mill
Namaste Foods
Orgran
For vegan whole eggs, there are several brands you can try.
JUST (JUST Egg, Egg Folded, Sous Vide)
Follow Your Heart (The Vegan Egg)
OsomeFood (OsomeEgg Hard Boiled-Style Vegan Eggs)
Peggs Plant Eggs
Simply Eggless Plant-Based Egg
Yo! Egg (Fried, Poached, Hard Boiled)
Top Vegan Milk Brands
With regard to milk replacements, there are many vegan brands that you should try. These are available almost anywhere.
Blue Diamond Almond Breeze
NotCo NotMilk
Pacific Foods (Soy, Almond, Coconut)
Silk (Soy, Nut, Almond, Oat "Oat Yeah", Coconut)
Trader Joe's (Soy, Almond, Coconut)
WestSoy Soymilk
Planet Oat
Whole Foods Market (Soymilk, Almondmilk)
Ripple Foods Pea Milk
BetterMoo(d) Moodrink
So Delicious Coconut Milk
Oatly
Different Versions Of Hush Puppies
Over time, hush puppies have adopted a few different versions in some countries like Jamaica and Puerto Rico.
Most of them have almost the same ingredients but are made and cooked with different techniques.
Jamaica
You will find a version of hush puppies in Jamaica in the beautiful Caribbean Sea. They call it festivals made with cornmeal dough, flour, sugar, and salt.
These are then shaped into hotdog rolls and deep-fried. But they're sweeter than the original hush puppies because of their sugar content.
Jamaicans are known for their jerked meats, especially chicken, served with their version of hush puppies. Also, fried escoveitch fish is served at festivals.
Puerto Rico
Puerto Ricans also have their own way of making hush puppies. They call it sorullos or sorullitos.
These are made with cornmeal, sugar, and parmesan cheese and then stuffed with cream cheese or any melting cheese and guava. Sorullitos are shaped into short sausages.
They are then served dusted in powdered sugar to pair with coffee and guava dipping sauce.
The BottomLine
Hush Puppies are traditionally made with eggs and milk or buttermilk, which makes them not suitable for vegans. They are also high in calories and sodium, although vegan versions tend to have a lower content.
Since traditional hush puppies are not vegan-friendly, the best option is to make your own vegan version at home. This is a great way to experiment with a new dish, which you can refer to the guide above for easier take.
Otherwise, there are other ways to enjoy the same type of dish, only that it's done differently, which I listed in this separate article.
Nonetheless, enjoying your vegan dish makes things more fulfilling and fun. Just get to know every new dish you'll discover to ensure you're eating them the vegan way.