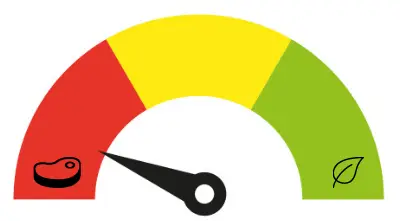 Jolly Rancher is an American candy company whose products include fruit-flavored hard candies, gummies, jellies, gums, lollipops, etc. There are some debates about whether Jolly Rancher goodies are vegan or not. But according to Hershey's, the current manufacturer of Jolly Rancher, they are indeed not vegan. They use a third-party supplier, so they are unsure if their ingredients are 100% vegan.
So let's just stick to their official statement and find out more about why these sweet treats are not vegan at all.
Brief History of Jolly Rancher
Jolly Rancher Company was founded by Bill and Dorothy Harmsen in 1949. They chose a cheery name to tell their customers that they are a warm and friendly company. This candy business originally sold candies, chocolate, and ice creams in Denver, Colorado. But since Colorado state has freezing winter weather, they decided to make candies as their primary product. It's a very wise decision on their part since candies can be sold all year long.
Today, it is currently manufactured by the Hershey's Company and now offers more flavors and assortments such as jelly beans, gummies, fruit chews, and lollipops.
What Do Jolly Ranchers Contain?
Hard Candies – Sugar, Malic Acid, Corn Syrup, Natural and Artificial Flavors, Artificial Colors (Red 40, Yellow 5, Blue 1, Yellow 6), Mineral Oil, and Lecithin.
Lollipops – Sugar, Corn Syrup, Malic Acid, Sodium Lactate, Natural, and Artificial Flavors, Artificial Colors (Red 40, Yellow 5, Blue 1, Yellow 6), Lecithin, and BHT.
Jelly Beans – Sugar, Corn Syrup, Gum Acacia, Lactic Acid, Malic Acid, Natural and Artificial Flavors, Sodium Lactate, Limonene, Mineral Oil, Carnauba Wax, Cornstarch, and Artificial Colors (Red 40, Yellow 5, Blue 1, Yellow 6).
Soft Candies (Bites, Chews, and Gummies)- Corn syrup, sugar, enriched wheat flour, gelatin, potassium sorbate, lecithin, salt, artificial colors, and natural and artificial flavor.
What Makes Jolly Ranchers Not Vegan?
Jolly Ranchers contain controversial ingredients such as sugar, artificial color, gelatin, and natural flavors, which make them very questionable to be considered vegan.
Let's discuss below why these ingredients can be non-vegan.
Sugar
Sugar is a debatable product because some sugars, such as refined cane sugar, require bone char to achieve a pure white color. Bone char is basically made from pig's or cattle's bone. Though the sugar product does not contain any bone char particles, the process that was used makes it unsuitable for vegans.
Clearly, the Hershey's company did not specify the type of sugar used in Jolly Rancher's products, but you better avoid it if you are a strict vegan.
Natural Flavor and Artificial Flavor
Natural flavors come from plant or animal materials, while artificial flavors come from inedible ingredients like petroleum or paper pulp. Both of these flavors are synthesized in labs. The source of natural flavors in Jolly Ranchers is unclear whether they are plant-based or animal-derived because they came from a third-party supplier.
Food Colors
Food colors are a common additive used in food production. Most artificial colors are derived from crude oil or petroleum. They are a controversial issue in the vegan community because most of them are tested on animals.
Gelatin
Vegans don't eat gelatin because it is made from animal bones, tendon skin, and ligaments. The ground-up parts make gelatin powder to create your favorite treats like gummies, marshmallows, etc. Jolly Ranchers has that ingredient in their soft candy variants.
Although there are many articles you can find over the web classifying Jolly Ranchers as vegan, the controversial ingredients mentioned above are enough reasons for certified vegans not to consume anything that might have undergone the processes that are against vegan morals and standards.
Are Jolly Rancher Candies Gluten-Free?
As per Hershey's Company, Jolly Rancher candies do not have any gluten ingredients. However, they are not yet rated by the FDA as gluten-free.
What to Look For in a Vegan Candy
Choose a vegan candy with no artificial flavors, dyes, or preservatives. Colorful candies can look very yummy, but artificial coloring may be unsafe, especially for kids.
It is also good if the candies have labels or certifications such as non-GMO, Kosher, fair trade, and of course, if they are vegan certified. Looking for those labels will save you time deciding what to choose from the many options you can find in the market now.
Lastly, you must always be cautious about the sugar in the products. Eat your candies mindfully because even if they are vegan-certified, does not mean you can eat them excessively.
Vegan Candy Alternatives to Jolly Ranchers
For vegan people with a sweet tooth, no need to deprive yourselves of eating sweet treats. There are many vegan companies now that offer a wide variety of gummies, candies, and other sweet goodies. Check out some exciting, yummy goodies below!
Lovely Organic Hard Candies
If you are craving Jolly Rancher's hard candies, you can try Lovely Organic Hard Candies. These candies do not contain artificial colors and do not use refined sugar. They are not just vegan-friendly but also gluten-free, soy-free, and certified USDA organic.
Yum Earth Organic Lollipops
YumEarth's organic lollipops come in different exciting flavors, such as mango tango, perfectly peach, googly grape, strawberry mash, etc. They are not just vegan but also allergen-free. These lollipops are also packed with Vit. C, which helps in boosting immunity.
Napoleon Fruit Mix Sour Ball Candies
If you can't decide whether your taste buds are craving something sweet or sour, why not have both in one candy? Napoleon Fruit Mix Sour Ball Hard Candies is the perfect mix of sweet and sour. Each pack contains an assortment of pineapple, lemon, cherry, and orange. These colorful candies don't have artificial colors as they use elderberry concentrate, paprika extract, and turmeric as coloring.
Dum Dums
Dum Dums are made from quality ingredients and don't contain eggs, fish, peanuts, tree nuts, wheat, or gluten. They are also Kosher-certified products. If you are craving Jolly Rancher's lollipops, then this will be a good alternative.
Biona Rainbow Lollipops
Both children and adults will love these Biona Rainbow lollies without guilt. Enjoy the flavors of orange, lemon, blackcurrant, apple, and raspberry in every pack. Now, you don't have to worry about kids having a sugar rush.
YumEarth Organic Sour Beans
YumEarth organic sour jelly beans are certified organic, vegan, allergen-free, and non-GMO. These jelly beans do not contain high fructose corn syrup and no artificial dyes. They use apples, carrots, pumpkins, radishes, and blackcurrant for coloring. It is also budget-friendly compared to other vegan candies.
Lovely Organic Chewy Candies
If you're not a big fan of hard candies but love to try Lovely organic candies, then you're in luck. They also have a chewy version of their organic hard candies. The soft, chewy variety comes in three yummy flavors, strawberry, lemon, and cherry.
Surf Sweets Organic Fruit Bears
For gummy lovers out there, you can try the Surf Sweets Organic Fruit Bears. It's tough to find gummies without gelatin, but surprisingly these gummies are free from it. They also use natural coloring using fruits and vegetables like carrot, blueberry, and annatto extracts.
Cocomels Coconut Milk Caramels
Cocomels products are not only vegan friendly but are also gluten, dairy, GMO, corn syrup, and cholesterol-free. Their line of coconut milk caramels comes in 5 variants, original, sea salt, espresso, vanilla, and coconut sugar. Treat yourself to healthy yet mouthwatering coconut milk caramels from Cocomels.
Organic DelishFish
Organic DelishFish is made with vegan and organic ingredients. It does not contain gelatin and uses Brand Fair Trade organic cane sugar. These delish gummy fishes are also free of artificial flavors and dyes. These yummy gummies are also gluten-free, Kosher, and Non-GMO Project verified.
Biona Jelly Dinos
These sour jellies shaped like dinosaurs will surely tickle your taste bud. It's free from gelatine and dairy and is packed with all-natural flavors. Plus, they only use certified organic ingredients.
J. Luehders Soft Gummy Candies Exotic Fruits
If you're craving some exotic fruits, there is no need to go far, J. Leuhders Soft Gummy Candies Exotic Fruits got you covered. Each package contains an assortment of your favorite exotic fruits like mango, grapefruit, and pineapple. It's made of 20% real fruit juice, and it does not contain any artificial flavors or colors.
In Conclusion
The ingredients in Jolly Rancher products, such as sugar, natural flavors, gelatin, and artificial colors, can be an alarming issue in the vegan community. Since the ingredient supplies come from a third-party supplier, there is no way of knowing whether these ingredients were tested on animals or if there are animal sources in them.
Besides, Hersheys'company already answered in their FAQs that they are not vegan. Just by that statement, you will probably stay away from these delicious treats, especially if you are a strict vegan.
Remember that if you have doubts about the ingredients, then they probably are not vegan. Vegan companies are sprouting like mushrooms, so there will always be a certified vegan counterpart to any sweet cravings you might have!