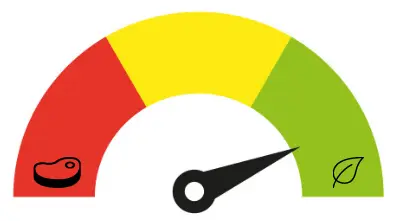 Did you recently shift to veganism? You might be stuck with snacking options. Don't worry; we have got you covered. We can assure you of the correct and detailed information on your favorite food and if it is vegan.
Do you like munching on Nutri bars that give you quick energy? Especially bars with nuts, dried fruits, and spices are guaranteed to keep you active and energetic. But are Larabars Raw vegan?
The simple answer is yes, Larabars Raw is vegan. They are made of plant-based food. All the Larabars are dairy-free, gluten-free, and mostly raw.
Now that you know Larabars Raw are vegan and safe to consume let's examine their nutritional value, ingredients, and flavors available.
Ingredients of Larabars Raw
Larabars are tasty and delicious, made of natural ingredients and some flavoring. They are committed to making nutrition bars simple, delicious and pure. Larabars generally use 2-9 ingredients and blend them. They are not genetically engineered.
Listed below are the ingredients of the original Larabars Raw.
Almonds
Pecans
Cashews
Peanuts
Pistachios
Hazelnuts
More Assorted Nuts
Figs
Raisins
Prunes
Dates
More Assorted Dried Fruits
Dried Cherries, Dried Apricot, Dried Pineapple, Dried Blueberries
Cranberries, Dried Coconut, Goji Berries
Chocolate Chips, Coffee Beans
More Assorted Filling
Optional Flavoring- Cacao, Cinnamon, Citrus, Ginger, Mint, Vanilla, Strawberry
You can make Larabars by mixing the fruit and nuts in a food processor. Your Larabars need to become a workable sticky dough mixture. You add flavoring and fillings and process until it is combined thoroughly. Ensure the raw texture is intact.
Once your dough is ready, you shape it into bars. Larabars need refrigeration to keep fresh and last longer. They will generally last 9 months as they do not have added preservatives. Now that you know the ingredients let's see the nutritional value.
Nutritional Value of Larabars Raw
Larabars are essentially energy bars. They contain higher levels of sugar and fats. Mostly low in proteins, these bars are supplemental to your meals. However, if you want to replace your regular meals with Larabars Raw, ensure you take supplemental plant-based proteins and vitamins.
This is their nutritional content:
Calories – Each full-sized bar contains 190-230 calories. The mini-sized bars have 100 calories.
Carbohydrates – Larabars have at least 23-24 grams of carbohydrates. They also contain 4-6 grams of natural fruits and nuts fiber.
Protein – Each bar contains 4-6 grams of protein from nuts and dried fruits.
Fat – Larabars have 9-14 grams of fats from all the nuts. The nuts also contain omega-3 and omega-6 fatty acids.
Vitamins – Larabars have a variety of vitamins depending on the flavor you choose.
Larabars are high in carbs and are ideal for athletes. Its nutritional content helps provide endurance energy to hikers, distance walkers, and gym enthusiasts. Ensure you test out the bars before using them for a competitive event. For some people, Larabars could be a laxative too.
Are Larabars Raw Vegan and Healthy?
The nutritional content and ingredients are enlightening. Do you still doubt; are Larabars Raw vegan healthy? As examined before, Larabars use dairy-free, gluten-free, and anti-artificial sweeteners.
Larabars are healthy to an extent, have high carbs content, and are energy supplements. They are wholesome, natural, and preservative-free. But Larabars do not contain enough proteins and vitamins to replace your meal completely.
Let's examine the pros and cons of Larabars below.
Pros of Larabars
They contain natural, raw, and plant-based ingredients.
Larabars are delicious and filling to an extent.
They do not contain artificial sweeteners, added preservatives, gluten, soy, or dairy.
Larabars are kosher, vegan, and non-GMO.
They do not create a mess and are easy to chew.
Cons of Larabars
They are not meal replacements. They lack crucial vitamins and minerals.
Larabars can plausibly stick to your teeth.
If you have any nut allergies, Larabars are not safe for you.
When consumed in excess, Larabars have a laxative effect.
Information About the Brand
Larabars were launched in the USA in 2000 by Lara Merriken. They are a trademarked company that indeed invented the fruit and nut bar category. Lara is committed to creating natural foods.
Larabars embrace veganism and help condone animal cruelty. They have a dedicated page that informs you about a vegan lifestyle.
Veganuary is a non-profit organization that started a veganism campaign in 2014. They have named January a veganism month. Larabars also adheres to the Veganuary campaign, but not only for one month.
Larabars is a brand dedicated to giving you information regarding the vegan lifestyle. They suggest taking baby steps to switch to veganism. They create and recommend consuming snacks like edamame, unsalted nuts, and peanut butter with whole-grain crackers. They also give you essential tips to keep up veganism in the long run.
Larabars Raw Flavors
Now that you know Larabars and their dedication to veganism, you might want to know the various flavors they offer to keep your taste buds active. Larabars are a pleasant blend of tasty nuts, fruits, and spices.
Larabars have more than 30 flavors of bars available. Each is more delicious than the other. Here are some tried and tested flavors that you can enjoy:
Peanut Butter and Jelly – It is a sweet, savory, and tangy bar.
Chocolate Chip Cookie Dough – Made with unsweetened chocolate chips, this bar is a tasty date bar with cashews and cookie dough.
Carrot Cake – This bar has pineapple, cinnamon, carrot, and almonds. It is delicious, and the raisins up the game of these bars.
Lemon Bars – These are refreshing bars made of dates, lemons, cashews, and almonds. They are tangy, sweet, and tart.
Gingerbread Bars – These are limited edition holiday season Larabars. With cinnamon, ginger, and vanilla, this bar is zingy and smooth.
Banana Chocolate Chip Cookie – A treat for any meal of the day, this bar consists of unsweetened bananas, almonds, chocolate chips, and dates.
Almond Cookies – This is a classic flavor with a mixture of almonds, apples, dates, sea salt, and almond extract.
Apple Pie – Imagine the humble apple pie turned into a delicious nutritional bar. With half-cup apples, cinnamon, raisins, dates, almonds, and walnuts, this bar bursts with flavor.
Blueberry Muffin – This is one of the most popular flavors. Made of blueberries, cashews, dates, and vanilla, it is soft, crunchy, and chewy.
Cherry Pie – This is a 3-ingredient blend. It is created of unsweetened cherries, almonds, and dates. This bar packs a tart, chewy, tangy, and tasty flavor with vitamin B.
These are some of the favorite Larabars flavors. Some other flavors produced by them include the following and many more.
Almond Butter And Chocolate Chip
Banana Bread
Cashew Cookie
Chocolate Chip Brownie
Chocolate Hazelnut Swirl
Coconut Cream Pie
Coconut Chocolate Chip
Cocoa Coconut Chew
Key Lime Pie
Mint Chip Brownie
Peanut Butter Banana
Peanut Butter Chocolate chip
Additionally, they also come up with new limited edition, festive and seasonal flavors. They launch these according to the time and month of the year. Interesting, isn't it?
How to Get Larabars?
Since you are confident that Larabars are vegan with natural and familiar ingredients, you might wonder how to get them. Don't worry; you can shop for your favorite flavors on their website. You can also get them from your nearest grocery, convenience, or departmental store.
In fact, Larabars are available throughout natural food stores in the US as well. They are also available on Amazon. Larabars certified Kosher Pareve and are readily available in the USA.
Summing Up
The answer to your question, are Larabars Raw vegan, is a resounding yes. As a person embracing the vegan lifestyle, you needn't worry about consuming Larabars. They are natural, gluten-free, dairy-free bars.
Larabars are made of plant-based ingredients. They have over 30 flavors available. You can munch on Larabars any time of the day to boost your energy and activity levels.
So, go get yourself a Larabar and boost your energy!