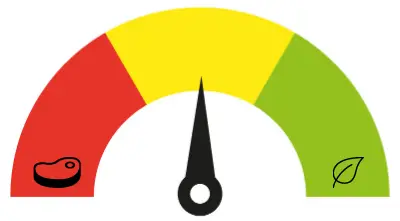 Most Snyder's Pretzels are vegan except for flavors with animal-based ingredients.
Snyder's Pretzels come in different varieties, including shapes, flavors, and sizes. The vast majority of Snyder's Pretzels are vegan, although a few flavors contain non-vegan ingredients like honey or dairy/cheese.
Let's look at some of the numerous Snyder's Pretzel variations available today.
What Are Pretzels?
Pretzels are a type of baked snack composed primarily of wheat flour. They come in various forms and sizes, but most resemble a twisted knot. Pretzels are shiny, and brown and come in hard and soft shapes.
Soft pretzels have a chewy feel and are big. You can serve it with a dipping sauce on the side.
On the other hand, hard pretzels are small and crispy, and you can eat them in a handful. Moreover, they're easy to find at most supermarkets and convenience stores, making them a convenient snack.
How Are Pretzels Made?
Pretzels are made with sugar, refined flour, salt, and oil. If you're making pretzels at home, you'll notice that some recipes require eggs and butter (which would disqualify them from the vegan realm.) However, these ingredients are frequently used as a wash and brushed on top to accelerate browning.
At their base, yes, pretzels are technically vegan. However, before purchasing the salty snack, read the labels and ask the right questions. Since many store-bought soft and hard pretzels brands don't contain milk or egg, they would be considered vegan. It is usually the case with plain, hard pretzels.
But here's where things get tricky: If you want to go for a fun pretzel flavor like cheddar cheese, you'll find that it's made with milk ingredients. Honey wheat pretzels are, in fact, honey wheat pretzels. You might be surprised to learn that Goldfish Pretzels also contain milk. Never assume packaged pretzels are vegan; always check the label to be sure.
Also, always double-check if you're buying pretzels from a bakery or pretzels shop. Most of them may use milk, egg, or butter. For instance, the famous soft pretzels from Auntie Anne's are not vegan since their pretzels are brushed with some butter.
You can quickly request that the butter be removed, but you should also ask if the company has any dietary allergen.
Auntie Anne's, for example, states that even without butter, some of their pretzels contain milk. Cross-contamination is a possibility as well. It is no surprise that dipping the doughy delight into caramel or cheese sauce, for example, isn't vegan.
Snyder's Traditional Pretzels
There are thirteen different varieties of Snyder's Pretzels. The Dipping Sticks, Itty Bitty Mini, Butter Snaps, Homestyle, Mini, Olde Tyme, Snaps, Sourdough Nibblers, Rods, Sourdough Hard Pretzels, Thins, Unsalted Minis, and Sticks.
Only one of these variants is not suitable for vegan consumption. Butter Snaps have a natural flavor made from enzyme-modified butterfat, which is clearly sourced from animal products and therefore not a vegan-friendly variant.
So we're pleased to say that Snyder's Traditional Pretzels are vegan in twelve different variations. The following are some of them:
Dipping
Homestyle
Sticks
Itty Bitty Mini
Olde Tyme
Snaps
Mini
Rods
Sourdough Nibblers
Sourdough Hard Pretzels
Thins
Unsalted Minis
Sticks
Flavored Pretzel
The flavored Snyder's pretzel bites are available in nine different flavors: Hot Buffalo Wing, Honey Mustard & Onion, Cheddar Cheese, Parmesan Garlic, Jalapeno, Salted Caramel, Peanut Butter Filled, Cinnamon Sugar, and Buttermilk Ranch.
Five of the nine contain animal-based products as ingredients (cheese, honey, or milk) and are not vegan. These flavors are Honey Mustard & Onion, Parmesan Garlic, Cheddar Cheese, Buttermilk Ranch, and Salted Caramel.
Snyder's pretzel bits (Buffalo Wing, Jalapeno, Peanut Butter Filled, and Cinnamon Sugar) don't contain any animal-based products and are vegan.
Snyder's Pretzel Sandwiches
Snyder's Pretzel Sandwiches come in two flavors: Brick Oven Style Pizza and Cheddar Cheese. Both of these flavors include cheese and are therefore not vegan-friendly. As a result, until they come up with new varieties in the future, no Snyder's Pretzel Sandwiches are vegan.
Snyder's Gluten-Free Pretzels
Snyder's also manufactures Gluten-Free Pretzels, such as these Mini Pretzels, which are made using cellulose gum, palm oil, dextrose, citric acid, and sunflower lecithin. When making handmade gluten-free pretzels, these components are not in the kitchen.
Snyder's Gluten-Free Pretzels might be gluten-free, but that doesn't imply they're also free of animal-based ingredients. Snyder's Gluten-Free Pretzels come in six different flavors: Cinnamon Brown-Sugar Pieces, Rods, Mini Pretzels, Honey Mustard and Onion Sticks, Hot Buffalo Wing Pieces, and Sticks.
The Honey Mustard and Onion Sticks are the only types that aren't vegan-friendly. They are not vegan since they contain honey powder. People who eat a vegan diet claim that honey collection has caused bees to suffer.
Snyder's Gluten-Free Pretzels are vegan-friendly in five different varieties:
Rods
Mini Pretzels
Cinnamon Brown-Sugar Pieces
Sticks
Hot Buffalo Wing Pieces
Snyder's Braided Twists
Snyder's Braided Twists are available in three variants: Multigrain, Honey Wheat, and Garden Vegetable. Only the Honey Wheat variant, which is honey, has animal-derived components.
The following are vegan of the other two varieties:
Multigrain
Garden Vegetable
Snyder's Chocolate Covered Pretzels and Wholey Cheese
Neither of these variants is vegan-friendly, as you may have guessed. Both chocolate and cheese contain animal ingredients and are thus unsuitable for vegans.
Are Pretzels Healthy?
It's normal to crave salty meals now and then. Your body, after all, requires sodium to function.
Although salty snacks could be part of a balanced diet, it's recommended not to consume too much salt, particularly if you have high blood pressure or any medical condition exacerbated by salt consumption.
Instead, treat yourself to salty snacks like pretzels once in a while, and remember to limit your salt intake for better health.
Nutrition Facts
Pretzels are high in carbs and low in fat and protein. It also contains B vitamins and fiber.
Both hard and soft pretzels are made of wheat flour, mainly containing carbs. Carbs are broken down into sugars by your body, which it uses as energy. Pretzels, like other wheat-based foods, contain some fiber.
Fiber has been proven to help gut health and digestive issues, including constipation.
Women who ate at least 20 grams of fiber per day were considerably less likely to develop constipation than women who ate only 7 grams or less per day, according to a study including 62,036 women.
On the other hand, pretzels only have a tiny bit of fiber.
However, pretzels include specific B vitamins, like thiamine, riboflavin, and niacin. In addition, most wheat flour is treated with extra nutrients—these vitamins aid in converting carbohydrates into sugars that you can use as energy.
Serving Size Matters!
1oz (28 g) is a normal portion of hard pretzels, which can be hard to measure accurately. One cupped palm must roughly fill a single dish of hard pretzels.
On the other hand, people vastly underestimate how much they consume, according to studies. For example, in one study of 32 healthy adults, it was discovered that participants underestimated their meal intake by roughly 10%.
To correctly measure a serving, a food scale may be helpful, at least till you have a greater understanding of standard serving sizes.
Furthermore, many soft pretzels are far too large to be considered a snack. A 1-oz (28 g) portion of hard pretzels has more than triple the calories as a medium (115 g) soft pretzel. Soft pretzels have 300–500 calories on average.
Because of their high-calorie content, soft pretzels are best shared with others or divided into two or three servings.
Bottom Line
To summarize, there are several vegan-friendly varieties of Snyder's Pretzels, while some are also not vegan-friendly. There are 13 variants of Traditional Pretzels, five Gluten Free Pretzels, two Braided Twists, and four Flavored Pretzel Pieces that are vegan-friendly.
Pretzels aren't the healthiest snack. They're salty and made of refined carbs, which increase your blood sugar quickly. The healthiest pretzels are whole-wheat or unsalted pretzels.
Even if your favorite isn't vegan, there are many vegan alternatives that are suitable for your diet.