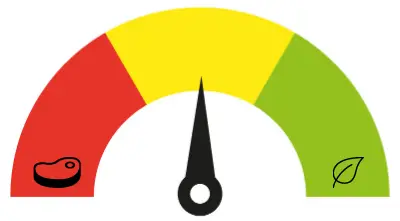 Teddy Grahams are one of the all-time favorite snacks that we all love and enjoy. These cute little bears come in different flavors, such as chocolate and chocolate chip, cinnamon, and honey. Though there have been changes in its marketing strategies, its manufacturer, Nabisco, has been experimenting with many flavors and other related snacks that can use the concept of bear-shaped crackers.
Bear in mind that not all the flavors of Teddy Grahams are vegan. Cinnamon and chocolate naturally come from plants. However, honey is the product of bees, and the sweet chocolate chip-flavored bears contain milk from animals, so we could consider these specific flavors non-vegan.
History Of Teddy Grahams
Teddy Grahams got their name because they include graham flour as one of their main ingredients. Graham flour was named after Sylvester Graham, who developed a special method of grinding wheat into flour.
Nabisco first introduced Teddy Grahams in 1988 as a healthy snack choice which they quoted as "a delicious yet wholesome snack because they're made with graham flour and other wholesome ingredients." However, a serving of these 1 oz graham bears has no more than 2 g of graham flour.
In the article published in the 1992 New York Times Eating Well section, food columnist Marian Burros had an interview with Jayne Hurley, an associate nutritionist at the Center for Science in the Public Interest. Food manufacturers only emphasize their product's nutritional benefits, right? And when Hurley was asked what could be these products, she nominated a few, including Teddy Grahams.
Further, Burros pointed out the use of more bleached flour than the actual whole wheat graham flour of Teddy Grahams, resulting in a cascade of events where Nabisco increased the amount of whole grain flour used in snacks.
These mini snacks sold for over $150 million in their first year after successfully launching. It was dubbed as 'the biggest new-product success in the industry in more than 25 years at that time, making it the third bestselling cookie in America, after Chips Ahoy! and Oreo (both from Nabisco, too!). So we could consider it a success since it became a popular cookie in previous years. But to say that these cookies only became a superstar during those years will be a major understatement because it is still favored by many to date.
Teddy Grahams Spotlight
This snack was popular in television shows and commercials. It was used as a prop in Late Night with Conan O'Brien. It was also used as a reference in The Simpsons and was referenced in the song 'Ridin' Rims' by Dem Franchize Boyz.
Aside from those great references, the American Marketing Association recognized the well-liked snack in 1989, naming it as the Best New Products of the Year, where it beat out two other Nabisco products, namely the Fudge Covered Oreos and Ritz Bits, and quoting from The Retro Network, "marketing innovativeness, technological innovativeness, market structure innovativeness, lasting value, and societal impact." Undoubtedly, Teddy Grahams won one of the most amazing coveted awards in the food industry.
Nutritional Details
Nabisco also proudly presents these handy little bears with 0 saturated fat and 0 trans fat, both of which are considered unhealthy fats, though it can be a very good source of dietary calcium since it contains 130 mg of it and has a great significant source of iron with a value of 1.4 mg. Its total amount of calories is 130 per serving.
Here is a sample nutrition fact table for the chocolate-flavored T.G. cracker in a serving size of 24 pieces (30 g):
| | |
| --- | --- |
| Calories | 130 kcal |
| Total Fat 4 g● Saturated Fat 0 g● Trans Fat 0 g | 5%0%0% |
| Cholesterol 0 mg | 0% |
| Sodium 95 mg | 4% |
| Potassium 110 mg | 2% |
| Calcium 130 mg | 10% |
| Vitamin D 0 mcg | 0% |
| Total Carbs 22 g | 8% |
| Iron | 1.4 mg |
So with a serving size of 30 g, these bite-sized snacks can serve as a wholesome, healthy, classic option for everyday snacking, not just for kids but also for adults.
Other Flavors And Discontinued Products
At one point, Nabisco was producing vanilla and birthday cake flavors, both discontinued. Only chocolate chip-flavored mini bears are still obtainable.
They also had a cereal that they advertised as Breakfast Bears. Another product derived from these little bears is the Teddy Soft Bakes.
Uses And Ingredients
As Our Everday Life reported, all the four flavors surviving today have the same base ingredients, which are the following: unbleached enriched flour, graham flour, sugar, oil (which can be soybean and/or partially hydrogenated cottonseed), dextrose, maltodextrin, calcium carbonate, salt, baking soda, soy lecithin, zinc oxide, and lastly, reduced iron.
The cinnamon-flavored has that spice and another natural flavoring; the honey has a honey ingredient, of course; and lastly, the chocolate and chocolate chip variants have cocoa processed with alkali, natural, and artificial flavorings. Recommended serving would be about 24 mini bears, a portion that contains about 130 calories, 35 to 40 calories from fat, 4 to 4.5 g of fat, 150 to 170 g of sodium, 22 to 23 g of carbohydrates, 7 to 8 g of sugar, and a 1 to 2 g of protein. The above-mentioned Soft Bakes have milk and egg, making it the only Teddy Grahams product that is not dairy-free.
Cinnamon is loaded with antioxidants and inflammatory properties, reduces the risk of getting heart disease, has anti-diabetic and anticancer properties, and may potentially benefit neurodegenerative diseases. Chocolates too have beneficial effects such as a potential reducer of risks for cardiovascular problems and stroke, lower cholesterol levels, and may benefit the growing fetus and athletes during their fitness training.
Mondelez International, the parent company of Nabisco, has a website called Snack Works, where you can easily see various recipe ideas featuring our very cute bears for the brand's products. You can use them to make apple cupcakes with peanut butter and Teddy Grahams, or bake the mini bears and add mallow on top to make S'mores brownies Teddy Grahams, or serve them with a fruit yogurt dip, or use the bears as a snack to teach your children how to count time.
Considerations
All the flavors contain soy and wheat, which can potentially cause allergies. The honey-flavored bears contain honey, which can also be considered a potent allergen.
According to the People for the Ethical Treatment of Animals (PETA) website, all the flavors of Teddy Grahams are considered vegetarian-friendly. They also noted that the cinnamon and chocolate-flavored are vegan-friendly, while the honey and chocolate chip flavors have animal byproducts.
Your Options
Since the honey and chocolate chip varieties have non-vegan ingredients, you could use the other vegan flavors as a substitute or make homemade Teddy Grahams straight from your kitchen!
You can use vegan chocolate, carob, peanut butter, and yogurt chips as alternatives to the chocolate chip-flavored variety. These alternatives are dairy-free and good vegan options for the said flavors.
Conclusion
Teddy Grahams, small mini bear-shaped snacks that have been on the market for over 30 years, have a meaningful and astonishing history.
When it comes to their vegan status, just make sure to avoid honey and chocolate chip varieties.